Solar power system prices have fallen significantly in recent years in Tasmania, as well as throughout Australia and the rest of the world. It is for this reason that installing a solar power system in Hobart (not to menion the rest of Tasmania) is a good investment for the right homes & businesses. This article is an overview of what you need to consider when looking into getting a solar PV system in Tasmania, including pricing, incentives and system sizing.
Benefits of solar power in Hobart: Generate your own electricity
The first step in finding the best deals on solar power is understanding its potential benefits to a home or business. Solar panels only produce power when the sun is shining. Depending on the climatic conditions of the location in which a solar system is installed, the amount of sunlight varies. Although Tasmania is not as sun-blessed as the more northern parts of the country, there still remains ample sunlight to make going solar worthwhile.
Solar system power generation estimates:
The average Tasmanian rooftop receives an annual average of about 4.4 hours of sun per day, although this number will be higher in the summer and lower in the winter. Estimated daily generation figures for different size systems based on 4.4 sun hours are detailed below.
1.5kW solar system – 5.6kWh 
2kW solar system – 7.5kWh
3kW solar system – 11.2kWh
5kW solar system – 18.7kWh
Solar PV system pricing in Hobart
Solar Choice regularly publishes articles with indicative pricing for PV systems in Australia's capital cities (including Hobart) in our Solar PV Price Index. You can find the most recent article here, or you can get free and instant indicative quotes from installers in your area by filling out the Quote Comparison Request form to the right of this page.
The table below shows how solar system price trends for Hobart over the last four years. The prices are in dollar per watt ($/W) format and segmented by popular system sizes (1.5kW – 10kW).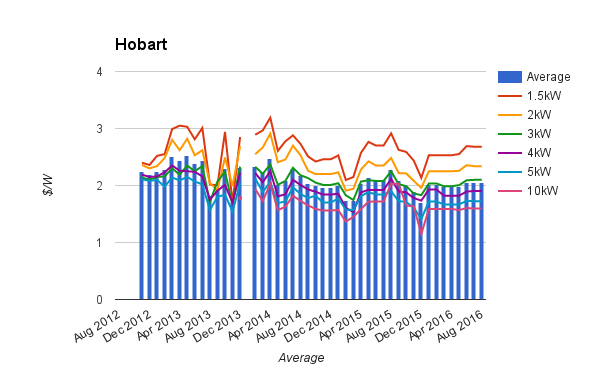 Power consumption vs solar generation in Hobart & Tasmania: How solar panels can save you money on your power bill
Choosing the right solar system size for a home or business requires first understanding the occupant's/owner's budget & goals, plus the government incentives available to them. Different homes use different amounts of electricity, and at different times of day. Tasmanian households & businesses should aim to consume as much of the solar electricity that their systems produce as possible to ensure they get the most value as possible. Excess electricity, which is automatically exported to the grid when not consumed by appliances inside the building it services, will earn their owners credits on their bill to the tune of about 8c/kWh, whereas consuming the solar power directly will save them 20c+/kWh on their power bills in the form of avoided electricity purchase.
Basically, it is a question of 'offset value' vs 'export value', and the offset value of solar power is much more than the export value. This means that solar system owners should try to consume power as much as possible during the daytime, and systems should be sized to meet daytime demand (unless you also install a battery storage system).
Tasmania Federal Government Solar Rebates for Hobart & Tasmania
Hobart residents who install a solar panel system will receive what is effectively an up-front discount from the federal government through the Renewable Energy Target scheme (RET). This discount, which comes in the form of  'small-scale technology certificates' (STCs), applies to any certified renewable energy generation system under 100kW in capacity. In Hobart and the rest of Tasmania, STCs effectively cut about 55-65c per watt from the cost of having a system installed.
Finding the best solar deals in Tasmania
Solar Choice provides free advice and quote comparisons for customers across Australia. Our goal is to help customers to find the best deals on offer anywhere in the country – including Hobart, Launceston and the rest of Tasmania.
(Top image credit: JJ Harrison, via Wikipedia.)
© 2016 Solar Choice Pty Ltd