NSW's Independent Pricing and Regulatory Tribunal (IPART) has released a draft of its proposed solar feed-in tariff benchmark range for 2015-16. At 4.4-5.6c/kWh, the rates (which are unlikely to change significantly in the final report) are a slight decrease from last year's. But the reality is that this range is a recommendation only – electricity retailers may offer whatever rates they see fit.
IPART's draft decision follows the trend recently set by regulators in Queensland and Victoria, where rates have been similarly reduced on the argument that wholesale electricity prices have fallen. These days, solar feed-in tariff rates for new solar system owners are a fraction of what they once were in every state (except the NT and parts of WA).
Low feed-in tariff rates have been the reality for solar shoppers in Australia for several years now, but perceptions have adapted, and many households and businesses are still finding the investment worthwhile – thanks mainly to the fact that solar system prices have come down dramatically. In order to get the greatest benefit from their systems, however, solar system owners must now endeavour to directly 'self-consume' as much of the solar energy produced as possible; meaning that they should focus on using electricity during the daytime, when the sun is shining; even IPART themselves point this out in their draft determination report.
Against this background, the issue of feed-in tariff rates has become mostly irrelevant, and is at best only a secondary consideration for anyone in the market for a solar system. Educated solar shoppers know that self-consumption is a must in the current market. And incidentally, this dynamic is the main reason that more and more Australians are looking towards battery storage solutions – so that they can maximise the value of their solar energy.
Interestingly, with the release of the draft, IPART – evidently in response to prolific questioning – apparently felt the need to include a graphic to explain why the feed-in rate is less than the retail price of electricity. The explanation is unlikely to satisfy solar system owners, however, as it is couched in the dubious argument about whether or not electricity retailers can make money off of the exported solar energy.
For what it's worth, IPART is accepting public submissions about its draft determination until 28 September.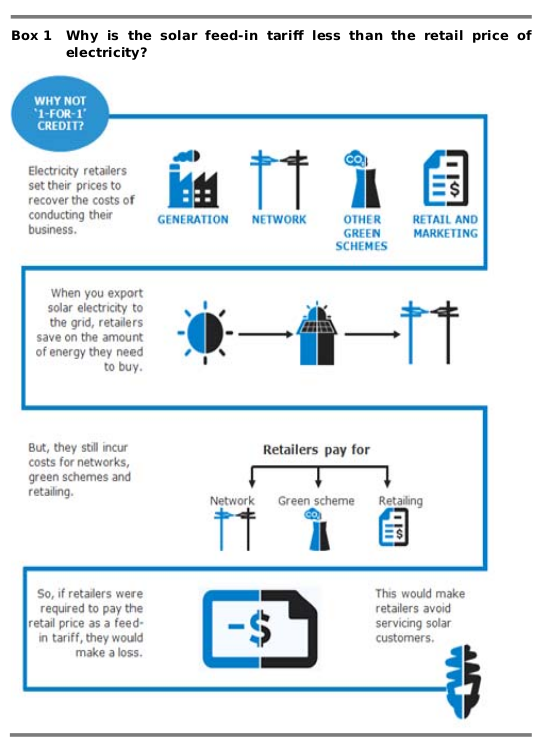 Meanwhile, IPART (in accordance with the terms handed down by the NSW government) does not take into account the fact that the reduction in wholesale energy prices – the basis for their case for reducing the rates – is in part thanks to the fact that there are a larger number of residential solar power systems in operation in NSW. This is explicitly disregarded in IPART's determination because there is no way for retailers to monetize this benefit. Indeed, solar system owners end up with an 'insult to injury' type snub in the form of a two penny reduction in non-mandatory feed-in tariff rates that were only a pittance to begin with. (To be fair, IPART does take into account the avoided transmission costs which solar delivers to retailers.)
What do the new benchmark rates mean for you as a solar system owner or solar shopper?
In a nutshell? They don't mean much, and shouldn't weigh heavily when making a decision about going solar.
Because retail electricity prices in NSW are in the 20-30+c/kWh range, whether a solar feed-in tariff is 5c/kW, 8c/kWh or even 10c/kWh should actually have very little impact on a solar energy system's return on investment (ROI) or payback period. System owners save much more money by self-consuming their solar energy – which is eminently possible provided the system is appropriately sized for and carefully used by the system's owner.
Although it may be possible to shop around on a comparator site (such as EnergyMadeEasy.gov.au) to find out which retailer offers the highest rate, trying to work out whether 2-5c/kWh feed-in tariff difference warrants switching to an entirely new rate plan can potentially be a fraught journey. Instead, we advise that anyone who has a solar system installed look first for the best deal on a solar system (which can be done by comparing quotes) and then focus on making sure that all of the solar energy produced is used directly by the home/business.
© 2015 Solar Choice Pty Ltd

Latest posts by James Martin II
(see all)