Canberra, ACT is a great place to go solar in Australia, thanks primarily to the ever-improving economics of solar panel installations. This article takes a look at the some of the key considerations for going solar in Canberra, including system pricing, energy yields and incentives available to system owners.
The benefits of solar power in Canberra, ACT
Harness the power of the sun in the Australian Capital Territory
Getting the best deal on solar PV anywhere in Australia–including Canberra–means first understanding how a system benefits a home or business. Solar panels only produce electricity during sunlight hours, and how much electricity is generated depends on the intensity and duration of the sunshine.
The average Canberran rooftop receives an annual average of about 4.3 hours of sun per day. This number fluctuates seasonally (higher in summer and lower in winter). Estimated daily generation figures for different size systems based on 4.3 sun hours are detailed below (minus a 15% efficiency loss).
Solar PV system pricing in Canberra
Solar Choice regularly publishes articles with indicative pricing for PV systems in Australia's capital cities (including Canberra) in our Solar PV Price Index. You can find the most recent article here, or you can get free and instant indicative quotes from installers in your area by filling out the Quote Comparison Request form to the right of this page.
The table below shows how solar system price trends for Hobart over the last four years. The prices are in dollar per watt ($/W) format and segmented by popular system sizes (1.5kW – 10kW).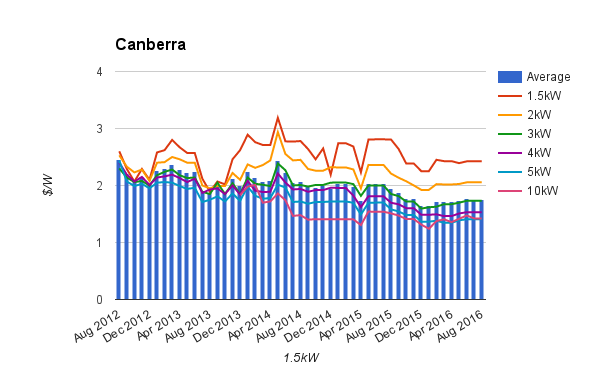 Solar system generation vs electricity consumption in Canberra
The right system size for a Canberra resident is the one that produces just enough electricity to meet daytime electricity needs. This will depend on the household or business in question. Solar systems in the ACT are best-suited for those who use a significant portion of their power during daylight hours (read more about solar self-consumption).
Check out our Simple Solar System Sizing Estimator to explore for yourself, or check out our Solar PV System Paybak Estimator below.
Federal Government Solar Rebates for Canberra
Significant up-front incentives are available from the federal government. Technically speaking, this discount comes in the form of 'small-scale technology certificates' (STCs), which utility companies and other liable entities are obligated to purchase under Australia's Renewable Energy Target scheme. STCs significantly reduce the cost of having a solar PV system installed, typically by as much as 55-70c per watt, depending on the market price for STCs.
Finding the best solar deals in Canberra
Solar Choice provides free advice and quote comparisons for customers across Australia. Our goal is to help customers to find the best deals on offer anywhere in the country – including Canberra, ACT.
© 2016 Solar Choice Pty Ltd