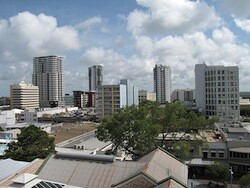 Darwin is one of Australia's northernmost cities, and its location in the sunny tropics makes it one of the best places in Australia to install a solar PV system. The 1-for-1 Solar Buyback scheme on offer through NT PowerWater means great returns on investment for those who find the best deal on solar power.
This article covers the basics of what you need to know about going solar in Darwin.
Four considerations for solar in Darwin
1. Plentiful amounts of valuable sunshine
Although it probably goes without saying, it's worth mentioning that solar panels only produce electricity during daylight hours; the exact amount of energy produced on a given day depends on the intensity and duration of the sunshine.
The average Darwin roof will receive an average of about 5.9 hours of 'peak sun' per day on average over the course of a year, according to figures from the Bureau of Meteorology. This is one of the highest rates of solar radiance anywhere in Australia.
The amount of energy actually produced by your solar system will depend on the size of the system that you have installed and its orientation. The table below provides an indicative guide as to how much energy various, popular residential system sizes would produce per day (averaged throughout the year) in good conditions.
Estimated solar energy production in Darwin, NT

(Select system sizes)

System size
Est. daily energy production in kWh

(Assumes 80% system efficiency)

 1.5kW
 7
3kW 
14
5kW 
 23.6
10kW
 47
Compare quotes from up to 7 installers in your area now.
2. Which way should you tilt your panels in Darwin?

Because Darwin is in the tropics, the sun is sometimes to the north ('winter' months) and sometimes to the south ('summer' months) of a given building. For maximum overall solar yields, this means that a near-flat tilt angle is the best, but thanks to ample sunlight and the PowerWater's high feed-in rates, virtually all other orientations and tilt angles are acceptable as well (as long as there's no major shading, that is).
A special consideration

Please also keep in mind that due to Darwin's location in a cyclone-prone region, certain building certifications are required for installing rooftop solar systems. Learn more about them here.
3. Use your solar energy or send it back to the grid? (Maximising your solar savings)
Darwin is the last capital city in Australia to still have a state-backed solar feed-in incentive scheme. A '1-for-1' solar feed-in tariff is available through local utility PowerWater for systems up to about 5kW, meaning that anyone who owns a solar system will receive a bill credit equivalent to their retail electricity price for each unit of solar energy that they send into the grid. In terms of energy bill savings, this program effectively turns the PowerWater grid/network into a collective battery storage system for solar system owners – regardless of whether you manage to 'self-consume' your solar energy or send it into the grid, you will save the same amount of money.
As an example: If a home pays 26c for every kilowatt-hour (kWh)of power that they buy from the grid, they will also be payed 26c/kWh of solar power that is exported to the grid. Solar system owners will not benefit any more from self-consuming their solar power than exporting it to the grid, so there is no need to manage the timing of electricity use to maximise the benefits afforded by the system (as is the case in most other parts of Australia).
In a nutshell, the 1-for-1 buyback lets you sit back and enjoy your solar savings without altering your behaviour!
4. How much does Solar Panels cost in Darwin?
Federal government's Renewable Energy Target provides an up-front incentive for solar systems which is passed through to you by the company that sells you your system. Generally, when you look at a solar system quote, this incentive is incorporated into the final price, so all that you have to do is compare quotes without having to worry about how much the incentive is. For reference, however, it works out to be roughly $3,000 to $3,800 in Darwin and most of the other tropical areas of Australia.
Through Solar Choice's price index we can see that the average cost to install a 5kW system is $5,640 including GST as per latest update in October 2019. Solar Choice publishes average pricing across various residential system sizes in each capital city based on live pricing from a network of over 200 installers around Australia – which is widely considered the only accurate benchmark for solar prices in Australia.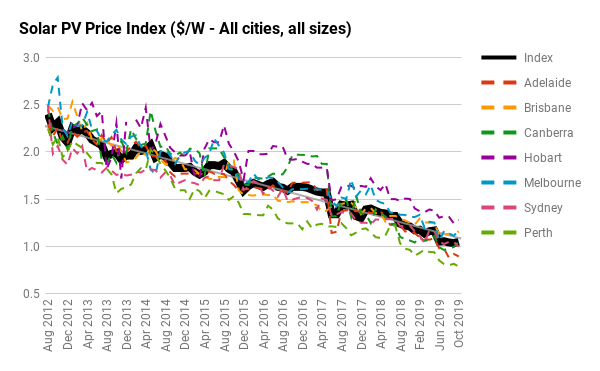 Is solar power worth it in Darwin, NT?
PowerWater's generous 1-for-1 solar buyback program goes a long way in making solar worthwhile for Darwin residents. The table below gives a rough estimation of payback period, internal rate of return (IRR) and annual savings for two popular system sizes in Darwin at current average prices (see our Solar PV Price Index for up-to-date indicative pricing). Please note that we've taken a conservative approach here, and that even better results may easily be achievable by shopping around for a good deal on a system.
Indicative returns for solar systems @ average Darwin prices

–Last updated April 2019-

3kW
5kW
$6,950
$9,510
~5 year payback
~4.3 year payback
~20% IRR
~23% IRR
~$1,334 annual savings
~$2,161 annual savings
*(Assuming 75% system efficiency, 25kWh electricity consumption/day, retail electricity @ 26c/kWh, solar feed-in rate @ 26c/kWh)
Compare quotes from up to 7 pre-vetted installers in your area now.
Since 2008 our knowledge and sophisticated software has allowed over 160,000 Australian households and businesses to make a well-informed choice on their solar & battery installer.
© 2019 Solar Choice Pty Ltd