Over the years, Solar Choice has developed a range of interactive solar and battery storage-related calculator tools. This resource library acts as a homepage for these calculators, to make it easier to identify and access the calculator that best suits your needs.
Please keep in mind that all calculator outputs are indicative only.
Calculators for grid-connected solar systems (without batteries)
This calculator allows you to calculate payback periods for grid-connected solar PV systems. It allows you to enter basic details such as solar system size and solar self-consumption in order to determine how long it will take a grid-connected system to 'pay for itself'.
Identifying the best retail electricity plan for your solar home requires more than just looking for the company that offers the best solar feed-in tariff. This tool allows users to meaningfully compare plans across a range of user situations – and choose the one that best suits their situation.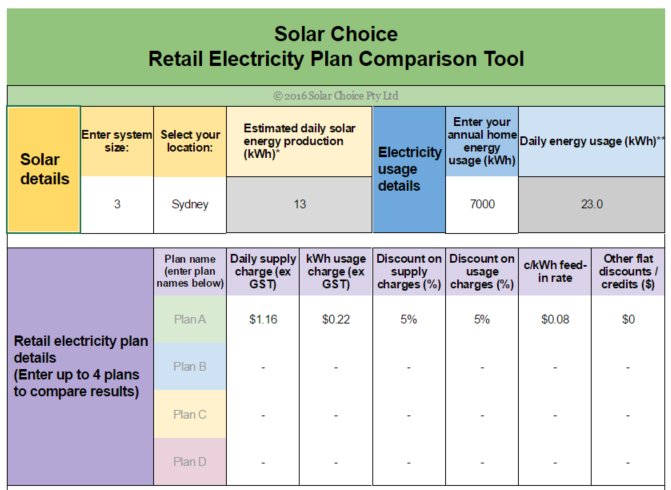 This tool allows users to quickly determine which solar system size is most appropriate for their home's energy consumption habits. It also provides rough figures on system payback & annual savings.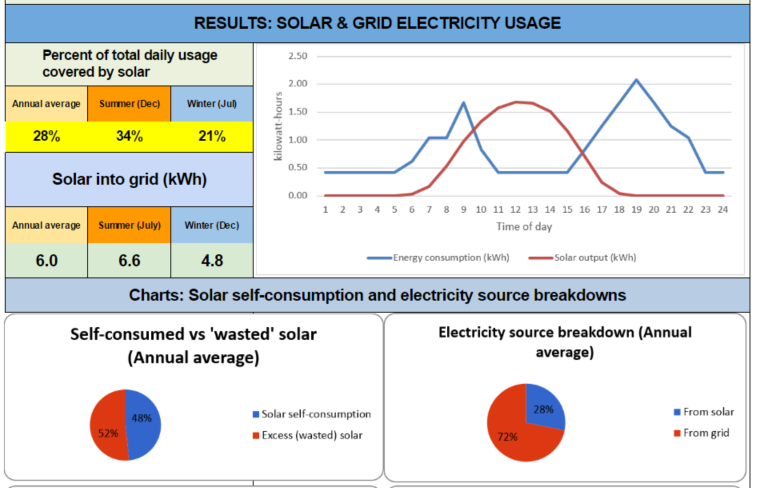 This tool allows you to get a rough idea of how much solar panel capacity you could fit on your roof, and what sort of energy yields you might expect. The results are indicative only.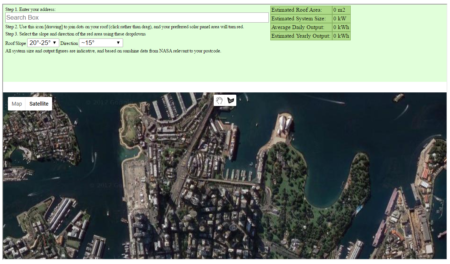 Calculators for solar plus battery storage systems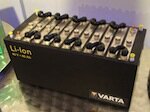 Battery storage is becoming increasingly popular, but it's still unclear whether investing in a home battery system is an 'economically rational' decision. These calculators aim to shed some light on the subject.
This tool lets users get a ballpark figure for how much solar+storage capacity they would need based on their current electricity consumption habits. It formulates outputs based on a wide range of input parameters such as solar system size, battery system size and battery usage preferences. It also gives ballpark figures on system payback times & annual savings.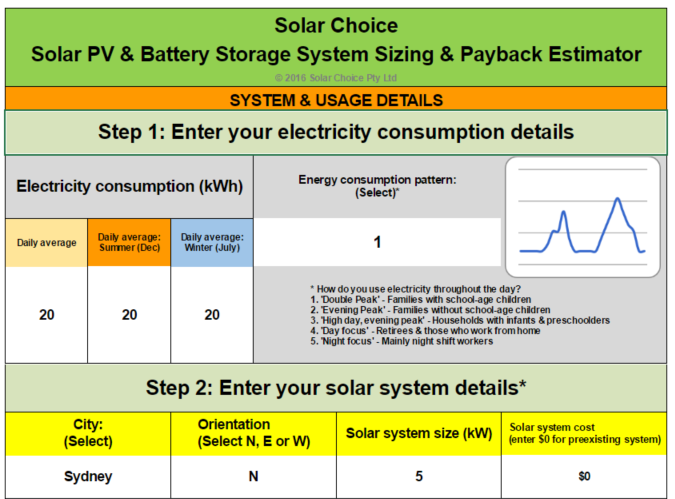 A more in-depth version of the tool mentioned above, the advanced version does not have instructions and includes a wider range of input and output parameters, as well as a range of graphs illustrating potential system performance.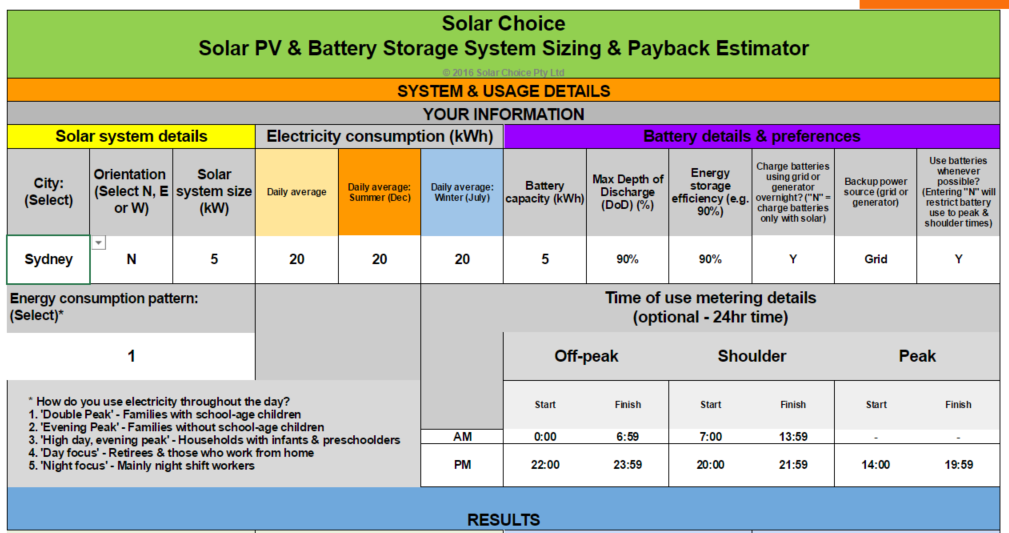 A simplified version of the above two calculators, this version of the tool is for people who know that they want to remain connected to the grid, but also know that they want to boost their energy self-reliance (and save money) with solar and batteries.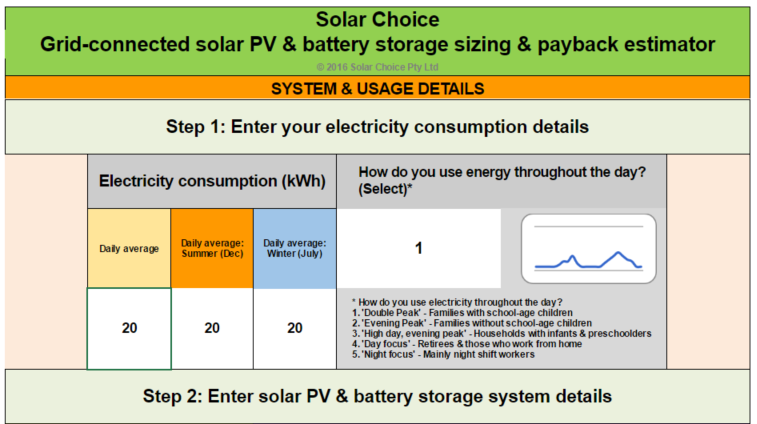 Yet another version of our solar & battery storage sizing/payback tool, this version is arranged with battery retrofitting in mind – i.e. for homes that already have solar and want to install batteries.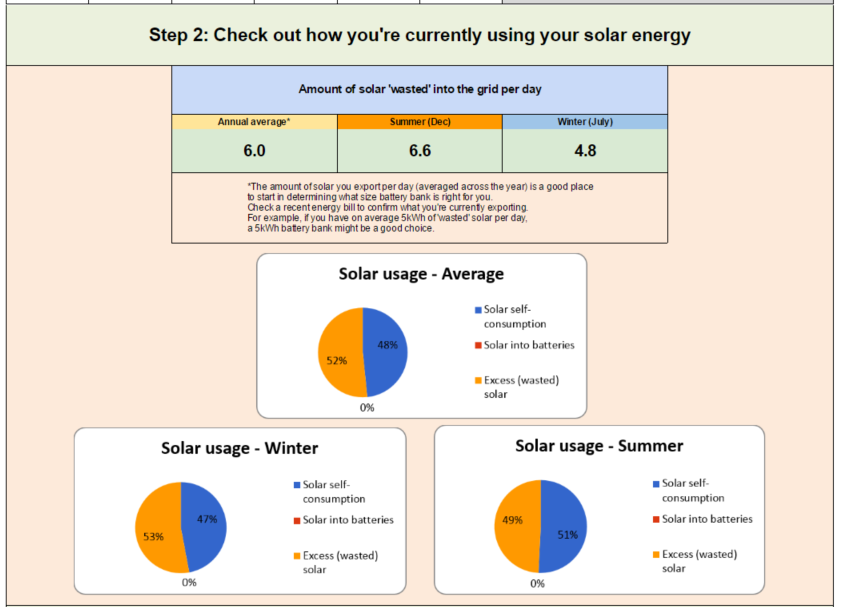 This tool allows users to quickly determine roughly what size of solar + battery storage system would allow them to cut ties with the grid based on their current energy consumption habits. This calculator does not include the option for financial analysis at this point in time.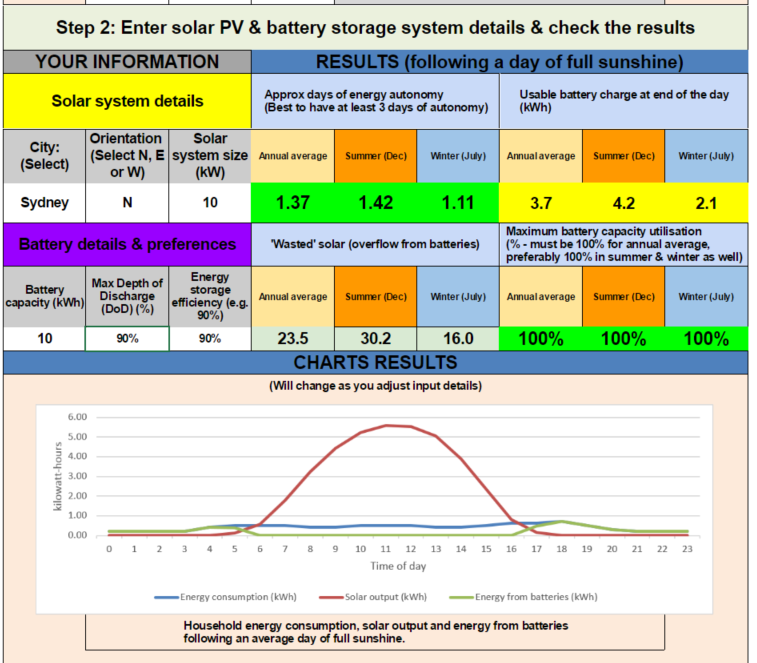 This tool allows users to easily compare a wide variety of battery storage products in a meaningful way – regardless of their nominal capacity, warranty period or cycle life. In its simple form, it can be used to compare up to five different products side-by-side, but users can also sort & filter the full list of products.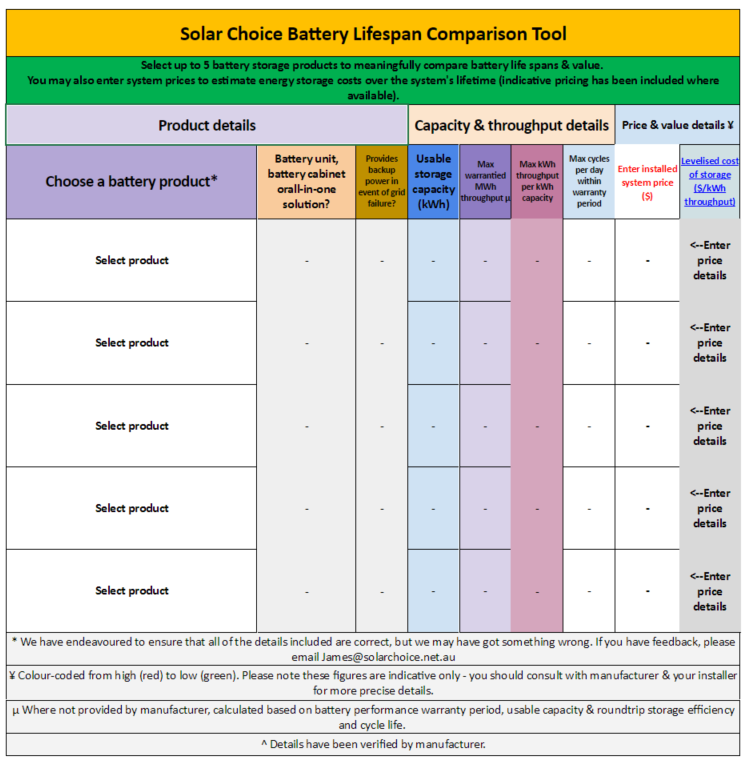 Compare Solar & Battery Quotes
© 2017 Solar Choice Pty Ltd