As part of Clean Energy Week, the Clean Energy Council has issued a list of the top 20 postcodes for residential solar power in Australia. The ranking was compiled based on percentage of homes in the postcode powered by solar photovoltaics. The top-rankers have all turned out to be from regional or coastal parts of the country, with Coloundra City, QLD taking the number one spot, with nearly 12% of its homes having installed solar power systems.
The list refutes the myth that solar power and renewable energy are the domain of the urban elite: many of the suburbs listed are either working class or rural. There are a number of possible reasons for the popularity of solar power in such locations, not least of which would be the generous financial incentives offered by federal and state governments, although concerns about energy and carbon footprint motivated a number of people to go solar. Matthew Warren, Chief Executive of the Clean Energy Council, was quoted as saying, œTariffs and rebates have done a good job of leading many typical Australian households to the conclusion that switching to solar makes economic and environmental sense… But the bottom line is, whether they are motivated by rising electricity costs, concerns about climate change, or simply wish to install the latest renewable energy technologies that add value to their homes, Australians are switching on to household solar energy.
Coming in in fifth place on the list at 9.97% is the NSW town of Dubbo, home to Solar Choice's second office. Ashley Myles, our Dubbo office broker, can attest to the recent boom in solar power system installations in not only Dubbo itself, but also the greater Central Tablelands region. (Update 18 April 2012: Dubbo is now Australia's top solar postcode.)
High electricity prices at what can be the distant reaches of the electrical grid, where it is unlikely for large power stations to be constructed, mean that regional Australia is perfectly positioned to take advantage of what solar power has to offer: relatively inexpensive power generation capacity that can easily be deployed thanks to its decentralised, componential nature. In fact, this is one of a number of reasons that makes starting a Solar Community an excellent option for regional areas, especially those on the outskirts of the electrical grid. (For more information on Solar Communities, please call us on 1300 78 72 73, or email us at sales@solarchoice.net.au.)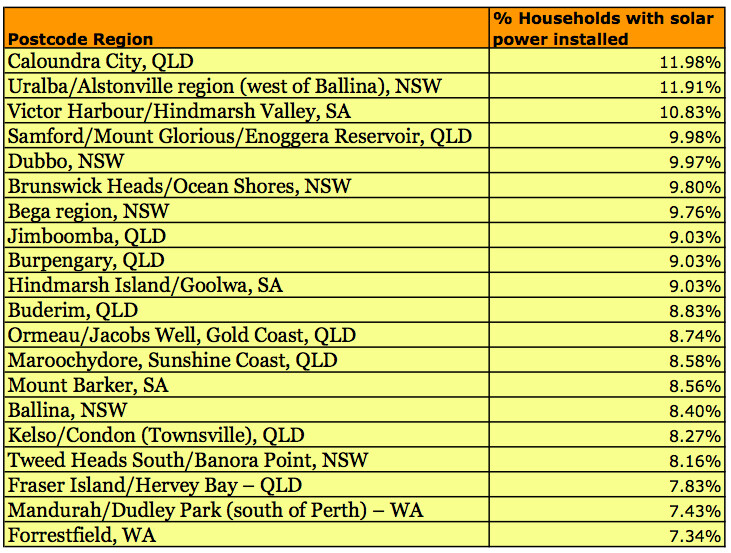 The Top 20 Solar Powered postcodes in Australia, by percentage of households with solar power systems installed. (Source: Clean Energy Council)
© 2011 Solar Choice Pty Ltd
Sources and Links:
Clean Energy Council Media Release, "Regional Australia signs up for solar energy"
Previous related Solar Choice Blog entries: Solar Choice Dubbo : Start or Join a Solar Community

Contributor
at
Solar Choice
James was Solar Choice's primary writer & researcher between 2010 and 2018.

He is now the communications manager for energy technology startup SwitchDin, but remains an occasional contributor to the Solar Choice blog.

James lives in Newcastle in a house with a weird solar system.

Latest posts by James Martin II (see all)