Central West NSW is one of the most sunshine-blessed regions of Australia and the world, and is an excellent place to for homes and businesses to install solar panels to save money on electricity bills. Let Solar Choice help you find the best solar power PV system deals available in Dubbo & Central West NSW.
Solar Choice in Central West NSW–Solar Power for Dubbo and surrounds
Solar Choice has been servicing the Dubbo and Central West NSW regions since 2010. During this time, Solar Choice has facilitated hundreds of residential solar installations as well as numerous commercial solar projects in the region by allowing our clients to easily compare solar PV system installers who operate there. The area was serviced by Solar Choice's Central West office until its closure in 2013. The area is now serviced directly by our head office in Manly, NSW.
Learn more about the benefits of going solar in NSW
Why is solar a good investment in regional NSW?
In NSW's Central West, electricity tends to be more expensive than it is in the city, at $0.24/kWh versus prices 3-5 cents lower in urban areas. Rates are expected to continue increasing into the future. For this reason, solar panels are a great investment for Dubbo and Central West NSW homes & businesses. Net metering setups, in which any solar power produced will be fed first into the appliances of the building to which it is attached and any excess power will be exported to the grid, allow their owners to save money on their electricity bills by reducing the amount that they need to purchase in the first place–often referred to as 'offsetting'. The system owner will receive credit on their power bills for any of the surplus power, but given that this rate tends to be significantly lower than the retail price of electricity, system owners who do not have access to the state's now closed feed-in tariff scheme will obtain the greatest benefit from a system by 'self-consuming' as much of the solar power as possible.
The cost of installing a solar PV system has fallen dramatically in recent years, making it more affordable than every for ordinary homes and businesses to install a solar system. Additionally, under the federally-mandated Renewable Energy Target scheme (RET or eRET), Dubbo and surrounds are located in REC (Renewable Energy Certificate) Zone 2, which, because of the higher amount of sunshine, entitles solar systems installed there to a larger discount per kilowatt of installed capacity than in many other parts of the state.
Uptake of rooftop solar power is also great for the local economy: due to its remoteness, many of the installers who operate in the area are local ones. Even in the case of some of the larger, nation-wide installers, the remote location of many of Central West customers makes it economically wise for these companies to contract out to local workers.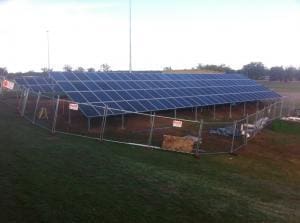 35kW polycrystalline solar module commercial solar power installation in Central West NSW. Installation brokered by Solar Choice.
Contact Solar Choice for more information about going solar in Dubbo and Central West NSW
Solar Choice's Manly office services all of Central West and rural NSW including Dubbo, Broken Hill, Coonabarabran, and Condobolin.
Contact Solar Choice:
Matt Lasauce 0410 124 850
Email: matt@solarchoice.net.au
© 2013 Solar Choice Pty Ltd
---
Solar Choice
Solar Choice Testimonials and Feedback
---

Latest posts by James Martin II
(see all)