The Adelaide-based company behind a patented, sand-based thermal energy storage system has won a $400,000 federal government grant to help launch it onto the international market.
Latent Heat Storage (LHS) developed the low-cost thermal energy storage system – known as TESS – based on the latent heat properties of silicon derived from sand, to complement intermittent renewable energy sources like wind and solar.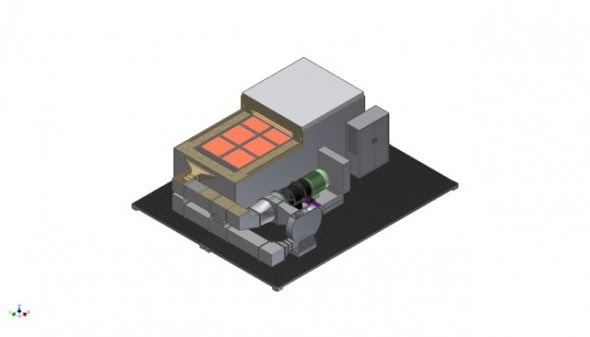 An artist's impression of the TESS commercial prototype
Developed in conjunction with the University of Adelaide, and Adelaide-based engineering consultancy ammjohn, the TESS stores thermal energy by heating and melting containers full of silicon.
LHS says that after three years of research and development, the company's key objective is to complete the construction of a commercial prototype of the TESS device and start showcasing its potential to global markets.
The company says its technology differentiates from competitors due to its "impressive" scalability, making it suited to anything from small-scale 500kW applications through to large-scale applications in the hundreds of megawatts.
The technology can also be integrated anywhere within an electricity network, making it suitable for commercial and industrial businesses where both heat and electricity are required – such as hotels,hospitals, schools and aged care facilities.
The $400,000 commercialisation grant, awarded under the Australian Government's Entrepreneurs' Programme, is aimed at helping to get the TESS to international markets.
LHS CEO Jonathan Whalley says it is a significant breakthrough for the company, and will be matched, dollar-for-dollar, by the company's shareholders, to generate a total of $800,000 in project funding.
"Storage is the next big challenge for energy generation worldwide, so we're excited at the prospect of developing our thermal energy storage system which provides a real solution to grid instability," said Whalley.
"Renewable energy sources generally spill energy due to supply and demand mismatches, so we've designed the TESS device to capture this 'spilt' energy for later use or release to the grid.
"Our system also means that energy consumers will be able to purchase stored electricity off-peak at low tariffs, which ultimately means cheaper energy."
© 2015 Solar Choice Pty Ltd