Australia's rooftop solar PV forecasts have again be downgraded, with leading solar industry analysts Green Energy Markets saying total installation for the calendar year may now be just 732MW.
It is the second time in three months that Green Energy Markets have cut their forecast, having reduced it from 830MW to 780MW in July after one of the slowest quarters the sector has seen.
In its latest quarterly report, Green Energy Markets – which tracks the creation of small scale renewable energy certificates – says it is now clear that solar PV creation in 2015 has been "well down" on last year's levels, when 798MW of rooftop solar PV was installed.
The numbers tally with anecdotal data in the solar industry, which suggests that the household market is particularly tough, with only the commercial-scale market showing any growth. This now accounts for around 25 per cent of the market.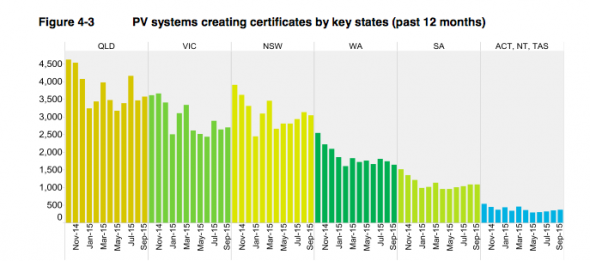 The forecast number of solar hot water systems in 2015 has also been downgraded slightly to 59,100 systems, which compares to 60,060 systems in 2014.
© 2015 Solar Choice Pty Ltd

Giles Parkinson regularly contributes unique content to Solar Choice News. Giles is the founder and editor of clean energy industry news service RenewEconomy. He is a journalist of 30 years experience, a former Business Editor and Deputy Editor of the Financial Review, a columnist for The Bulletin magazine and The Australian, and the founding editor of Climate Spectator.

Latest posts by Giles Parkinson (see all)