Australia's iconic Sydney Opera House has inked a deal to source its electricity from a major wind farm and a large solar project, and may add batteries later, in a bid to go green and trim its $2.5 million annual electricity bill.
The deal, negotiated with renewable energy retailer Flow Power,  will see the Opera House buy 16 gigawatt hours of wind and solar a year from the 170MW Sapphire wind farm and the 100MW Bomen solar farm, both in NSW.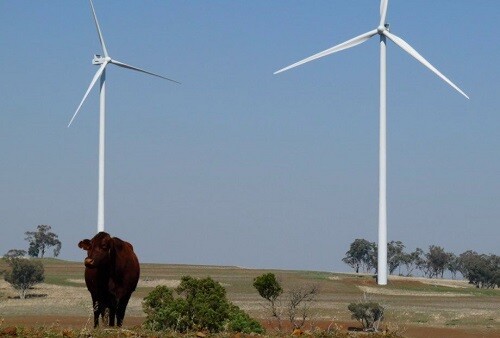 Sapphire Wind Farm
Ian Cashen, executive director of building, says this should cover the amount of electricity the Sydney Opera House uses anually, for around 85 per cent of the time.
The rest will be hedged by Flow Power, a corporate energy specialist that is making a name for itself co-ordinating renewable contracts with large energy users.
"We're really pleased with the outcome," Cashen told RenewEconomy in an interview. "It's a modest saving, but the important thing for us is that it is not just about straight savings calculations, it's getting some certainty as well."
Cashen says a big battery is also an option down the track, to allow the Sydney Opera House to get closer to perfectly matching the consumption at the building through the production and storage from the wind and solar farm."What our modelling shows is what we can get, with wind and solar, a pretty good match. We tend to need a low but consistent load during the day, and that ramps up towards the afternoon and evening. This matches very well with combination with wind and solar supply profile. We might do a battery later on – we will keep our mind open."

Latest posts by Giles Parkinson
(see all)