The cost of large scale solar development in India is expected to fall again, further undermining the case for new coal generators, and the economics of importing coal from mega projects such as in Australia's Galilee Basin.
New analysis from researchers at Deutsche Bank suggest that prices for large-scale solar projects are likely to fall to around 4.70 rupees per kilowatt hour, well below the Rs5.05/kWh achieved in the last auction.
Imported coal, meanwhile, requires prices of more than Rs6/kWh to make a return, which explains why the Indian government is so focused on solar, and domestic coal, to meet its power needs.
The Deutsche Bank analysts say that solar in India is now falling to 90c/watt – and tier 2 module suppliers are selling panels below 50c/watt. The India solar market may finally be "ready to take off", the analysts say.
"Recent growth of solar in India has been fueled by grid parity, not by subsidies," they note.
India has set a target of 100GW of solar by 2022, and this may be raised significantly if it also commits to 40 per cent renewables by 2030.
So far, the market has started slowly. But Deutsche Bank says the improving economics means that the Indian market is likely to treble to an annual run rate of 8GW to 10GW in the ext 12-18 months, compared to just 3GW for 2015.
Deutsche Bank reported that India does not actually suffer from a power shortage – at least not in those areas connected to the grid.
The problem India has is catering for growing demand, particularly as the economy expands and power is delivered to the several hundred million people not yet connected to the grid. It sees solar – particularly distributed solar which does not need a grid – as the solution.
"In this context, Indian government's 100GW solar announcement appears to be an interesting strategy to get smaller private developers (domestic and international) to invest in the power sector."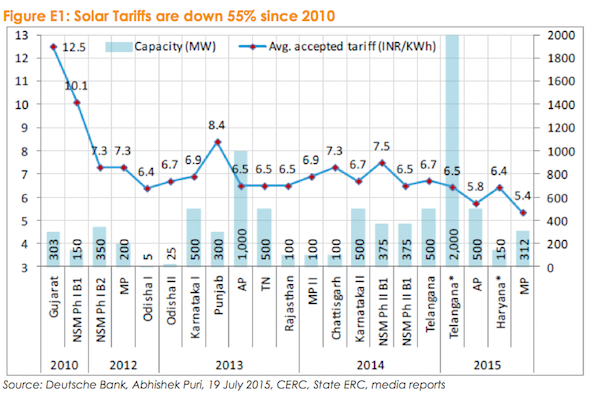 © 2015 Solar Choice Pty Ltd

Latest posts by Giles Parkinson
(see all)