Rooftop solar and battery storage will be delivering electricity to households cheaper than coal-fired power from the grid as soon as 2023, while rooftop solar generation alone could be as much as 10 per cent cheaper than coal power by 2020, a new report has predicted.
The report, released on Tuesday by KPMG India analysts Arvind Mahajan and Manish Aggarwal, says that solar prices in India today are within 15 per cent of coal power prices on a levelised basis.
"While this may not fully capture costs such as grid integration costs for solar, our analysis suggests that even after considering the same, solar prices would be competitive with coal," it says.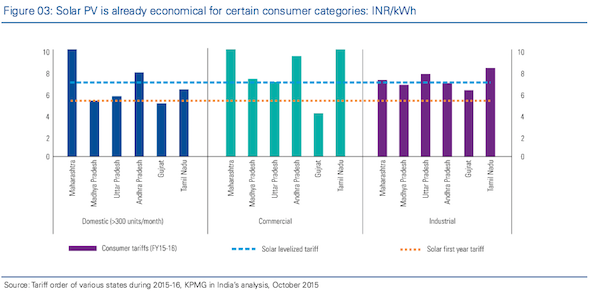 As you can see in the graph below, solar PV generation is already cheaper than imported coal in India; that happened this year. Solar prices are expected to breach domestic coal prices in mid-2018.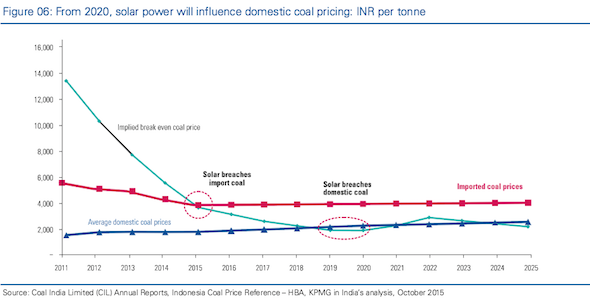 "Our forecast is that by 2020, solar power prices could be up to 10 per cent lower than coal power prices," the report says
"Solar rooftop power combined with storage will be cheaper than grid power after 2022 for a large section of consumers, and at that time we may see a large shift towards rooftop power. We would like to call this transition, the arrival of the 'Solar House'."
According to the report, the arrival of the Solar House in India could see the sub-continent's rooftop solar market reach a total installed capacity of 10GW by 2020 and 49GW by 2025, growth that would change the energy landscape.
The report forecasts a solar PV generation price of $A0.09/kWh (INR 4.20/kWh) by 2020 and $A0.08/kWh (INR3.59/kWh) by 2025 (at 2015 price levels).
© 2015 Solar Choice Pty Ltd