The likelihood of South Australia shifting to 100 per cent renewable energy received a huge boost this week, with the decision to close the state's two remaining coal-fired plants.
Alinta Energy announced the closure of its heavily polluting brown coal generators in Port Augusta on Thursday, saying that they will be closed by 2018, but may be shut down for good within nine months.
Just four months after saying that at least one of the coal generators could continue until 203o, Alinta CEO Jeff Dimery said the decision to close both the 30-year-old Northern Power station (544MW) and the 50-year old, already mothballed Playford B power station (240MW) came after a detailed strategic review.
Put simply, the company said, the coal-fired generators were no longer economic, and have incurred operating losses of $100 million over the last four years, even with $200 million spent on trying to extend their operating life.
Both coal-fired power stations were closed in 2012, with Alinta blaming the impact of the carbon price. Northern was later re-opened for the summer months, when peak demand grew, but the growing impact of wind energy and rooftop solar (the state has the highest penetration of rooftop solar modules) undermined its profits.
It has been shut down for the last five days after an incident over the weekend. (See my report on how the state coped without baseload).
"The decline in demand for energy, as households have become more efficient and the number of industrial customers has declined, combined with policy settings designed to support significant growth in renewable energy generation, have together had the effect of causing a significant oversupply of power available to South Australia," Dimery said in a statement.
"We now believe there can be no expectation that the Flinders business can return to profitability."
The experience of Alinta is being shared across the developed world, with coal and gas-fired generators in Europe, and coal and nuclear plants all suffering from reduced margins caused by the growing impact of renewables.
But it presents South Australia with the opportunity to take a lead in the global energy transition to renewables, a scenario RenewEconomy wrote about last year.
South Australia has a couple of advantages. It is already at more than 40 per cent wind and solar – one of the highest penetrations in any industrial society. The state has an official target of 50 per cent renewables by 2025, but in effect it could shoot well beyond that.
It already has one of the highest rates of rooftop solar penetration, and this could nearly double – or even triple according to the Australian Energy Market Operator – over the next five years as the price of solar continues to fall.
If it is possible for retailers to deliver electricity from rooftop solar panels to their customers for 11c/kWh (as some say they can) – around one-third of the average cost of the grid – then it's a bit of a no-brainer for households not to do that. It will likely be even cheaper for them to finance it themselves.
AEMO says energy efficiency will likely reduce demand in the state by a further 1,000GWh in coming years, or a total of 3,000GWh, and the state could nearly double the amount of wind energy if the revised renewable energy target legislation is passed through the Senate.
What is needed, however, is energy storage. South Australia is already being targeted as one of the key markets for battery storage, in both the domestic market and at the utility level. The biggest grid scale energy storage installation in being planned, with a project likely to be built by 2017 in one of three locations.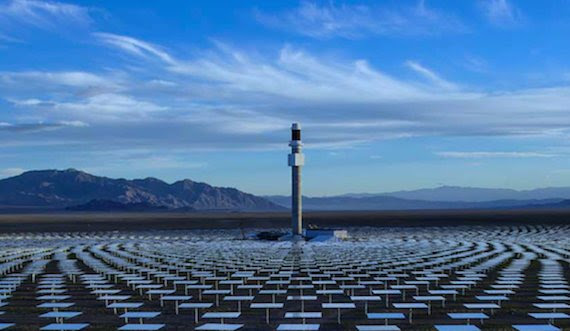 And, of course, there is the opportunity for solar thermal and storage in Port Augusta itself, as the local residents and the city leaders have been pushing for several years.
In South Africa and Chile, large integrated solar projects are being built that will challenge base load fossil fuels on both cost and flexibility. The include large-scale solar PV projects, and solar towers with molten salt storage that can provide dispatchable power when it is needed – overnight or to meet surges in demand.
These will function much like gas-fired generators, although over the long term they are likely to be cheaper, given the expected surge in gas prices.
Alinta commissioned a study into solar tower options and concluded they were not economic, arguing that even in the best case, it would need a $150 million injection from the government to make sense.
The reasons for making that investment are now compelling, given the expected job losses from the closure of the coal plant, and the need for clean, dispatchable power, and to create an innovation hub for the country.
It could, for instance, hold a reverse auction for solar tower technologies, in much the same way as the ACT plans to do, and the Queensland Labor government is also considering.
Another company has proposed a 300MW solar PV farm to be located near Port Augusta.
The Repower Port Augusta Alliance said that following Alinta's decision to "cut and run", the South Australian government should provide the funding for solar thermal in Port Augusta, to create jobs in the wake of the huge job losses the closure of the coal station and mine will bring.
"After supplying power to the state for decades, Port Augusta deserves a managed transition to clean energy jobs. The community cannot be left high and dry by this," it said in a statement.
Another advantage for the state's transition to high a level of renewables – and it's advantage over isolated grids – is the interconnector to the main grid of the National Electricity Market, which also acts as storage and back-up.
The final advantage for South Australia is that it is not governed by a Coalition government. Tony Abbott repeated his distaste and fear of wind turbines, and those concerns run through much of the conservative ranks, both state and federal.
South Australia, under Labor, however, has managed to corner nearly half of the large-scale wind energy projects in the country, and leads on rooftop solar. It is ironic that the state could push to high levels of renewable energy, given that it is also hosting a royal commission into nuclear energy.
But the premier Jay Weatheril has made clear this is about mining uranium or storing waste. Nuclear energy, he rightly notes, is way too expensive. And in any case could not be built in the state for at least 15-20 years, by which time the gate would have been closed.
A team led by Mark Jacobsen at Stanford University last week released an update on their road-map to transform each of the 50 states in the US to 80 per cent renewables by 2030, and 100 per cent by 2050 – half a century before the G7 target announced earlier this week.
That study found that by the year 2050, energy efficiency could reduce demand by more than one-third over business as usual, and the "all-purpose" load would be met by onshore wind (31 per cent), offshore wind (19 per cent), large-scale solar PV (30 per cent), rooftop PV (7.2 per cent), solar thermal with storage (7.3 per cent) and the remainder coming from a mix of hydro, geothermal, and ocean energy. Further peaking load and balancing needs and heating would be met from solar thermal.
Jacobsen's team estimated such as transition would create 3.9 million construction jobs, two million permanent jobs in energy sector, avoid up to 115,000 premature deaths per year, saving $600 billion a year in health costs. And it would avoid global warming costs of around $3.3 trillion per year, and deliver savings in energy costs of $260 a year. All in all, that would deliver savings of $8,300 per year per person.
© 2015 Solar Choice Pty Ltd

Latest posts by Giles Parkinson
(see all)