Renewable Energy thinktank Beyond Zero Emissions (BZE) has called for Port Augusta, South Australia's ageing Playford B and Northern coal-fired power plants, which currently provide roughly 40% of SA's electricity–to be replaced with baseload concentrating solar power (CSP) plants and wind power, as opposed to gas-fired generation plants. A new BZE report–"Repowering Port Augusta"–makes the environmental, health, and economic arguments for choosing renewable energy over fossil fuel generation.
BZE Operations Director Mark Ogge has said that Alinta Energy (which owns and operates the two stations), plus the Port Augusta City Council and Mayor Joy Baluch all support BZE's proposal. Should BZE's recommendations be adopted, South Australia will extend its lead as Australia's unofficial renewable energy capital. The state already meets around 10% of its electricity demand with a mix of renewables, including distributed solar PV, wind power, and hydro.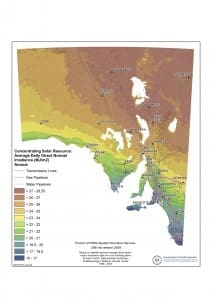 Although the two plants are currently likely to be replaced by gas-fired plants, BZE argues that South Australia's potential renewable resources are more abundant and therefore a better choice. Installing a large-scale solar thermal plant–which would be able to store energy and generate electricity even at night–would also make the state a world-leader in the technology, which is already in operation in Spain, amongst other countries.
Among the other vaunted benefits of solar thermal power and wind over coal are improved air quality–a point that was of salient importance to Mayor Baluch. Mayor Baluch was quoted as saying, "The health of the people in Port Augusta has been affected by this coal-fired power station for the last 40 years and statistics prove this. We need solar thermal energy developed in South Australia and for us to become world leaders in this renewable energy. Certainly gas is not the answer."
BZE became a well-known name in renewable energy circles and the media after the release of its Stationary Energy Plan for Australia, which presented the results of research into how Australia could meet all of its energy demand using only renewable energy sources.
© 2012 Solar Choice Pty Ltd

Latest posts by James Martin II
(see all)