Not to be outdone, Tesla has leaped ahead of its competitors with the launch of the next generation of its home battery bank. At 13.5 kilowatt-hours (kWh), the Tesla Powerwall 2.0 will have roughly twice the energy storage capacity of its predecessor (6.4kWh) but will cost roughly the same amount to have installed. Installations for Australian households will begin in February of 2017.
Tesla does it again
Tesla's next gen Powerwall has done what the original did about a year and a half ago – change the game for home battery storage. The original Powerwall was more affordable than anything of its kind on the market at the time – and it looked great. With the launch of the Powerwall, battery storage was instantly made accessible and (relatively) cost-effective for Australia's grid-connected homes (n.b. it can also be used in off-grid systems). Furthermore, the media buzz it created was phenomenal, and there was widespread agreement among installers (not to mention comparison sites like us…) that Tesla had done a huge service to the industry by making home batteries desirable and – dare we say it? – 'cool'.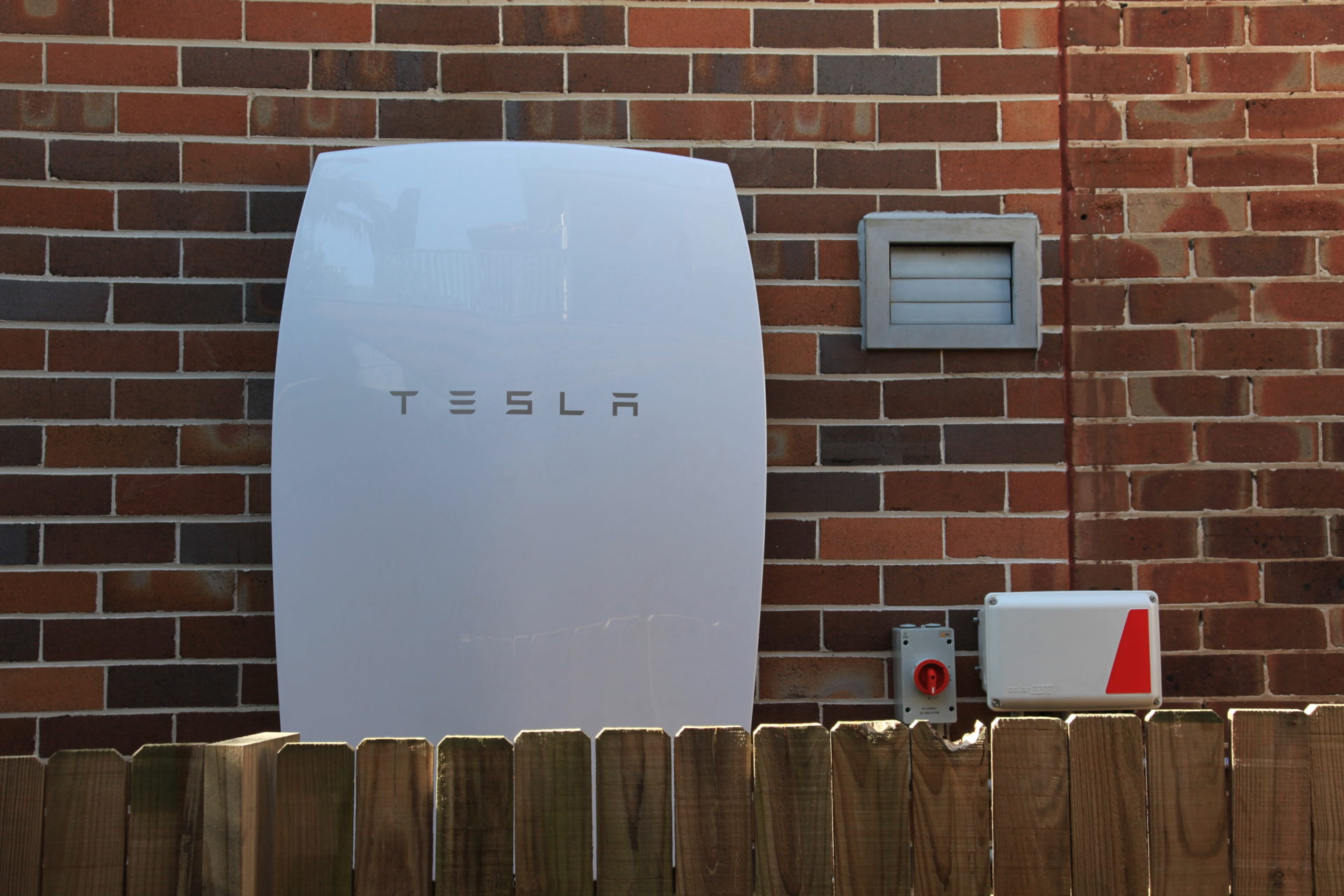 The original Powerwall (6.4kWh usable storage capacity).
Compare battery storage options Complete the Solar Quote Comparison request form to the right of this page.
What is the Powerwall 2.0?
Tesla's Powerwall 2.0 is a complete lithium battery storage system with its own built-in inverter and the ability to hold up to 13.5kWh of energy. It is designed to be charged mainly with solar panels, but it can also charge from the grid in order to let system owners take advantage of tariff arbitrage on time-of-use billing (read more about battery cycling). It has higher instantaneous power output ratings than the original, at 5 kilowatts (kW) continuous and 7kW peak – meaning that it will be able to meet keep up with the energy demand of most Australian homes. Like its predecessor, it is sleek and narrow (albeit a bit larger all around) and comes with a 10 year warranty. It can be installed in an off-grid or grid-connected solar system, where it can provide backup power to essential loads in the case of a grid failure. Up to 9x of these Powerwalls can be strung together for a total of 121.5kWh of capacity.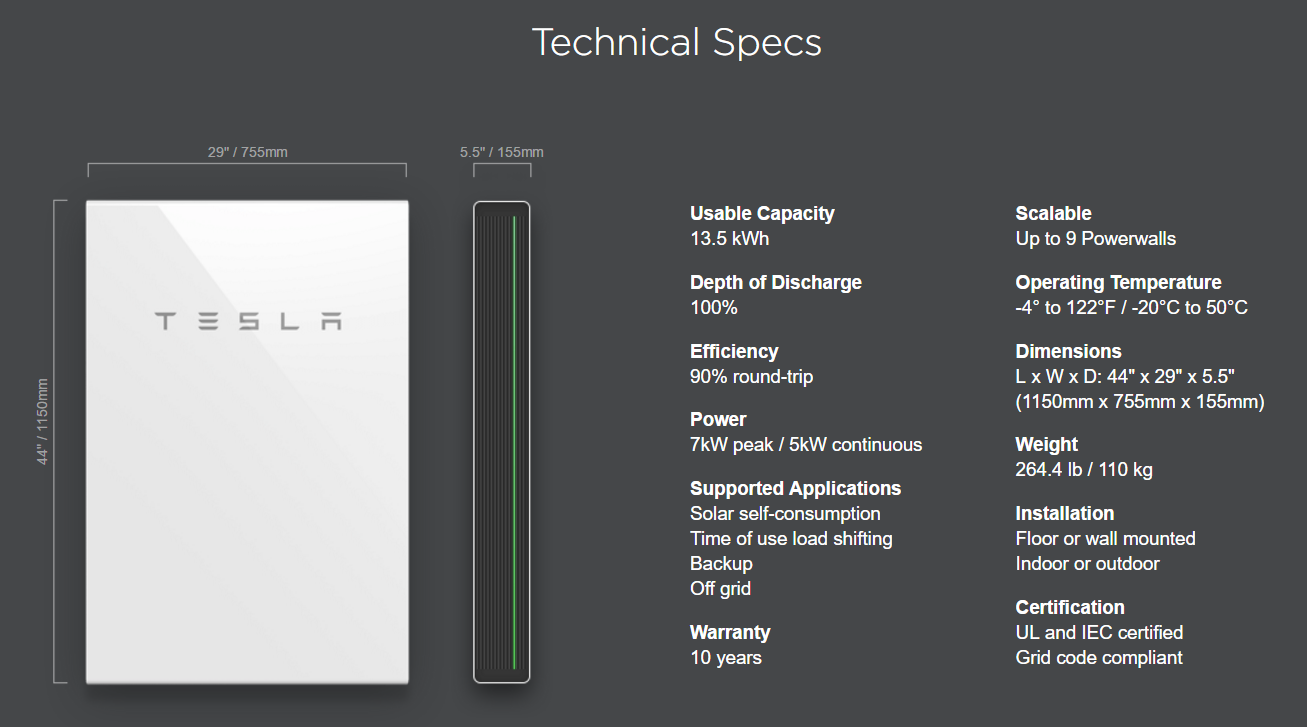 Specifications of the Tesla Powerwall 2.0. (Via the Tesla website. Click to enlarge.)
Some details about the Powerwall 2.0 are still unclear. For example, what is the end of life retained capacity, and how many times can the battery be cycled within its warranty period (read more about cycle life & energy throughput)? For now, we're assuming that they're same as the original units, which had 60% EoL retained capacity and a cycle life of 3,650 cycles (1x per day).
 At a glance: Powerwall 1.0 vs Powerwall 20
 
 Powerwall 1.0
Powerwall 2.0 
 Energy storage capacity (usable)
 6.4kWh
13.5kWh
 Power output (continuous/peak)
 3.3kW
 5kW/7kW
 Inverter?
 SolarEdge, Fronius or SMA
 Built in
Appearance
Weight 
 97kg
 110kg
 Dimensions (LxWxD)
 1302/862/183mm
1150/755/155mm
Mounting
Indoor/Outdoor

Wall

Indoor/Outdoor

Floor or wall

Indicative install price
$11,000-$15,000
$10,000-$15,000
Indicative price per kWh of storage capacity
$1,500-$2,300
$740-$1,100
Why is the Powerwall 2.0 a big deal?
As we wrote recently, battery storage prices are coming down, but not quite as quickly as we'd like. The Powerwall 1.0 set the benchmark for lithium home battery storage prices in Australia, but in the meantime numerous competitors have managed to catch up: a comparison we recently put together saw the Powerwall as the most expensive of four comparable options – not to mention the oldest on the market. The new Powerwall 2.0 has again shifted the goalposts, coming in at roughly the same price as the original – despite the fact that the specifications are significantly improved over those of the Powerwall 1.0.
Details about pricing for the Powerwall 2.0 are still a bit fuzzy. The Australian version of Tesla's official website puts the installed price at about $8,000 plus labour and "VAT" (which we assume means GST – see screenshot below) – for a total of about $10,000. However, we've also seen installer pricing as high as $15,000, so there's clearly a range. That being said, even at the high end of the spectrum, the Powerwall 2.0 will be competitive with pretty much all of the other products out there.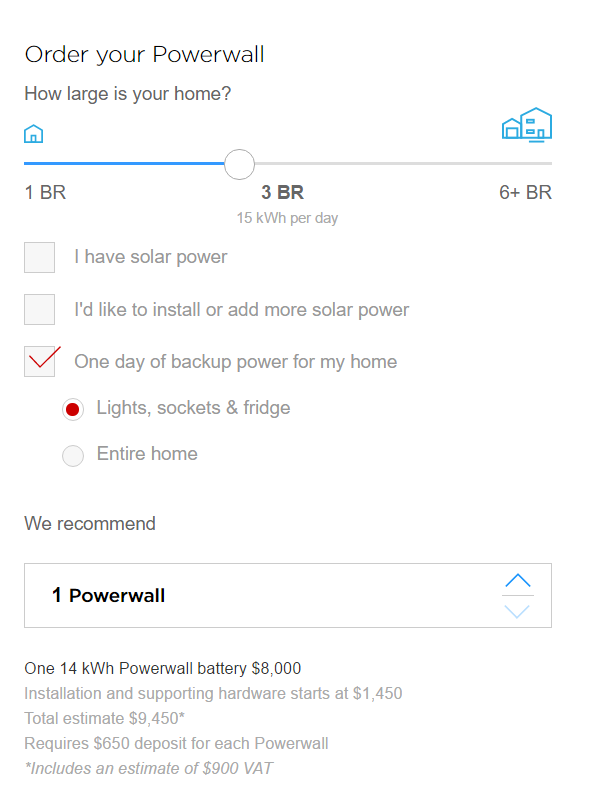 If the $10,000 figure is accurate, on the other hand, it will blow the competition out of the water. As we pointed out in our recent analysis, $750/kWh is the point at which the scales begin to tip towards battery storage mass affordability; it also happens to be the approximate costing breakdown for the Powerwall 2.0 (again, if the $10,000 figure is correct). This is the sort of pricing that Australia has been waiting for.
Who is the Powerwall 2.0 for?
At double the storage capacity as its older, smaller brother, the Powerwall 2.0 eschews the incrementally expandable battery bank approach taken by a range of battery manufacturers (including Enphase and Sonnen, amongst others). With this larger battery bank, you're either all in or you're all out, and you'll need a solar system large enough to fill it up (7kW – 10kW should do the trick, and larger is probably better). The unit, therefore, seems geared towards those who are serious about energy independence.

Grid independence key performance indicators for a 10kW solar system and Powerwall 2.0 installed on a Brisbane home. The home would be operate day-to-day without having to draw much energy from the grid. (Table created using PVSell.)
What about other battery storage products?
If the events of the past year and a half are anything to go by, it won't be long before other manufacturers seek to emulate the value proposition of Tesla's Powerwall 2.0. In fact, there are already a number of other interesting, attractive battery products available in Australia. We recommend shopping around and considering the whole range of products on the market before making a decision – even if you do ultimately decide on a Powerwall.
Want more info? Check out these resources
Compare solar & battery storage quotes from installers in your area instantly and for free
Learn more about battery storage: Check out our Battery Storage 101 page
Try our Solar & Battery Storage Sizing & Payback Estimator Tool
Check out our Battery Storage Product Performance Comparison Tool
See the rest of our calculators in our Calculator Resource Library
© 2016 Solar Choice Pty Ltd