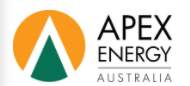 Apex Energy Australia Reviews
About Apex Energy Australia
From humble beginnings in the early 2000's, Apex Energy has developed into a leading renewable energy provider with over 60 inhouse employees.

We take pride in enabling employees to take ownership of their work through an inclusive work culture backed by structured quality control systems.

Our commitment to quality, safety and the environment are recognised with triple ISO certifications and accreditation with indigenous procurement organisation, Supply Nation.

Apex Energy acknowledges the Traditional Owners of the country throughout Australia and recognises their continuing connection to land, waters and community. We pay our respect to them and their cultures; and to Elders past, present and emerging.
All Reviews
There are currently no reviews for Apex Energy Australia