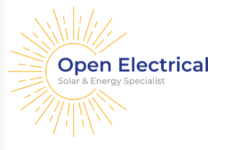 Open Electrical Reviews
About Open Electrical
Our Mission & Vision
Since 2013
It's our core values of transparency and integrity that separate us from the countless Solar Power Electrical Contractors out there in this nascent industry. At Open Electrical, we strive for excellence in sustainability, combining business integrity with our passion to provide our customers with quality products and service.



Founded by Director Mark Lyall in 2013, Open Electrical developed from an existing family-owned electrical company. Today, we're proud stewards with over 19 years of experience in the industry.



At Open Electrical, our customers range from residential homeowners, city councils, large multination corporations and SME's. While our customers all have different needs and budgets, they often have the same objective: to reduce energy consumption and make the world a more eco-friendly place.
All Reviews
There are currently no reviews for Open Electrical