Overview of our story – originating developer of solar farms
From late 2012 Solar Choice's founder and managing director Angus Gemmell began selecting a range of optimal broad-acre solar farm sites around Australia (North Queensland, South Queensland, NSW and Victoria) that adjoin high voltage transmission infrastructure, and accordingly are geared to exceptional scale and multiple stage roll-outs.
A lot of Angus' project development work was done during 2013 and 2015 when Australia's then Prime Minister Tony Abbott had instigated prolonged attacks on the nation's Renewable Energy Target, and the utility-scale renewable energy industry had accordingly come to a stand-still. As reported at the time in this "Under the Sun" article in The Guardian, Solar Choice backed the view that large-scale solar was on the right side of history, and while other developers chose to look beyond Australia during those difficult years Angus saw this as an opportune time to be active.
Solar Choice's role was to act as the originating developer of this range of sites, and to deploy experienced gained from Angus' work co-developing the 2.3MW Mount Majura Solar Farm north of Canberra Airport in ACT. This early-stage development work typically involved commencing the landowner negotiations, securing land exclusivity and then navigating, funding and attaining planning approvals.
In this way planning approvals were obtained by Solar Choice for the 60MW DC Gannawarra Solar Farm in Victoria in November 2013 with second stage potentials for an additional 175MW, for the 1,200MW Bulli Creek Solar Farm across 13,000 acres in Southern Queensland in February 2015, and for 10,000 acres "Whitsunday sites" surrounding Powerlink's major 132/275kV Strathmore Substation in North Queensland in June 2015.
The latter of these is the land upon which Edify Energy subsequently led the development and financing into construction of the 69MW DC Whitsunday Solar Farm, 69MW DC Hayman Solar Farm, 180MW DC Daydream Solar Farm and 60MW DC Hamilton Solar Farms (totalling 378MW DC), as they also did for the 60MW DC Gannawarra Solar Farm in Victoria.
In August 2016 Angus commenced negotiations with land owners adjoining Transgrid's major 132/220/330kV Darlington Point Substation in south-west NSW, and worked closely with Edify Energy for them to obtain an Option to Purchase with the landowner abutting the substation, and a Heads of Agreement granting exclusivity over 1,500 acres of land with UK-based owners of adjoining land. Edify Energy then led the full development including the planning approval for this project which resulted in the 333MW DC Darlington Point Solar Farm (which commenced construction in early 2019).
Strategic Partners
Solar Choice entered into a Cooperation Agreement with Edify Energy in July 2015 by which we assigned ownership of the rights to the Gannawarra and Whitsunday Solar Farm sites. Edify Energy subsequently led the grid connection studies, power purchase agreement negotiations and financing into construction of these sites. Solar Choice continued with the projects to close out the pre-construction conditions under the planning approvals for the sites.
In December 2016 First Solar took over from SunEdison as Solar Choice's partner for the Bulli Creek Solar Farm. This project is now fully construction ready in all respects, including grid connection agreements largely readied for initial 475MW and 200MW stages, with optionality for further stages up to 1.2GigaWatt.
Project Summary
Total built or under construction:
775.3MW DC
Total planning approved pipeline:
1,608 MW DC
---
Queensland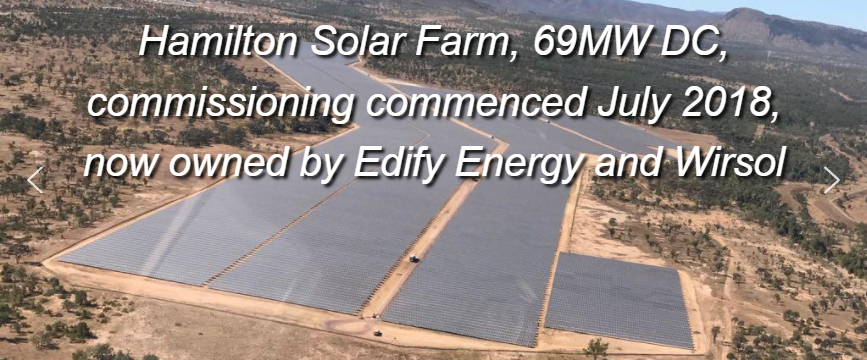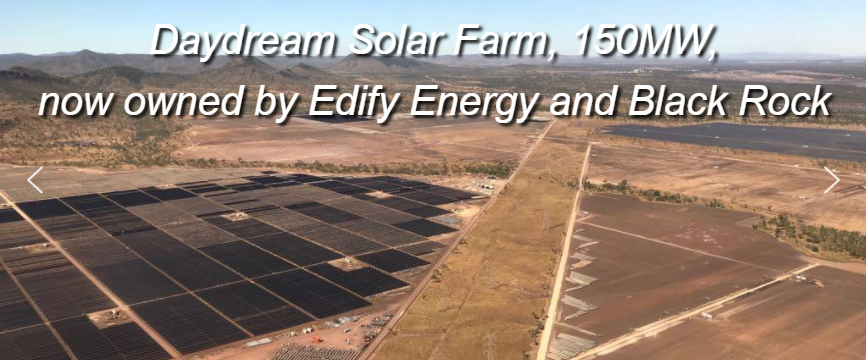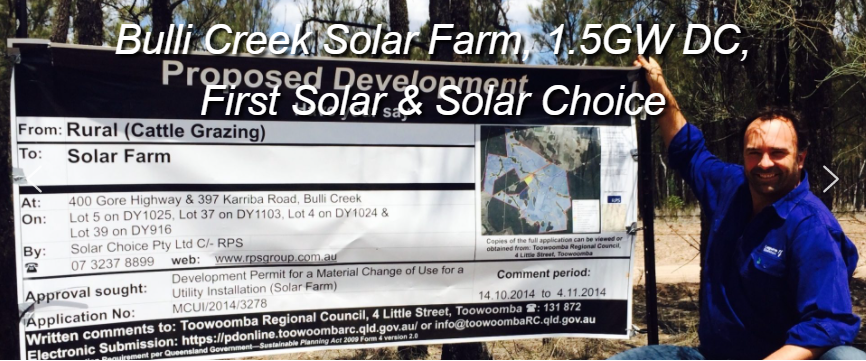 Victoria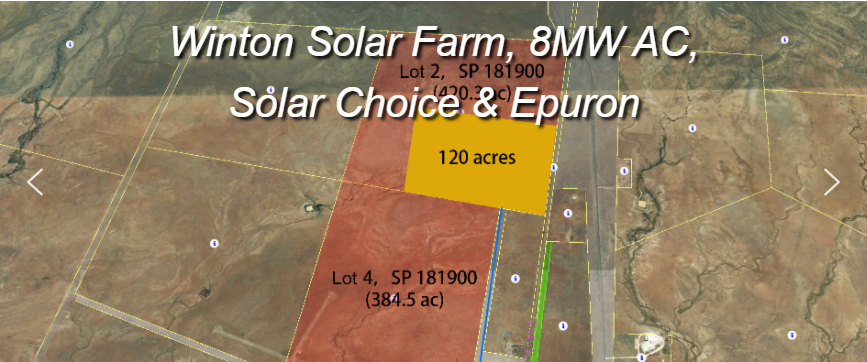 Australian Capital Territory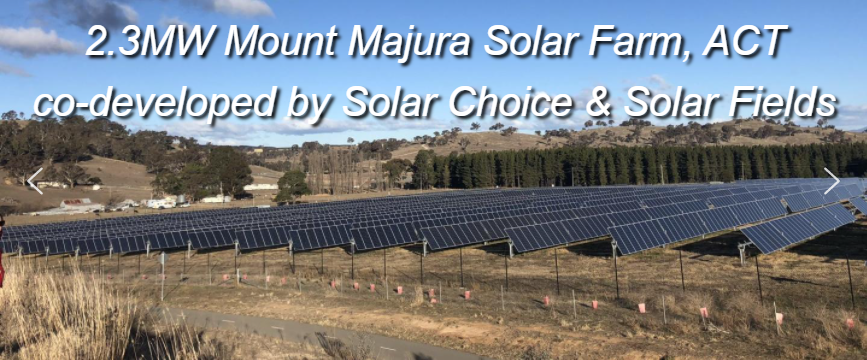 New South Wales