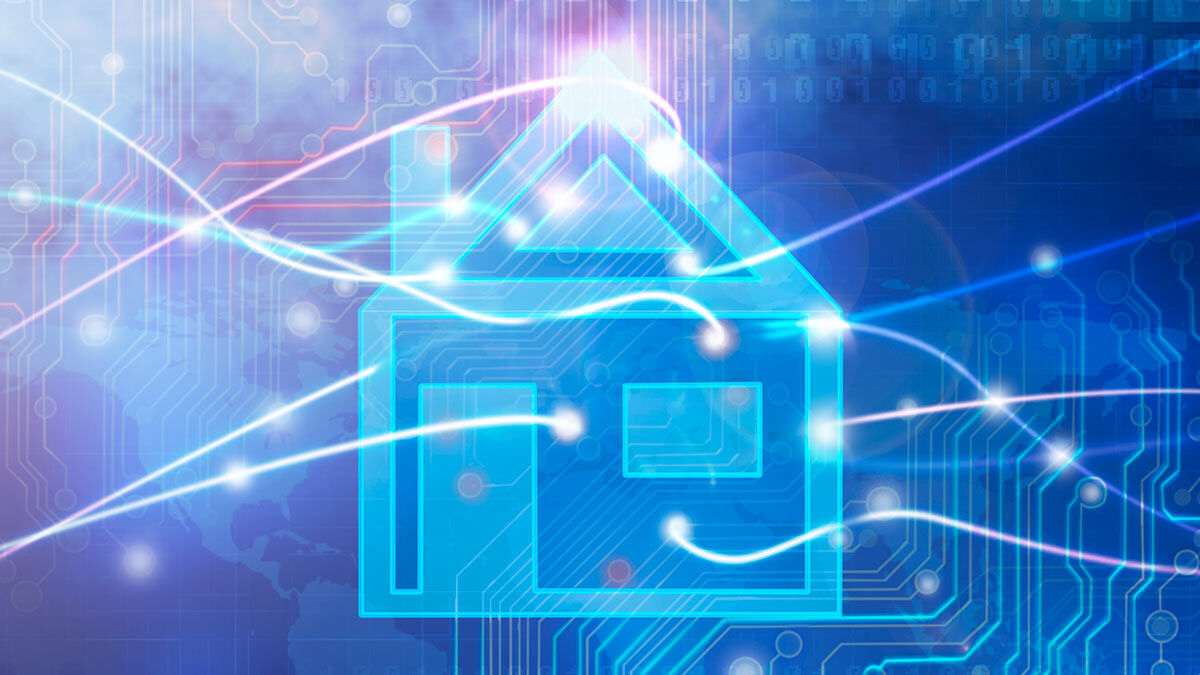 Some of you may have heard of the term "Virtual Power Plant" in recent years within the solar system and battery industry. In this article, we'll explain everything you need to know about VPPs and how it's something you could benefit from in the future.
What exactly is a Virtual Power Plant?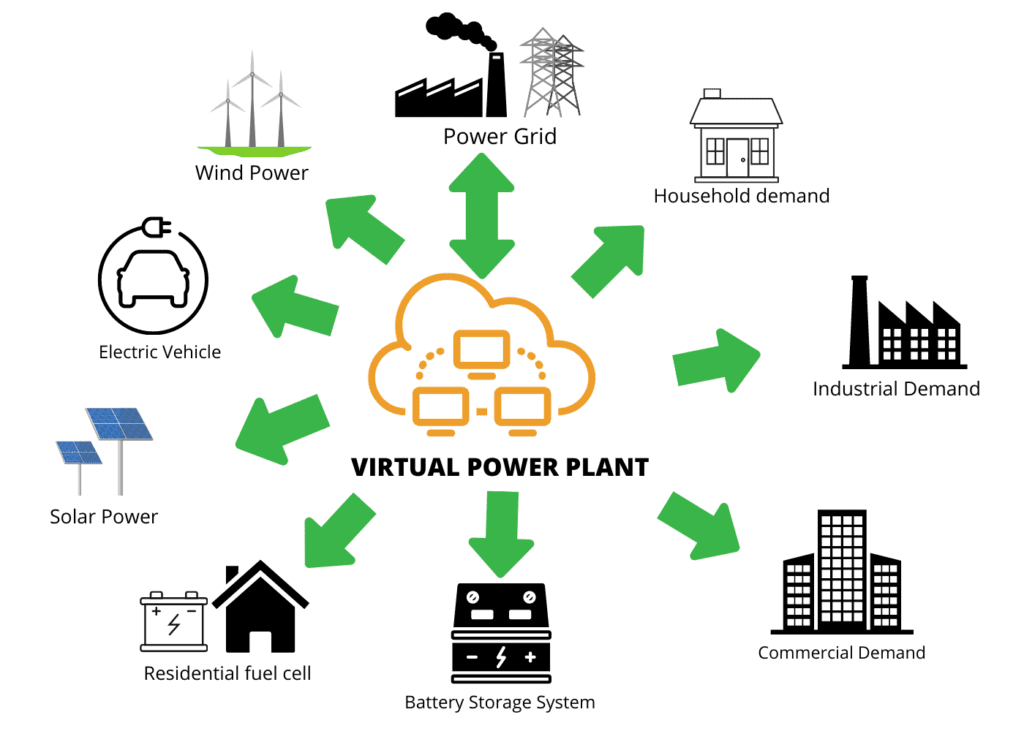 A Virtual Power Plant or VPP is broadly defined as an interconnected and distributed network of a wide array of energy sources, predominantly solar and battery systems (This can include other energy sources such as gas generators and electric hot water systems among others).
The group of interconnected solar and battery systems can perform services that help the grid be more stable and efficient. The VPP operator centrally controls and monitors all the batteries within the network. Many of the VPP operators in Australia are also electricity retailers so they have access to the electricity wholesale market, however a VPP can operate independently of who your electricity agreement is with. 
Generally speaking a VPP is designed to create value for both the VPP operator and the participants in the scheme – usually through sharing of the financial benefits the VPP creates.
What are the uses and benefits of a VPP?
The playing field for VPPs is defined by the current regulatory system. This is currently under review, but as we speak the current options for VPPs to generate money are explained below.
1. Selling power at peak demand periods: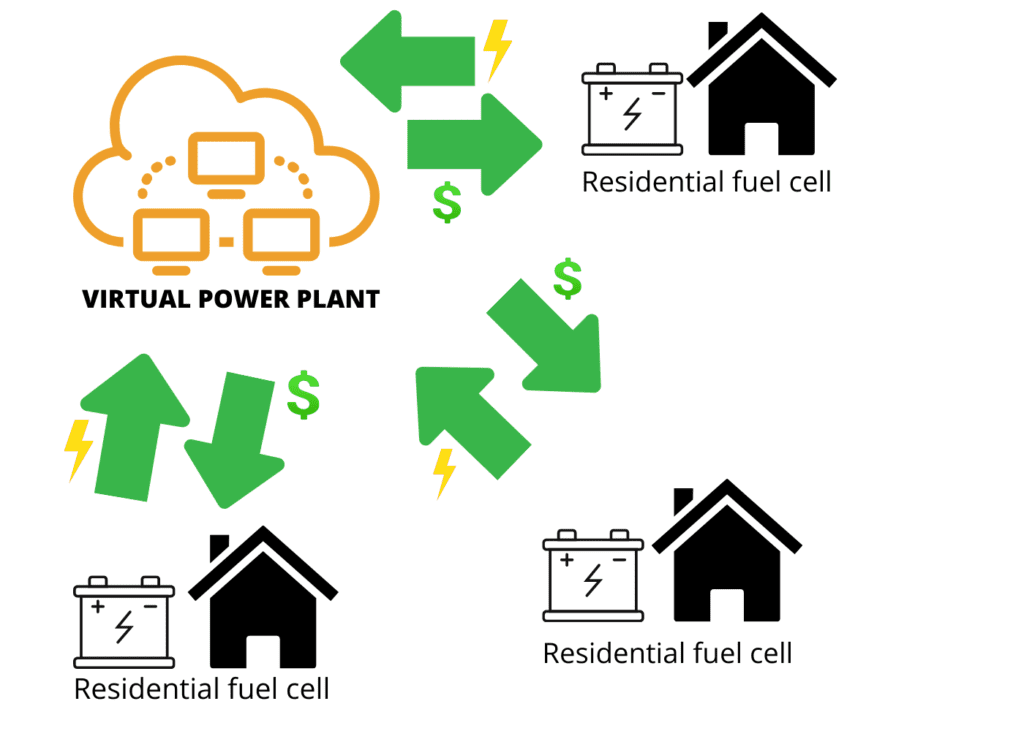 The most common and obvious source of revenue for a VPP is to sell power by discharging batteries at times of peak demand. While you have a fixed rate or fixed time of use rates for energy from your electricity retailer, the wholesale market is constantly moving. 
The wholesale electricity price usually fluctuates between 4c per kWh and 10c per kWh, but at different trading intervals within the year the price can jump much. For example on the 17th May 2021 the wholesale electricity price was around $6 per kWh at 6pm in NSW, VIC and SA. 
At this point all VPPs in each of those states would have discharged as much power into the grid as possible earning $6 per kWh. They can offer a very attractive rate back to the participants of the VPP for each kWh they contributed and still make a reasonable revenue.
2. Helping create a more stable grid:

All power networks require energy generation and demand from electricity to be in balance in order to operate safely and efficiently. If there is a change or variation in either side of this equation then this can lead to power failures and blackouts.
Along with the major power stations there are smaller, more nimble and flexible power plants (often gas) that can ramp up or down at short notice. These plants operate in the Frequency Control Ancillary Services (FCAS) markets.
In some cases plants in this market are paid to 'stand-by' and be ready to switch on at short notice. VPPs can operate in this market as they can rapidly discharge power into the grid or charge power from the grid.
In some cases these batteries within these types of arrangements will not be able to discharge below a certain level as they need to have sufficient power on stand-by to meet grid's requirements.
How you are actually paid for your participation in a VPP demands on how each program has been set up. Some programs offer a benefits sharing scheme through an attractive or bonus Feed In Tariff each time the batteries are utilised. Other schemes offer an upfront discount off the cost of the battery or a fixed payment each month.
Compare battery quotes from up to 7 installers now.
Virtual Power Plants in Australia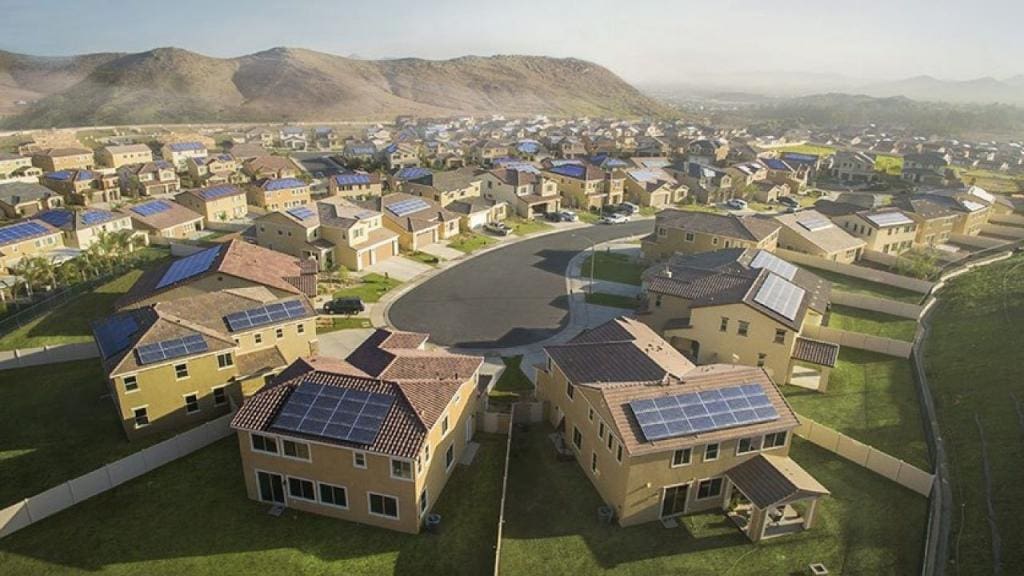 By now you might be thinking to yourself, "virtual power plants sound good, but how do we participate with this in Australia?" Let's explore VPPs in this country and how it could play out in the future.
South Australia's virtual power plant would have to be the most well known user case of this technology. It was launched in 2018 as a joint venture between Tesla, energy provider Energy Locals and the South Australian Government with the goal of having 50,000 potential homes fitted with solar and Tesla Powerwall battery systems within four years. This would be the world's largest VPP with a power capacity of 250 megawatts.
So far, 1,100 Housing SA homes have been the recipients of solar systems and batteries installed with new Powerwall owners enticed with a subsidy from the South Australia Home Battery Scheme. As of writing (July 2021), the subsidy has been reduced to $2,000.  In addition, Tesla has been enticing homeowners with $220 per year in grid support credits.
The cost of the project will be funded by exporting electricity generated by these panels.  It has been kickstarted with a $2 million grant and a $30 million loan, which the SA government hopes will help lower electricity prices in the State by increasing the amount of competition. SA is known for having high electricity prices due to the lack of competition.
An analysis by Frontier Economics, an economics consulting firm estimated that the system would lower energy bills by 30 percent for residents in South Australia. Housing Trust residents will still benefit even if their home is deemed to be unsuitable due to rooftop shading and other issues.
The purported benefits that Tesla is touting include lower energy bills, protection against blackouts, as well as energy monitoring.
The Scheme is offering several incentives in order to attract participants. A solar system combined with a Powerwall will be installed free of charge (subject to eligibility).
Whilst the Scheme sounds promising and altogether utopian in it's ideals.  One of the most obvious concerns is the fact that Tesla is an exclusive battery provider for the VPP, so it doesn't come without its detractors.
No doubt, Tesla is an innovative and ambitious company tasked with delivering 50,000 units over the period of the Scheme.
But Tesla is known for their continued production delays and quality control issues with the Model 3 electric car over the years. So, it shouldn't be a surprise if they encounter similar risks in quality control and supply chain management issues with the Powerwall.
There's also the inherent risk of having a company as a bottleneck in production. Whether there's a natural disaster such as an earthquake or fire occurring at a factory or global supply chain issues due to COVID-19 , relying on one company as the sole supplier represents a potential single point of failure.
There's also the issue of the size of the solar panels being installed on roofs with only 5 kilowatt capacity, which is an issue during winter.  In winter, 5 kilowatts of north facing panels will only produce 11.5 kWh a day.  This isn't much, considering the fact that a Powerwall 2 can store 13.5 kWh. Therefore, if an average household self consumes an average of 5 kilowatt hours of solar electricity per day, that leaves an excess of 6.5 kWh to be stored in batteries. That means it would take over 2 days to fully charge a Powerwall 2 with solar electricity. That doesn't leave much of a buffer in case anything goes wrong.
Virtual Power Plant (VPP) Comparison Table
We've created a table below of all available VPP Plans and Providers for each state in Australia so that you can make an informed decision.
VPP Provider
Required Batteries
VPP Subsidy?
Eligibility Requirements
Feed-in tariffs

Members Energy

AlphaESS, Hive, Tesla Powerwall, Eveready

No battery subsidy exists. An uncapped feed-in rate for grid discharge events available.

Must be with Energy Locals

Between 6c – 10c depending on the state

Simply Energy VPP

Tesla Powerwall 2

$580 total over a period of 2 years.

Must be with Simply Energy. Only available to NSW, VIC, QLD

Standard feed-in tariffs

Tesla Energy Plan/Energy Locals

Tesla Powerwall

$2000 Powerwall subsidy plus $220 a year in grid support credits

A resident of South Australia

Time of Use tariff: 31.13c peak, 21.99c off-peak, 16.5c solar sponge, 7.5c feed-in tariff

Origin Energy Virtual Power Plant

LG Chem 9.8 HV & LB Chem RESU (6.5, 10, 13 LV)

Roughly $4800 off with $20 per month credit over 5 years.

A resident of Victoria and have at least a 5kW solar system

Choose an existing plan already offered. Receive a credit for battery discharges

Discover Energy VPP

Flexible: Any battery that works with Alpha-ESS hybrid, Huawei, SolarEdge, Sungrow or Goodwe inverters

No Subsidy. Must provide your own battery.

Be a resident of NSW, VIC, SA or South East Queensland

VIC:

First 300 kWh/quarter: 20c/kWh. Next 300kWh/quarter: 15c/kWh. 10.2c/kWh for all after that. 50-50 profit sharing on trades managed by Discover Energy.

NSW, ACT, SE QLD or SA:

First 300 kWh/quarter: 45c/kWh. Next 300kWh/quarter: 25c/kWh. 9c/kWh for all after that. 50-50 profit sharing on trades managed by Discover Energy.

Social Energy

SolaX "Triple Power" or Duracell "Energy Bank"

No battery subsided given. Instead a high feed-in tariff is provided.

Resident of NSW, QLD, ACT, SA & TAS

40c per kWh for first 300 kWh per quarter. After that a FiT is paid based on your state.

Energy Australia's PowerResponse

Redback or Tesla Powerwall

A one-off $200 joining credit, as well as $20 per grid event (max 20 per year)

Must be with Energy Australia

Standard feed-in tariff given for a discharge. Also $20 credit given per grid event.

ShineHub

Alpha-ESS

SA residents receive a $2,000 battery subsidy

VIC & SA residents only

Amount for feed-in tariff depends on retailer. A $0.45c per kWh is paid for electricity fed back into the grid.

AGL – Bring Your Own Battery

Tesla Powerwall 2 or LG Chem RESU

$1000 discount on the battery. $45 credit off bill every quarter. $100 credit off bill upon sign-up

AGL customers in NSW, VIC, QLD & SA.

No VPP tariff given. As per the standard AGL plan.

PowerClub Powerbank

Sonnen only

First 20 members receive a $500 credit.

Be a resident of South Australia with at least a 6kW solar system and a 10kWh Sonnenbatterie

11.5c feed-in tariff & a 29c usage tariff

Plico Energy VPP

Pylontech

Customers sign up for a 10 year contract. They receive 6.6kW solar system with 7.2kWh of Pylontech storage.

Residents of WA only

Standard Synergy tariffs

AusGrid Power2U

BYD, SolaX or LG Chem

Depends on the size of their battery system and number of network events they're in.

Customers with battery systems who select ShineHub, Reposit Power or Evergen as their demand response provider and have a battery that is connected with Ausgrid.

Feed-in tariff depends on the customers retailer.

SonnenFlat VPP

sonnenBatterie Hybrid or sonnenBatterie Eco

An annual allowance (w/ a minimum of 4000kWh) is allowed for total household consumption. BYO battery.

Customer must be located in the National Electricity Market (NEM). Have a minimum of 3kWp PV and 4kWh sonnenBatterie installed.

The feed-in tariff is credited to the customer when they export beyond the Export Threshold of the plan. FiT depends on the distribution network.
Compare battery quotes from up to 7 installers now.
Frequently Asked Questions (FAQ )
What are the Pros of a VPP?

The fixed feed-in tariff is generally higher than average for most VPP programs. Some offer a very high variable feed-in tariff rate, with some going as high as $1 per kWh or more.
Buying a battery through a VPP can significantly lower the upfront costs to customers so can make battery energy storage affordable for more Australians
Being part of an exciting renewable energy grid system
What are the Cons of a VPP?
Some VPP programs require the household to provide their own battery upfront. The implication with this is that for existing battery owners, depending on their battery make and model, it might not be eligible. The other issue is that they don't receive any upfront discount incentives.
There's a lack of clarity and transparency around the fixed and variable feed-in tariff rates. For example, Energy Australia is vague about what an 'event' is regarding discharge of a battery. So, as a household consumer you might get frustrated with the lack of control.  We recommend you exercise your  due diligence and shop before you sign that contract.
Being part of a VPP means that you're essentially giving up control and autonomy of your battery system to someone else (which is the main reason why people turn to them in the first place). The implication of this is that most VPPs won't leave any reserve storage with your batteries, as being fed into the grid. So, in the case of a blackout, you won't be covered.
The lifespan of your battery may be shortened as the VPP can discharge electricity from your battery at will.
How much can I earn?

The short answer to this question is it really depends on your VPP provider. Some providers may give you a fixed amount, whereas others may 'pay' you in the form of a discounted electricity bill. Through many of the programs we've seen the benefits look to end up in the $100-$200 p.a range depending on the size of the battery.
We recommend you do your due diligence and shop around with several providers before you jump in the deep end.
How can I participate in a VPP?

Virtual Power Plants have been offered by several retailers in Australia over the past few years. It's important to take into consideration the type of battery that you install, as it will guide you as to which VPP you can join. Also note that some VPP providers may require you to install an energy management device or specialised software.
At Solar Choice, we've done a lot of the heavy lifting for you by pre-vetting over 200 installers Australia-wide. We've been in business since 2008 and in that time have helped over 180,000 Australian households and businesses during that time make an apples-for-apples comparison regarding their solar requirements.
Our solar battery index attracts thousands of people a month, so we definitely know what we're talking about when it comes to solar battery storage requirements.
We've done the hard work sifting through the many battery offers out there to find the most competitive options from battery installers who pass our requirements. To investigate your options further and compare quotes for your home use our online comparison portal via the link below.
Compare battery quotes from up to 7 installers now.
Should I join a VPP?

Virtual Power Plants are highly touted for their purported benefits with creating a decentralised network of individual DERs acting as a power station. However, as listed above there are several issues that need to be addressed.
Another issue is to do with optimal efficiency of resource use. Let's say person X has high energy requirements and therefore has higher demands on the network. Person Y who has excess battery power to give to person X, but is connected a long distance from him. This poses an efficiency problem as there exists an equity issue between consumers. There's also an issue not accounting for individual households specific energy requirements and usages.
Hence, the trend of moving away from the simple VPP model, and towards an upgraded and more reliable "2.0 model". CSIRO is leading the way with their Virtual Power Station 2 project which will provide more transparent information to all parties to the network which benefit from it. In particular it will help the supply side of the network, where low daytime energy consumption worsens the issue of oversupplying from solar.
So, at this stage we would say that a Virtual Power Plant isn't currently worth being part of at the moment due to the reasons listed above. However, over time as more VPP players enter the market, hopefully this will increase the level of competition that exists and so improve the technological aspects of the network as well as improved feed-in tariff rates.
Conclusion
Virtual power plants are a cutting edge decentralised energy platform that have the potential to radically transform the renewable energy landscape in Australia. Currently, we're still in the early developmental stage of this exciting technology with a lot of potential in providing households with cheaper electricity and greater autonomy and less reliance on the conventional grid system. Watch this space for future growth.
Compare quotes from up to 7 pre-vetted installers in your area now.
Since 2008 our knowledge and sophisticated software has allowed over 300,000 Australian households and businesses to make a well-informed choice on their solar & battery installer.