Developing nations have taken the lead on clean energy, a new study has shown, after adding a record 114GW of zero-carbon energy generating capacity of all types, 94GW of which was wind and solar.
The study, based on the latest Bloomberg New Energy Finance 
Climatescope survey,
 shows that emerging economies are not only leading global renewable energy investment and development, but have slashed their new coal plant build by nearly half.
In 2017, developing nations brought on line the least amount of new coal-fired power generating capacity since at least 2006, with a new coal build 38 per cent lower than the year before, at 48GW.That number, says BloombergNEF, not only represents half of what was added in 2015 when the market peaked at 97GW of coal commissioned, it is almost exactly half the amount of solar and wind capacity those countries added in 2017.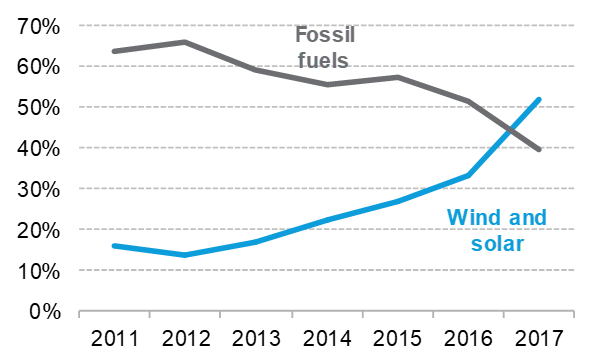 "It's been quite a turnaround," said Dario Traum, BNEF senior associate and Climatescope project manager in comments accompanying the report.
"Just a few years ago, some argued that less developed nations could not, or even should not, expand power generation with zero-carbon sources because these were too expensive. Today, these countries are leading the charge when it comes to deployment, investment, policy innovation and cost reductions."
This trend has been most apparent, BNEF says, in the more-than-28GW contracted through tenders in emerging markets in 2017, involving bids from developers to deliver wind for as low as $17.7/MWh and solar for as little as $18.9/MWh.
"Thanks to exceptional natural resources in many developing countries and dramatically lower equipment costs, new renewables projects now regularly outcompete new fossil plants on price – without the benefit of subsidies," the report says.