CATCH Power is an Australian company who say they have crafted a solar diverter perfectly tailored to Australian market conditions. By March this year, the company will offer four different versions of its device, all of whose settings can be adjusted to optimise savings – and two of which connect to the internet and allow the user access to an online monitoring platform. Another unit for commercial applications is due out later this year. All CATCH products are designed, engineered and manufactured in Australia.
The basic job of a solar diverter is to 'sense' when a home is producing more solar energy than it can put to use, and then divert that solar energy into the element of a hot water tank or underfloor heating system – instead of allowing it to go into the grid, where it will net the system owner only a nominal solar feed-in tariff credit of about 6-8c per kilowatt-hour in many instances. In effect, a solar diverter allows a home to maximise its 'solar self-consumption' and therefore its solar savings.
CATCH Power's approach in a nutshell
CATCH Power co-founder Scott Young says that the company developed its range of solar diverters after noticing some of the inherent disadvantages in existing products on the market, including solar hot water. The key aspects of the company's approach are outlined below.
Intelligently autonomous
The first is what we might call a lack of 'adjustability' – many systems are inflexible, doing their work in a simple, automated way day in and day out. CATCH Power will continuously monitor the conditions in the home and make adjustments so to make the most out of the solar that is surplus to the home. Through monitoring solar generation, household loads, and hot water consumption, plus then including forecasted weather data, CATCH (Blue in this case) will make the best decisions between being as energy efficient as possible and maintaining the supply of hot water.
The system can also be adjusted manually or remotely via an app or web portal, allowing system owners to set their system for changing conditions, such as going on holiday (we don't want to use any mains power to heat water for an empty house!), or if there is a sudden increased demand in house due to guests arriving etc.
The buttons below show the controls that are available through CATCH (in this case via the web portal for the Blue CATCH product.)

Control buttons on the CATCH Power platform.
Compatibility with time of use billing
One of the other limitations he noticed had to do with devices' ability to take off-peak metering into account. Many of competing products, he says, were designed for UK conditions, where off-peak doesn't exist. Off-peak circuits can be triggered at any time during the day, but mostly during the late night (from 11pm) until the early morning (around 5am).  The time that off-peak comes on can vary from one house to the next, and be different right across a distributors network.  This is what the UK designed products have trouble with and what CATCH does easily, hence made for local conditions.
"Distributor controlled off-peak can come on at any time," says Scott. "Products made overseas don't have the ability to use with this variable supply. CATCH knows how to deal with this power source from every location, individually".
Digital monitoring
Another advantage that CATCH offers, compared to others on the market, is digital system monitoring and control. CATCH is one of the only specialist solar diverter brands to offer digital monitoring for its units – never mind digital control. In addition to peace of mind that the unit is working, monitoring and control functions can also translate into bigger savings, allowing system owners to get more out of both their solar panels and the diverter itself.
Blue CATCH will also monitor the performance of the solar system, so if there is a drop in solar output then CATCH will advise the owner to check the system over.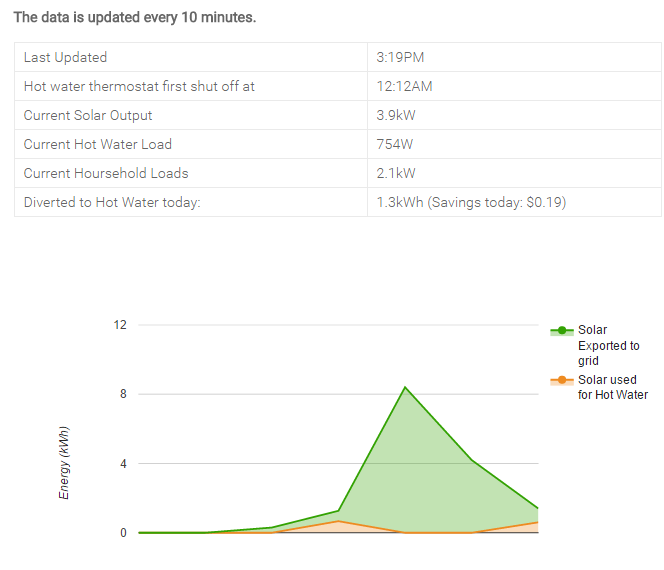 A screenshot from the CATCH online portal (click to enlarge).
How it works
Once a solar system owner has CATCH installed, excess solar energy will automatically be redirected into the element in your hot water tank or other resistive loads common in residential properties such as underfloor heating. The timing of the redirection will depend on what the most economical source of electricity is at any given time – whether that be solar, off-peak electricity or (when neither is available) grid electricity. All this occurs completely autonomously, based on sophisticated algorithms that allow each unit to operate individually and adapt to individual circumstances.
Users are also able to set their preferences for water heating if they choose to, using buttons on the device itself (in the case of Green CATCH, which has no internet connection) or remotely via an app or web portal (in the case of Blue and Red CATCH).
CATCH Power product range
Two lines of CATCH Power's units are already available in Australia, with a third to be introduced within the first three months of 2017. They are:
Green CATCH –

A solar diverter to handle loads up to 4.8kW, single phase. No internet connection. This model is currently available. (Single-phase version currently available, 3-phase version due out in March.)

Blue CATCH –

This model is currently available. 

Same as Green CATCH, but with internet connection, for forecasted weather data. The owner can also see the entire picture of power flow in their home, load, solar and hot water. There is also remote control if the homeowner is away from the property or they are a landlord for a rental property. (Single-phase version currently available, 3-phase version due out in March.)

Red CATCH –

Solar diverter with internet connection, three-phase and load capacity of 7.2kW, and a primary focus for commercial applications. (This unit will be available before the end of 2017.)
Contact CATCH Power
Scott Young, Sales and Marketing manager
Phone: 0429 525 975
Email: scott@catchpower.com.au
© 2017 Solar Choice Pty Ltd