Every quarter that electricity bill rolls in, and you may be left wondering – how is it so high, and how am I using that much energy? Here is a summary of how the typical home in NSW uses energy, and where it all goes. The typical home in each state of Australia varies in how it uses energy due to climate differences, the usage of gas and penetration of appliances. However the principles of how to reduce your consumption given here can be applied to anybody.
The graph below by EnergyAustralia gives a summary of what parts of your home use the most electricity. Some of the results might surprise you.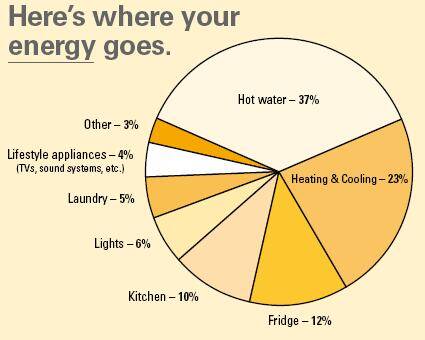 Hot water
As the graph above shows, an awful lot of energy goes into heating your hot water. In NSW the typical home spends 37% of it's electricity in heating up its hot water. This is a very large amount, and is essentially due to the fact that heating water takes a lot of energy, and that people want hot water on demand, so a large amount of water always needs to be kept hot.
In states like Victoria and WA, where most people have gas hot water heating rather then electricity, this won't be such an issue. But in most other states electric hot water systems are still dominant.
The easy way to reduce your hot water energy consumption is to take shorter showers and use less hot water. According to EnergyAustralia, installing a low flow shower head can save you up to $100 a year in energy costs. The best way to reduce your hot water energy consumption drastically, however, is to install a solar hot water system. In terms of running costs, a solar hot water system with a gas boost is the very best option. With a solar hot water system you could reduce your energy consumption and greenhouse gas emissions in this slice of the pie by 75%. Without doubt, installing a solar hot water system is the very best and most effective way to reduce your energy consumption in the home.
Heating and cooling
As one would expect, heating and cooling make up a big chunk of household energy consumption. Once again, in states like Victoria where gas heating is prevalent, this isn't such a problem for heating. Gas heating emits only a third of the greenhouse gases that electric heating does, and is also about 30% cheaper. Air conditioning, as you may well know, is a very energy hungry process. The growing prevalence of air conditioners is causing average electricity consumption to increase.
Avoiding the use of air conditioning is an easy way to make very substantial energy savings. A roof or pedestal fan uses only around 5% of the energy an air conditioner does. One of the best ways to make consistent energy savings though is to avoid over-heating and over-cooling your home. Each degree of added heating or cooling adds about 10% to your energy use for this segment. So in summer try and keep the thermostat between 23-26 degrees, and in winter 18-21 degrees. The environment will thank you for it.
Kitchen
A sizable amount of electricity is used in the kitchen. Unfortunately, there is no quick and easy way to reduce this consumption, aside from cooking less! Simple tips like running a full rather than half full dishwasher will help. One of the best ways to knock this portion down consistently though is to purchase more energy efficient appliances when the time comes to replace them.
Lights
Lights take up less electricity then you might think, however, it is still a substantial amount. Switching of lights when you're not in the room is an obvious way to reduce consumption. Switching to Compact Fluorescent Lights is even more effective – saving over 80% of the power a normal incandescent bulb uses, and lasting around 15 times longer.
Refrigeration
Your fridge is one of the single most thirsty appliances in your home. As with heating and cooling, altering temperatures takes a lot of energy. With a refrigerator running constantly, this amounts to quite a lot of consumption. As with other kitchen appliances there is no easy way to reduce this, however, when buying a new fridge it is a very good idea to go with the most energy efficient model you can afford – it will pay itself off in energy savings. A common behaviour when buying a new fridge is to take the old one out back and run it in the garage as a beer and drinks fridge. Although this may be convenient when you have a lot of mates around, it is a sure fire way to consume much more energy, especially since older fridges are less efficient and tend to run poorly as they age. To be energy smart, run your beer fridge only before a big BBQ, leaving the door ajar when it's switched off to avoid mould.
Lifestyle appliances
These are appliances such as your TV, stereo, DVD player, computer etc. A growing segment of electricity consumption as people buy more and more gadgets, and bigger TV's. One of the small unknown facts is that appliances on standby continue to consumer power, and in some cases this can be considerable. Newer estimates put standby electricity consumption at 6% of total household electricity use. Regulations are coming into place that limit the amount of power new appliances in standby mode can use, but a simple way to reduce consumption is to switch appliances off, rather than just putting them on standby. In some cases this means having to switch off the appliance at the wall.
Laundry
Once again, washing and drying clothes in your laundry consumes a lot of energy, principally due to the use of heat. A washing machine running on a hot wash cycle either uses hot water from your hot water heater or heats the water itself. This can consumer a lot of power, in fact, running your machine on a cold cycle can reduce energy consumption by up to 80%. Tumble dryers are another energy hungry appliance. So it is always best to avoid their use where you can, and air dry clothes on the line.
When it comes to replacing your laundry appliances, look for new equipment with the maximum energy star rating you can afford. Front loading washing machines also use less energy and water then top loading ones, so they can be a very good option.
For more detailed information about when you use appliances, and how your consumption looks at different times of the day, see the next blog article: How do I use electricity throughout the day " the load curve.
For more information on how to conserve energy in your home, and more detail around the consumption of different types of appliances, see the Energy Saving at Home page on the EnergyAustralia website, which contains a wealth of information on the topic.
Kobad Bhavnagri
Solar Energy Consultant
Solar Choice Pty Ltd
© 2010 Solar Choice Pty Ltd