There are now well over 1.5 million households in Australia with solar PV systems on their roofs, altogether comprising over 6 gigawatts (GW) of electricity generation capacity – about the same as 2-3 coal-fired power plants. These privately-owned, small-scale systems are already having a significant impact on Australia's energy system. But are they being leveraged to the full extent possible, expanding consumer choice and maximising value for all market participants?
Localvolts is an Australian startup that thinks there's still plenty of room for improvement, and the company's founder Jitendra Tomar has developed the back-end technology to deliver it. The Localvolts platform promises to bring unprecedented transparency, flexibility & value to electricity consumers and generators around the country through unrestrained peer-to-peer trading.
Why Localvolts?
Anyone who is connected to the grid – whether they be a generator, consumer or both – has essentially no say in the 'where', 'when', 'how' and 'how much' with regard to the delivery of their electricity. These details are instead dictated mainly be electricity retailers – the companies that 'bundle up' and sell electricity in retail packages.
As a result, the electricity delivered to your home will inevitably be a mix of 'black' (e.g. coal & gas) and 'green' (e.g. hydro, wind & solar) electricity, plus whatever you generate on-site. If you don't want to support coal generators, for example, there's no way to really avoid it, as coal is so prolific it's in every bundle – even if you have GreenPower (see below). The same goes for those who hate wind & solar power.
A related issue is that of excess solar energy. Many solar system owners are unhappy with their solar feed-in rates (which are low across the country), but are not able to self-consume all of the energy that they produce. If you wanted to sell your solar energy to your neighbour (or purchase it from them), there's currently no mechanism in Australia to allow this. This sort of true peer-to-peer trading – energy trading among players on an equal footing – is simply not possible.
The great unbundling
Mr Tomar has reconsidered the problem from the ground up. What would be the most efficient, equitable & cost-effective way to design the grid & market if we were able to start with the technology we have available today? The answer, he's concluded, would be an open exchange of energy between all the players connected to the network – which is what Localvolts is.
Although the company would need to register as a retailer for regulatory purposes, Localvolts' primary objective is to unbundle everything that can be unbundled, letting members to choose to purchase electricity from the sources of their choice, 24 hours a day, 365 days a year. Members can source their electricity according to a hierarchy of preferences – including price, environmental impact, 'local-ness', and the member's relationship with other sellers & buyers. Generators on the Localvolts marketplace will also be able to sell their electricity with similar contingency plans.
The video below explains how Localvolts would work for members.
Potentially greener than GreenPower
One of the biggest upshots of the Localvolts package is that it could potentially deliver clean electricity in a more meaningful way than GreenPower. While GreenPower does promote the generation of more renewable energy, a big problem is that it has no time component. When an electricity consumer opts to pay extra for GreenPower, the Renewable Energy Certificates (RECs) that they purchase were not necessarily produced during that billing period – or even during the same year. Furthermore, GreenPower purchasers never know exactly how much of the "extra" money actually went to the generator, or even who or what time of generator it was – the power is still in the hands of the retailer.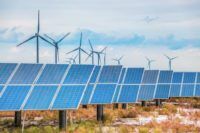 Under this arrangement, the electricity being delivered to your home at a given moment is still the same mix that would be delivered regardless, and the impact that your GreenPower purchase has on the system as a whole is a bit nebulous. Even if every household in Australia were signed up for GreenPower, there could still theoretically be a majority of 'black' electricity generation on any given day.
If a household were to endeavour to source all of its energy from renewables under Localvolts' platform, on the other hand, the impact would be immediate – in real-time. This is because Localvolts allows its members to choose their energy source of preference and the rate they are willing to pay for it – for all 48 half-hour blocks of the day (the number of trading intervals on the National Electricity Market).
If every Localvolts member set their preference for 100% renewable energy, this would create a strong market signal that renewable energy is in demand, and renewable energy generators (including battery storage system owners) would move to fill it. Although it may take some time for the market to catch up, it would eventually get there – and in the meantime at least some households would be able to claim that they are '100% renewable'.
Sell your solar & stored energy to people who want it, when they want it
One of the biggest issues that solar & battery storage system owners have with the existing market arrangement is that they have virtually no incentive to be active, discerning participants. Currently, they benefit most from keeping their energy inside their homes. Any 'leakage' into the grid is seen as a loss because solar feed-in tariff rates are low and flat – never varying even when network demand for electricity is high.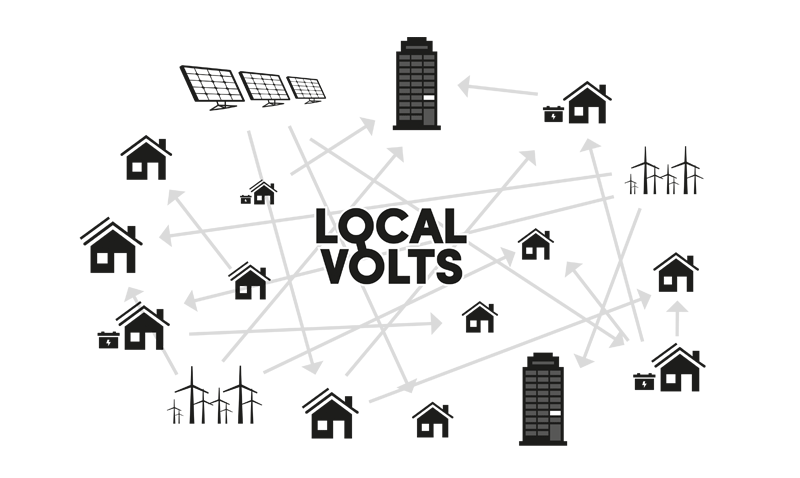 The Localvolts platform changes this dynamic by creating a real-time market for small-scale solar energy. If you want to purchase solar from someone in your state, your neighbourhood or even on your street, you can do so  – provided that they're selling it at a rate you're willing to pay. The same works if you're the one with the solar system.
Similarly, there is enormous potential for Localvolts to help battery system owners maximise the value of their battery storage systems by allowing them to sell energy to willing buyers – or openly on the wholesale spot market to take advantage of price spikes.
Interested? Become a Localvolts supporter
Localvolts is currently running a crowdfunding campaign. You can support the company to get itself off the ground and/or sign up for their newsletter at Localvolts.com.
© 2017 Solar Choice Pty Ltd