Over 300,000 people turned up on the streets of New York City on Sunday 21 September for what is being called the larges climate change action rally in history. [Update 23 Sept: The official count has been revised upward to over 400,000.] The People's Climate March, organised by climate change campaigners 350.org, attracted people from all over the world with the aim of showing popular support for climate change action and influencing the outcome of the United Nations' Climate Summit in NYC this Tuesday.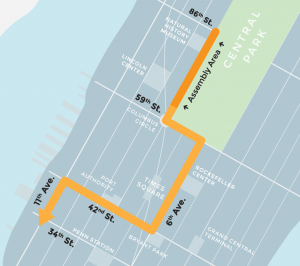 According to a press release from 350, the massive turnout 'shattered expectations', with the original staging area for the march having to be shifted back beyond 86th St to 93rd St. Despite a planned start time of 11:30am, the tail end of the parade still hadn't moved past the assembly area by 1:45pm despite a thick, steady stream of people.
Groups participating in the march ranged from renewable energy supporters, environmental & human rights activists, scientists, teachers, labor unions, ordinary citizens representing states/cities from across the USA, immigrants, and political organisations like Flood Wall Street (an Occupy Wall Street offshoot planning on inundating the NYC's financial district with blue-shirted protesters on Monday morning). Signage, decorations and music were equally varied and colourful.
Among the NYC rally's noteworthy individual attendees were Al Gore, UN Secretary Ban Ki Moon, NYC Mayor Bill De Blasio as well as a number of US senators, representatives and celebrities, including Edward Norton, Mark Ruffalo and Leonardo DiCaprio.
Over 2,500 similar events were held elsewhere in 166 countries, according to 350, including Sydney and Melbourne.
The pictures below give some idea of the scale and atmosphere of the event.
The march is turning down 6th Ave #PeoplesClimate Hi New York City! pic.twitter.com/wzCN855HQI

— People's Climate (@Peoples_Climate) September 21, 2014
© 2014 Solar Choice Pty Ltd

Latest posts by James Martin II
(see all)