The Federal Court of Australia has ordered Euro Solar (trading as P&N Pty Ltd and P&N NSW Pty Ltd), sister company Worldwide Energy & Manufacturing (WEMA) and their director Nikunjkumar Patel to pay fines totalling $145,000 for making false and misleading representations, according to a press release issued by the Australian Competition & Consumer Commission (ACCC).
Euro Solar has never been an installer in the Solar Choice network. In February 2013, Solar Choice wrote to consumer advocate organisation Choice advising them of  Euro Solar's conduct, and the potential damage that was being occasioned to the industry by their conduct.
The reasons the ACCC cited for the fines were the company's 'publishing fake testimonials' and 'making false or misleading representations about the country of origin of the solar panels they supply'. WEMA's panels were previously sold under the brand name 'Australian Solar Panels' in spite of the fact that their country of origin is China.
The ACCC also determined that video testimonials about the company posted on YouTube were 'not made by genuine customers of the company'. The same was found to be true about written testimonials on WEMA's website. The fine for fabricating testimonials is the first of its kind in Australia.
"This is the ACCC's first litigated outcome in relation to the specific prohibition against fake testimonials under the Australian Consumer Law," ACCC chairman Rod Sims said. "Consumers should be able to trust that testimonials give honest feedback about a consumer's experiences with a service or product. If they are not genuine, consumers may be enticed into making a purchase that they would not have otherwise made."
According to the ACCC:
Justice Besanko found that the companies and Mr Patel engaged in careless and reckless conduct and knew that the representations made were both false and misleading.
His Honour also found that it was "suggested in some of the advertisements that not only were the solar panels made in Australia but that customers or potential customers ought to be supporting them because of that fact" and that these representations "were a central part of the respondents' business and marketing strategy".
Mr Patel, the sole Director of the companies, was issued a personal fine of $20,000 for his involvement, and has been:
"restrained for a period of 3 years from the date of this order in trade or commerce in connection with the supply or possible supply of solar panels, or in connection with the promotion of supply or use of solar panels, from being knowingly concerned in or party to the making by a corporation of any representation to the effect that those solar panels are made in Australia, when they are not."
The companies have also been ordered to post a 'corrective advertisement' (below) about their misconduct.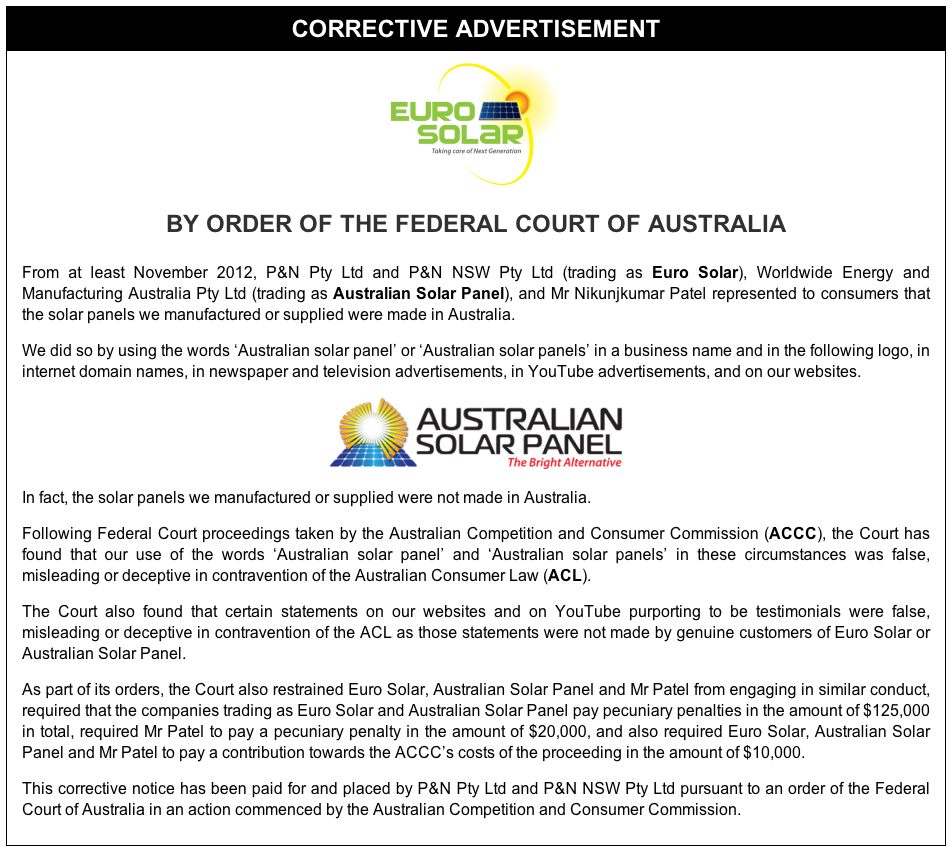 Click to enlarge.
© 2014 Solar Choice Pty Ltd