More than 60 per cent of new electricity generating capacity brought online inthe US in 2015 has been provided by renewable energy sources, a new report has revealed.
The report, the latest Energy Infrastructure Update from the Federal Energy Regulatory Commission (FERC), shows that wind energy was the major single contributor to new US capacity in the first nine months of the year, accounting for 2,966 megawatts (MW) of the total 7,276 MW of new capacity – or more than 40 per cent – and beating out gas.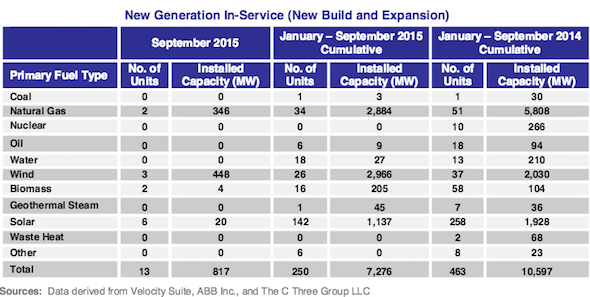 Solar power followed with 1,137MW, biomass with 205MW, geothermal energy with 45MW, and hydropower with 27MW. Gas, meanwhile, contributed 2,884MW.
FERC reported no new capacity for the year-to-date from nuclear power and just 9MW from oil and 3MW from coal.
Thus, new capacity from renewable energy sources during the first three-quarters of 2015 is 1,460 times greater than that from coal while new capacity from wind alone exceeds that from natural gas.
For just the month of September, wind (448 MW) again dominated, with 54.83% of new capacity followed by natural gas (346 MW), and solar (20 MW).
Renewable energy sources in the US now account for 17.4 per cent of total installed operating capacity, the report says, with the share of total installed capacity from solar more than doubling over the past two years.
© 2015 Solar Choice Pty Ltd