Electricity prices could jump dramatically if the future of the Renewable Energy Target (RET) is not settled by the next election, according to analysis published by Bloomberg New Energy Finance (BNEF). BNEF's findings set a de facto deadline for a deal to be reached on the scheme's fate. Ongoing uncertainty about the scheme is already driving investment in large-scale renewable energy projects away from Australia.
In its current form, the RET calls for 20% (or 41,000 gigawatt-hours (GWh)) of electricity to come from renewable sources (mostly those with a capacity of over 100kW) by 2020, with the Renewable Power Percentage being gradually increased annually from the current level of 9.1% (or 16,950GWh) until that target is reached.
With no change to RET legislation but a continued atmosphere of uncertainty, the annual target will continue to rise even as no new plants are built. This will eventually lead to a shortfall in Large-scale Generation Certificates (LGCs), which are produced as large-scale renewables plants–such as wind and solar farms and hydropower plants–generate power.
This would not only drive up LGC spot prices, but would also trigger the levy of additional shortfall penalties of $65/MWh on polluting entities which are liable to surrender a certain quota of certificates annually under RET legislation. Assuming LGC prices remain at their current levels of around $30, this would mean a rise to close to $95 for every MWh of shortfall. These costs would be passed through to ordinary consumers, with the end result being a sharp increase in retail electricity prices around 2016.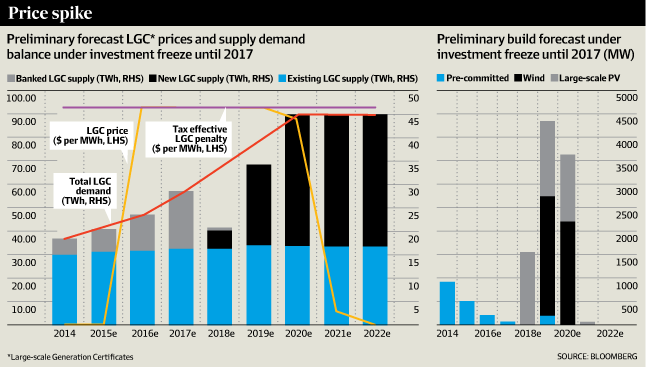 Image via BNEF / Australian Financial Review
Although it is widely believed that the government will do what it can to eliminate or smother the RET, political realities appear likely to prevent this from happening. However, the threat of electricity price increases leaves the Coalition in a vulnerable political position; it is likely to be seen as at least partially culpable if it does not work out a compromise. With certain Coalition politicians now admitting that maintaining a hard line on the RET is both untenable and economically damaging, it seems likely that a compromise will eventually be struck.
© 2014 Solar Choice Pty Ltd