A new report by Morgan Stanley analysts has illustrated how increasing amounts of rooftop solar on Australian networks is changing patterns of energy demand, and could mean networks will be able to spend less on upgrades and extensions.
As the "solar duck" graph below shows, the duck's back and abdomen sink as more rooftop solar is installed. Initially, the neck straightens, but it too, along with the head, droops as solar reduces peak demand as well as midday demand.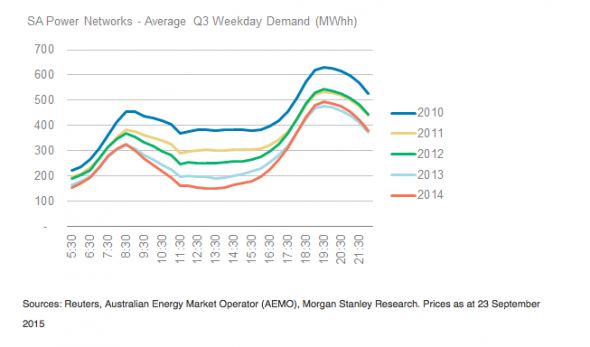 The graph shows the changing demand patterns in South Australia, and on the monopoly network provider, SA Power Networks, caused by the rise in rooftop solar, which now has a penetration rate of 18.3 per cent in the state.
This resulting reduction in network costs could deliver consumer savings, but because the regulators are now likely to keep a close eye on developments, it could also mean a reduction in the allowable regulated capital expenditure.
That, in turn, means less revenues for companies used to making profits simply by building bigger networks. The more they are allowed to spend, the more they are allowed to charge consumers.
This is one of the reasons why Morgan Stanley has slapped an "underweight" rating on SAPN owners, Spark Infrastructure, but has not done so on the other main listed utility in Australia, SPN.
SPN operates the network in eastern Victoria, and it has a much lower penetration of rooftop solar than SAPN, or even the Powercor network in western Victoria that is also owned by Spark.
"Based on our demand pattern analysis, we think the networks in our coverage most vulnerable to the 'duck lowering its head' are Powercor and SAPN," says Morgan Stanley. 

Morgan Stanley's conclusions are interesting, particularly in combination with the new report by Moody's Investor Services analysis of the US network market, and the potential impact of battery storage.
Moody's argued that widespread battery storage would help flatten the curve, lifting the duck's belly and lowering its head. That will soften the blow for networks, Moody's argues, but will have a bigger impact on wholesale generators, particularly the merchant plants that profited from large spikes in peak demand.
© 2015 Solar Choice Pty Ltd