The Victoria Competition and Efficiency Commission (VCEC) has released its draft report on its inquiry into Victoria's Feed-in Tariffs, recommending sweeping changes that will effectively eliminate state government subsidisation for small- to medium-scale renewable electricity generators, including solar PV systems for homes and small businesses. The changes to the Transitional Feed-in Tariff (for small-scale solar PV systems) will come into effect when the scheme hits its 75 megawatt (MW) cap, or 31 December 2012, whichever comes first. Proposed changes to the Standard Feed-in Tariff will take place from December 2015.
Both the state's Transitional Feed-in Tariff for small-scale (<5 kilowatt) solar systems as well as the Standard Feed-in Tariff for all types of renewable energy would be affected by the proposed changes. The Transitional Feed-in Tariff applies only to solar power systems with capacities of 5kW or smaller, while the Standard Feed-in Tariff pays operators of all approved types of renewable or low-emissions electricity generation between 1-100kW (including solar PV systems over 5kW) a rate equivalent to their retail electricity rates for each kilowatt-hour of electricity that they export to the grid (a 1-for-1 buyback).
Decreases in the Feed-in Tariff schemes will have a significant impact on solar system return on investment (ROI) and payback periods, even with the price of solar PV systems falling globally.
Victoria to follow the path of NSW?
The VCEC report advises that new Standard Feed-in Tariff rates be competition-based, and that retailers be required to offer a 'fair and reasonable' price–close to the wholesale price of electricity (around 6-8c)–for power exported to the grid by distributed generation systems such as solar. The 'fair and reasonable' price would be published, updated, and monitored by Victoria's Essential Services Commission, and may be subject to limited government intervention up until 2015, after which point the scheme would be wholly unregulated. Retailers would also be required to publish their Feed-in Tariff prices so that existing and potential customers can make informed decisions regarding the selection of their electricity retailer.
VCEC's draft decision (the final report is due out in July 2012) is in spirit virtually identical to that handed down by its NSW equivalent–the Independent Pricing and Regulatory Tribunal (IPART)–in April this year. IPART recommended that Feed-in Tariffs in NSW be competition-based and subsidy free, and that electricity retailers be required to disclose the rate that they offer for power from small-scale, distributed generation systems. At present with the new system, most retailers offer only around 8c per kilowatt-hour for solar power exported to the grid.
What's the reason for the reduction?
VCEC it up to the 'costliness' of the Feed-in Tariff subsidy schemes and its impact on wider electricity prices. "The draft changes VCEC proposes for Victoria similarly aim to remove inefficiencies, hidden cross-subsidies and market distortions. Overly generous subsidies are regressive as they increase energy prices for everyone, including renters and other consumers who do not have the capacity to invest in solar PV systems," said VCEC Commissioner Deborah Cope, who led the inquiry, in a media statement.
Are Feed-in Tariffs really driving up electricity prices in Victoria?
However, those involved in the solar power industry have responded sharply to the news, with Clean Energy Council Policy Director Russel Marsh stating that the VCEC report drastically underestimates the value of solar PV and other forms of distributed generation to the grid. "The Clean Energy Council has analysis to show that the fair and reasonable value of solar is between 12-16 cents per kilowatt-hour of electricity. … [Individual electricity customers with solar PV or other distributed generation systems] would then need to negotiate an additional payment from electricity distribution businesses in recognition of the fact that distributed energy such as solar power allows for reduced expenditure on network poles and wires. This is unrealistic." Marsh emphasises that the mandatory minimum value should incorporate the savings electricity distributors will see thanks to mitigated need to expand grid infrastructure with greater uptake of distributed generation systems.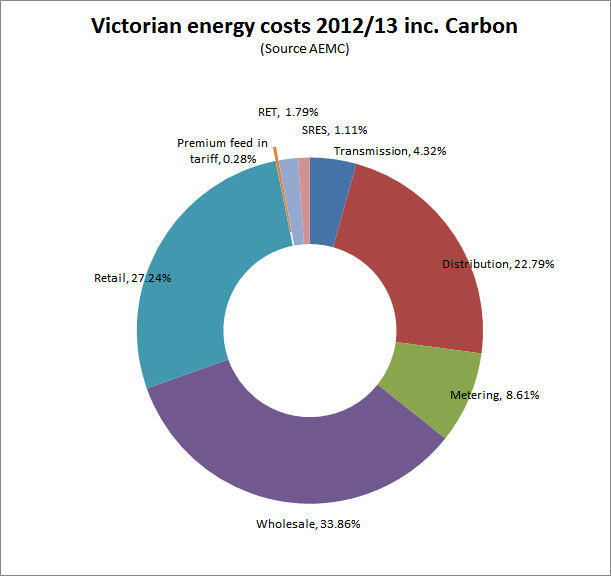 Industry analyst Nigel Morris, of Solar Business Services, points out that VCEC's recommendations seem to ignore the fact that Victoria's Feed-in Tariffs have not contributed significantly to electricity price rises throughout the state. "The AEMC [Australian Electricity Market Commission] showed in its November 2011 report that Victoria's Premium FiT [Feed-in Tariff] would cost Victorian electricity consumers 0.28% of the average 2012 bill (that's about $3.80 per year) and the Standard FiT, in place since January 1st 2012, would add less than 0.1%. In the following year, the proportion drops even further."
"Energy (and other) industries across the country receive subsidies, support and incentives to help create employment, future prosperity and a healthy growth rate for Australia's economy, and the solar PV industry is yet again being targeted NOT because it contributes any meaningful cost (or saving), but because it's politically easy to target a small industry."
A drop of good news from the report
In a piece of good news to those in the renewable energy industry or homes and businesses thinking about going solar or installing some other type of renewable energy generator, the VCEC report also recommends a streamlining and simplification of the process for small-scale, 'distributed' generators to be connected to the electricity grid. It recommends removing barriers to distributed generation by granting automatic right of connection to the network, and eliminating costly, slow approval processes."The proposals in this draft report aim to cut barriers to connecting small and medium scale low emissions generators to the network, and moving towards a competitively set FiT for all low emissions and renewable technologies," said Cope.
© 2012 Solar Choice Pty Ltd 

Latest posts by James Martin II
(see all)