Homeowners in WA have been dealt disappointing news today on solar energy feed in rewards … the state government has reneged on its promise to pay a gross feed in tariff/reward scheme.Instead a net feed in tariff, aligned with Victoria's reward scheme – though more generous than SA and Queensland – will be introduced. While the backflip is discouraging, a net solar power feed in scheme is still a lot better than a 1:1 rate that NSW for example still labours under.Energy Minister for WA, Peter Collier, announced today that the state can not afford to pay the promised 60 cent per kW hour produced from their solar energy installation.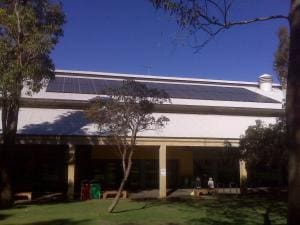 Under a net solar feed in tariff a homeowner receives credit for surplus solar energy fed into the electricity grid, as distinct from credit for all the energy produced by the solar installation. WA's scheme will be introduced in July 2010.
The Minister said the gross tariff scheme could not be introduced because of the unprecedented uptake of solar systems and changes in the current economic climate.
"The uptake of solar systems has been remarkable, so much so that the $13.5million committed to the scheme has already been allocated in full," he said.
"The Government's commitment was based on the previous Labor government's election policy of the same budget amount, together with consultation with the Western Australian Sustainable Energy Association.
"In the current economic climate, the Liberal-National Government is not prepared to spend further taxpayer money on a scheme that would support such a limited number of WA households over such a limited period."
The move has been labelled a major set-back for the solar photovoltaic industry in Western Australia.
WA is already lagging behind the rest of the nation when it comes to renewable energy. Just 3.8 per cent of WA's energy is generated from renewable sources. It is the smallest producer of clean energy in Australia, outside of the Northern Territory.
Mr Collier said those people who purchased solar photovoltaic systems under the guise of the promised gross rebates will be eligible for three annual lump-sum payments to retrieve the costs of their panels.
The payments will be available for systems installed between September 6, 2008 and June 2, 2009.
Everyone else will miss out.
The payment amount will vary for each household, taking into account the size of the system installed and each recipient's eligibility for other Government rebates.
"I reiterate comments from the Premier that we will keep our commitment to $13.5million and we will keep our commitment to a feed-in tariff," he said.
Brendan Noakes
Solar Broker
Solar Choice Pty Ltd
© 2009 Solar Choice Pty Ltd

Latest posts by Matt Lasauce
(see all)