Applications for the Queensland Solar Bonus Feed-in Tariff scheme's 44c/kWh rate are flooding in, with electricity distributor Energex handling over 1000 forms per day since the announcement of impending reductions to the scheme. At the moment, the focus remains on meeting the Monday 9 July midnight deadline, but the fact is that life will go on for the solar industry even after the cuts. What will the business case be for going solar when the Solar Feed-in Tariff rate drops to 8c/kWh?
The economics of installing a solar PV system with the 8c/kWh rate
Queensland is not the first state in Australia to see a significant drop in its Solar Feed-in Tariff rate. NSW and Western Australia also once had generous programs in place (40c and 60c respectively), both of which were cut to back to much lower rates (around 8-10c/kWh). Both of these states are now seeing a resurgence in interest in grid-connect solar PV systems, and the same is bound to go for Queensland.
Queensland's Solar Bonus Scheme has also done a fantastic job of growing the state's solar PV installation industry, which is currently the most vibrant one in the country. There are accordingly predictions that the industry will retract significantly in the aftermath of the subsidy reduction. The state government must be given some credit, however, for giving nearly a year for systems to be installed after grid connection applications have been submitted; the 2 weeks between the rate cut announcement and the application deadline will allow solar installers to 'stock up' on jobs for the remainder of the financial year. This was more warning than was given in either NSW or WA when the Feed-in Tariffs were cut.
Queensland government's take: Payback times and returns on investment are as good now as they were under the 44c/kWh rate
This marks the end of the most generous first round of Australia's Solar Feed-in Tariffs, which were implemented in NSW, Victoria, Western Australia, South Australia, and Queensland to facilitate the growth of their solar power industries as well as the broadscale dispatch of a modular, low-carbon emissions energy source.
The Queensland government, on its website in a Queensland Solar Bonus Scheme FAQ, acknowledged that the former goal has clearly been reached, although it makes no comment on the latter. In particular, it points out the fact that solar power system prices have more than halved since the scheme was conceived in 2008. This has no doubt aided the state's solar industry in its rapid expansion and will play a major role in its ongoing health post-44c rate.
The 44 cent rate was set in 2008 when solar PV prices were substantially higher (around $6,000 per 1.5 kilowatt system installed, with rebates). The installed price of solar panels (inclusive of rebates) has approximately halved since 2008. A 1.5 kilowatt solar PV system can now be installed for around $3000 in south-east Queensland.

The 8 cent rate will mean that households purchasing solar PV can pay back their system in around seven years. This compares with approximately 10 years in 2008 (due to the higher purchase price of systems at that time).
This emphasises the fact that solar system prices have indeed fallen significantly since the beginning of the Solar Bonus Schemed. The price drop, combined with the Feed-in tariff drop, changes not only the dynamics of buying and selling them, but also the dynamics of how they should be used. Self-consumption of solar power will become the new norm, and exporting solar power to the grid will become less attractive for system owners.
What are the returns on purchasing a solar system in Queensland under the 8c rate?
The longer-term challenge for solar installers will be selling systems after 9 July. In order to do so, they may have to wait until the historical memory of the cut has cleared from the public consciousness and people no longer feel that they have 'missed the boat' on something. Solar will still offer a strong value proposition to the right people in a post-44c Feed-in Tariff Queensland (especially with electricity prices rising and solar PV prices falling by possibly as low as 45c per watt by 2015), but a bit more care will be required for system owners in timing the usage of their electricity.
A strong Solar Feed-in Tariff such as Queensland's 44c rate is higher than the cost of retail electricity. This means that it is more financially advantageous for a home or business to export as much of its power to the grid as possible. Although they also stand to save money by 'self-consuming' the power that their solar system generates, this will only save them as much money as they pay for electricity per kilowatt-hour.
The change in subsidy structure to a Solar Feed-in Tariff that is below the retail cost of electricity (such as the 8c/kWh rate) will mean that solar PV systems will provide the most benefit to those who can use their solar power as it is being produced–i.e. those who can use electricity during the day when the sun is shining, either by scheduling their appliances to run or by being physically present in order to use them. This could be pensioners, people who work from home, or stay-at-home parents. On such a low rate, without affordable storage for the solar energy, exporting power to the grid is not the most efficient way to use it.
It is important for those who are considering going solar in Queensland to remember that different electricity retailers offer different rates for solar power. With the right solar buyback rate through the right electricity retailer, a home with a solar power system installed may receive up to 16c for every kilowatt-hour of solar electricity exported to the grid.
(Read more: The economics of 1-for-1 Solar Buybacks vs Solar Feed-in Tariffs.)
How will the 8c/kWh rate change in the coming years?
The new 8c/kWh buyback rate will be up for review by 1 July 2013, and will be continued until 1 July 2014. No one is sure what the future rates will be, but it is likely that they will increase as time goes on (as is the case with South Australia's 'minimum  retailer contribution') to reflect the rising value of solar power to the electricity grid. Already, certain electricity retailers offer double the state-mandated rate of 8c/kWh. It is unlikely, however, that the rates will be raised much higher than this so households and businesses with solar systems will want to consume as much of their electricity as possible themselves–i.e. as it is being produced.
Other options for Queensland customers: Solar leasing/'Free solar panel' schemes/Pay-as-you-go solar
Another option that is sure to gain increasing prominence and traction in the Australian market in the coming years is the 'solar leasing' model, where customers essentially have a solar system installed on their roof at no upfront cost to themselves, and then 'buy' the solar power from the company that has installed and will maintain it. This model is already available in some parts of Queensland through the Solar Choice installer network. Get a free and instant Solar Quote Comparison by filling out the form to the right of this page to initiate a dialoge with one of the Solar Choice team to determine if solar leasing is a smart option for you.
Queensland solar PV system return on investment (ROI) calculator under the 8c rate
Download a Solar Power System ROI Calculator for Queensland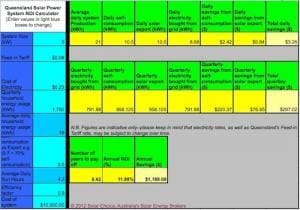 How to use the calculator*:
1. Download one of the Queensland Solar Power System Return on Investment Calculator,
2. Open in Microsoft Excel or Google Docs,
2. Request a Solar Quote Comparison of the solar system installers in Brisbane to obtain system prices,
3. Visit SwitchWise or a similar site to find the best deal on solar electricity,
4. Find out which electricity retailer is offering the best solar Feed-in Tariff rate in Queensland,
5. Alter the variables in the light blue boxes (system size, system price, etc) in column B to calculate system Return on Investment (ROI).
*Calculator outputs are indicative only–please keep in mind that electricity rates, as well as Queenslands's Feed-in Tariff rate, may change over time.
Top image via Global Solar Council website.
© 2012 Solar Choice Pty Ltd

Latest posts by James Martin II
(see all)