The Federal Government announced yesterday that the Renewable Remote Power Generation Program (RRPGP) – that provided a 50% subsidy for off grid solar and wind power – is now closed to new applications other than those from Western Australia.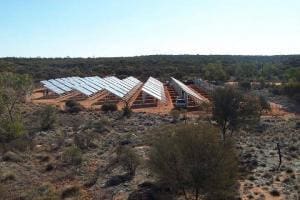 Remote solar power installation in Kings Canyon, near Alice Springs, NT
There was no notice whatsoever for this decision … the cut off time for applications was abruptly 8.30 am AEST on 22 June 2009. All pre-purchase applications that were lodged prior to that time to the relevant state program administrator prior will still be assessed according to the normal guidelines.
(Information in this article may be out of date. Please check our WA archive page, or our Solar Feed-in Tariff overview page for up-to-date information.)
The RRPGP program commenced on 23 July 2007. It allowed a 50% rebate on wind and solar power systems for premises which were either more than 1km from the electricity grid, or where the cost of connecting to the grid was more than $30K. It allowed many people in remote areas the opportunity to embrace renewable energy, rather than continue with a fossil fuel generator.
The announcement is a further disappointment for solar customers and the industry in Australia, after the grid connect rebate was axed with only hours notice on 9 June 09. Surely part of good governance involves smooth transitions between rebate schemes – not the inducement of turmoil.
Remote power systems will still be eligible for Renewable Energy Certificates, and it remains to be seen whether they will also fall within the Solar Credits scheme, which is back before the Senate in August.
Angus Gemmell
Solar Choice Pty Ltd
© 2009 Solar Choice Pty Ltd

Latest posts by Angus Gemmell
(see all)