A Victorian dairy farming co-operative has turned to solar, and is considering plans to add battery storage, as it seeks to cut grid power consumption and change the way it thinks about energy.
Local Gippsland area installers installed a 61.38kW ground mounted solar system at  Macalister Demonstration Farm near Maffra, made up of 186 premium Tier 1 Jinko Solar panels and two 27.5kW ABB Inverters.
The MDF said it has also considered including a Tesla battery system "big enough for us to operated off-grid and overcome issues of power outages," but would wait a few years, until the costs of doing so had fallen, or the solar system debt was reduced.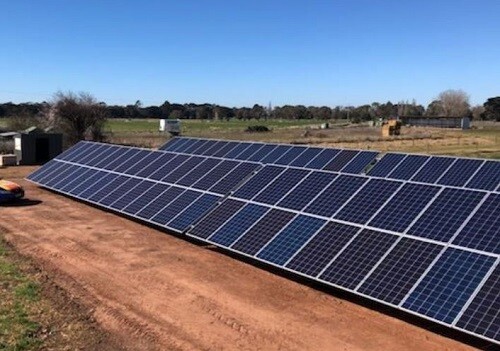 On its own, the solar system has been estimated to have a payback period of around six years.
"The quality of the technology, the cost of the technology and more importantly, access to finance, these three things have come together beautifully and made this a no brainer," said MDF Chairman, Neil Baker.
According to MDF annual report, the co-op's board opted to generate 112kWh/day of surplus for a number of reasons, including that exports to the grid represented a new income stream for the farm."We want to cover the service charges, as well as the cost of buying power," the report said.
"The rest of the power we need we will be drawing from the grid in the hours that we are not generating enough to run the dairy."
And there will be other benefits, too says Baker: "When we change the way we think about the cost of power, we can see opportunities."