Solar panels are becoming an increasingly popular way for businesses to save money on power bills across Australia. Many of the same benefits may apply to apartment blocks in Australia, and strata title management companies & body corporates may consider solar panels as an investment option. This article is an overview of how solar power could potentially benefit apartment blocks and other group residences, and how Solar Choice Commercial can assist in ensuring the best deal possible on the solar installation.
Why are solar panels a good idea for apartment blocks?
Electricity prices have jumped dramatically in just the past few years all across Australia, driving more and more homes, businesses, and even schools to find ways to reduce their power bills. Solar photovoltaics (PV) has swiftly become one of the most attractive means of doing so, thanks in great part to the sharply reduced cost of installing a solar PV system. The 'fuel' for solar PV systems–sunlight–is free, which means that after an initial investment, there are few ongoing costs associated with going solar.
For apartment buildings, solar power offers a number of potential benefits. The power may be directed into individual units as a way of reducing tenants' power bills (making the rental more attractive financially as well as 'greener'). Another option is to use the power from the solar panels to power common areas such as hallways and lobbies, or common amenities such as pools.
For the right apartment blocks, the benefits of going solar will soon make themselves apparent in the form of energy bill savings. Typical return on investment for a solar PV system in Australia is in the range of 15-22%, with payback periods of 4-7 years, depending on the location and the situation. Once the system has paid itself off in energy savings, it will continue producing free energy for the duration of its lifespan–a minimum of 25 years.

Panoramic shot of the 12kW solar array on top of the Manly National Building in Manly, NSW. Tender managed by Solar Choice Commercial.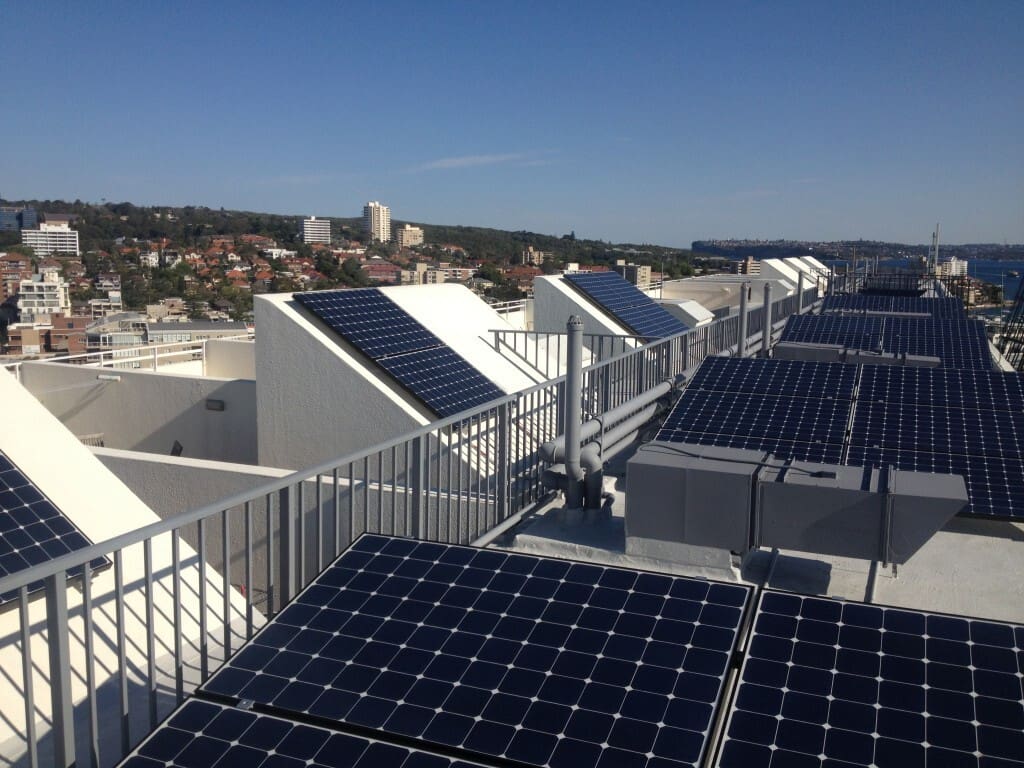 Manly National Building, looking south.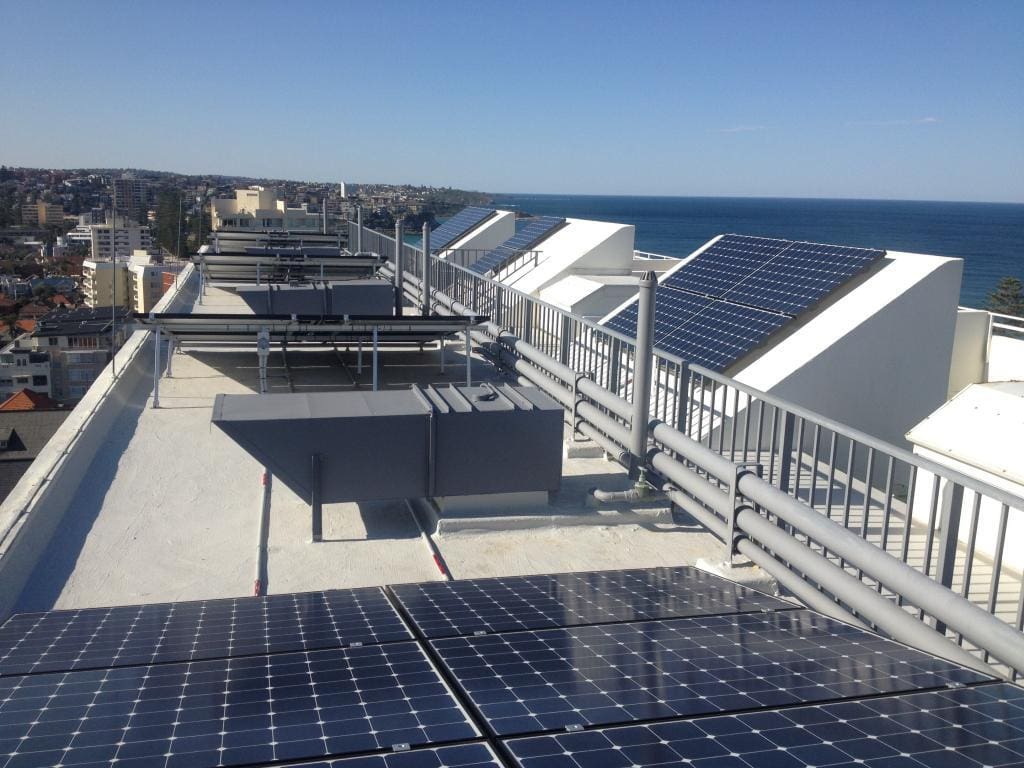 Manly National Building, looking north.
How do solar panels save apartment blocks money?
Solar panels can help an apartment block to save money in 2 different ways. The most obvious the reduced need to purchase power from utility companies; by producing solar power at a rate that is lower than retail electricity rates, significant savings are to be had.
The second way is through incentives–feed-in tariffs and solar buyback schemes. Availability of these incentives varies depending on the state or territory in question. Businesses and not-for-profits located in the southwestern part of Western Australia, for example, are eligible for generous feed-in tariff rates from local utility Synergy.
Let Solar Choice Commercial help your apartment block choose the right solar system
Solar Choice Commercial manages tenders for a wide range of commercial clients across Australia, including mining companies, airports, schools, clubs and local councils–not to mention numerous residential apartment blocks, strata management companies, and body corporates. Having helped hundreds of enterprises and organisations go solar, Solar Choice knows first hand the benefits that solar panels offer.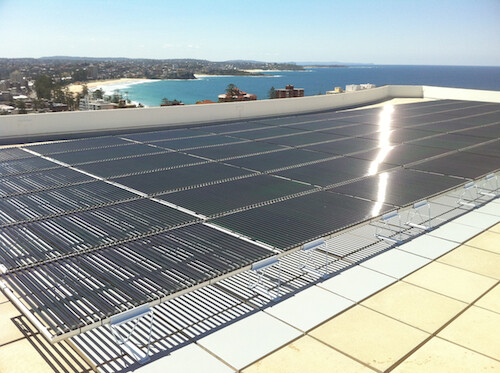 A 10kW tubular solar array on a residential apartment block roof, Manly NSW. Tender managed by Solar Choice Commercial.
The Solar Choice online Tender Management Platform
In addition to the expertise and experience that our commercial team members bring to the table, Solar Choice's online Commercial Tender Management Platform allows our clients to easily and intuitively compare the offerings of numerous installation companies. Amongst other benefits, the Tender Management Platform brings an unprecedented level of transparency to solar project development, ensuring that installers cannot bluff on margins. Also included in the platform are full business case and finance analysis, plus project mock-ups and video fly-overs animations.
(Interested in learning more? Take an interactive tour of the Tender Management Platform.)
Contact Solar Choice about your solar project today
You can initiate a dialogue with us by filling out the Quote Comparison Request form to the right of this page (click the 'commercial' tab), or by contacting one of our commercial team members using the details below.
Matt Lasauce – Solar energy broker
Ph: 0410 124 850
© 2013 Solar Choice Pty Ltd