Despite the slightly reduced federal incentive for rooftop solar that came into effect at the beginning of this year, average solar system prices haven't moved much, according to data from Solar Choice's installer network database. While this month did see a slight reduction in prices (down to $1.60 per watt from $1.62/W in February), this is due mainly to changes in pricing for 10kW solar systems.
Average quoted price by city and system size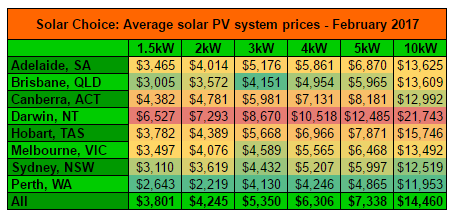 Prices for each system size are colour-coded. (Dark red for highest, dark green for lowest, yellow for mid-range prices.)
Median dollar-per-watt solar system prices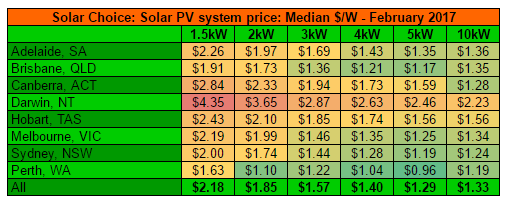 Median solar system prices (per watt) for all cities and system sizes, colour-coded from low (dark green) to high (dark red).
Historic price trends by system size (since January 2016)
Historic price trends: All system sizes (since January 2016)
(The table below does not incorporate system pricing data for Darwin.)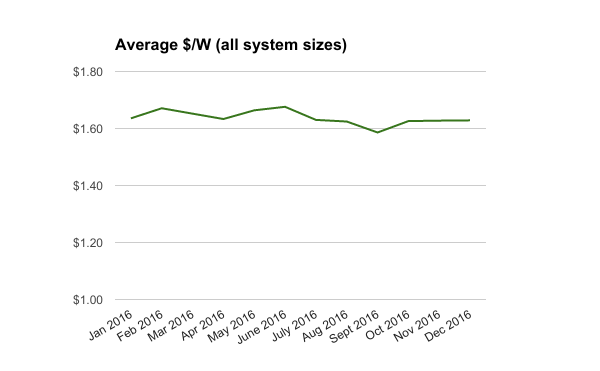 About Solar Choice
Solar Choice is a brokerage and comparison service for solar PV systems servicing the whole of Australia. Since 2008, we have assisted over 105,000 Australian households and thousands of businesses make an informed choice about going solar. We also develop large-scale solar farms, and have been offering Battery Storage Quote Comparisons since August 2015.
About this data
Since 2012, Solar Choice has been tracking residential solar PV system installation price trends in Australia's capital cities (with the exception of Darwin). The data that we publish has been referenced by a wide range of organisations both inside and outside Australia – from government bodies, not-for-profits and academics to financial services companies and – of course – residential solar PV system shoppers and installers.
Tables and charts included in this article were compiled using data from Solar Choice's installer network database, which contains regularly-updated pricing and product details from over 100 accredited solar installation companies across Australia. All prices that appear are net of the federal STC incentive and inclusive of GST. In most instances, prices do not incorporate meter change fees, and exclude travel costs or additional charges for special circumstances (e.g. slate roof or 2-story+ building). Installers' premium and microinverter/power optimiser offerings are not included in our calculations.
A more in-depth version of this month's index is available here on the Solar Choice website. Solar Choice also publishes monthly insights about commercial solar PV system prices (10kW-100kW), the most recent of which can be found here.