Sonnenbatterie is a German manufacturer of energy storage devices with a focus on electricity self-sufficiency. The company, whose name means 'solar battery' in German, offers products that not only store energy, but also allow a high degree of flexibility and feedback as to how electricity from all sources–batteries, solar panels, the grid, wind power, or others–is and should be utilised throughout the day.
On top of these capabilities and functions–and setting them apart from many other energy management devices in in the field–Sonnenbatterie units are able to incorporate weather forecasts in order to predict likely system energy yield against likely consumption, ensuring that energy is used in a way that optimises savings.
Sonnenbatterie product range
Sonnenbatterie comfort series: Intuitive energy storage for home & business
Products in Sonnenbatterie's comfort series feature intuitive, interactive interfaces, come in a variety of sizes (to meet the needs of a range of customers), and are simple to install–whether wall-mounted or free-standing. All of the below units in the series replace conventional inverters, but also include LiFePO4 batteries and the high-end software that enables them to function.
Battery Capacity
Usable capacity(70% depth of discharge)
Weight
Dimensions W/H/D(cm)
Number of cabinets
Continuous output 
Basic
4.5kWh
3.2kWh
165kg
 65/130/50
 1
 2.5kW
S
8kWh
5.7kWh
215kg
1
3kW
M
10kWh
7.1kWh
255kg
1
3.5kW
L
20kWh
14.3kWh
435kg
2
5kW
XM
10kWh
7.1kWh
400kg
2
3x 2.5kW
XL
20kWh
14.3kWh
540kg
2
3x 3.5kW
XXL
40kWh
29kWh
785kg
3
3x 5kW
3XL
60kWh
43.3kWh
1070kg
4
3x 5kW
Download a brochure: Sonnenbatterie comfort series (PDF)
Sonnenbatterie eco series: The next generation of storage systems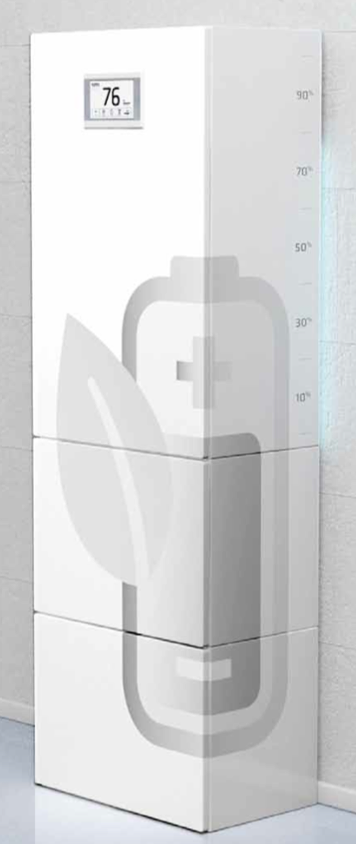 Products in Sonnenbatterie's more cost-competitive eco line include all of the functionality and benefits of those in the comfort line, with the added bonus of being even more aesthetically appealing, more lightweight and with a deeper depth of discharge (DoD)–at 80% as opposed to 70%. Eco series products cost around 50% of those in the comfort series.
| | | | | | |
| --- | --- | --- | --- | --- | --- |
| | Battery Capacity | Usable capacity(80% depth of discharge) | Weight | Dimensions W/H/D(cm) | Continuous output |
| eco 4.5 | 4.5kWh | 3.5kWh | 140kg | 56/90/35 | 2.5kW |
| eco 9.0 | 9kWh | 7kWh | 200kg | 56/130/35 | 3kW |
| eco 13.5 | 13.5kWh | 10.5kWh | 260kg | 56/170/35 | 3.5kW |
| Expansion units | 4.5kWh | 3.5kWh | 60kg | 56/40/35 | Depends on total capacity |
Download a brochure: Sonnenbatterie eco series (PDF)
Sonnenbatterie: Points of difference
–One of the world's first fully integrated lithium (LiFePO4) storage systems, introduced in 2011 after pilot projects in 2010, Sonnenbatterie's products are now in their 4th generation
–Making it easy for homes to reach 80% energy self-sufficiency by intelligently switching between solar panels, mains electricity, batteries and other types of generators, leading to energy bill savings of up to 75%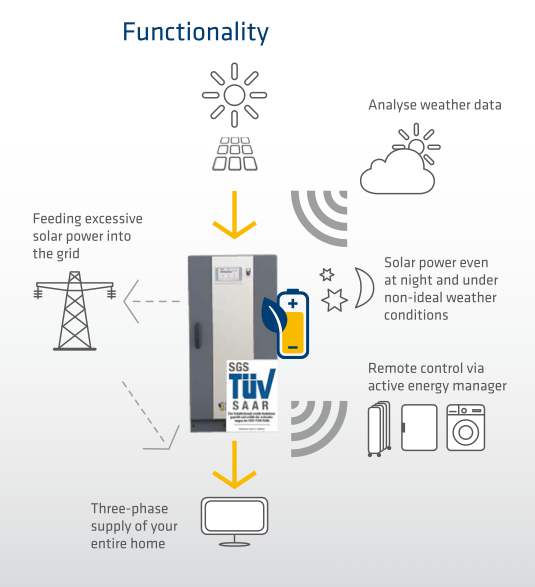 –Intuitive operation with smartphone app & web interface, making it easy to monitor system performance and prioritise energy sources for optimum savings
–Easy integration with more than just solar PV. Other power sources that can be plugged in include wind power, combined heat and power (CHP) generators, and of course, mains electricity
–Take control of your electricity usage: Detailed data from the Sonnenbatterie app and web portal means that users will know what behaviour to change in order to get the most out of their system
–Integrated weather forecasting makes it easy to plan or program ahead depending on which sources are most readily available or least expensive
–Remote appliance control: Active energy manager means that household white goods can be switched on automatically when solar power is available (whether you're home or not) to make sure none of the electricity goes to waste
–Fast, simple installation and can be retrofitted into existing solar PV installations
Company info
Headquarters and manufacturing plants:
The battery systems "Made in Germany" are exclusively manufactured at the company's headquarters in Wildpoldsried, Southern Bavaria/Germany.
Contact information:
Web: www.sonnenbattery.com
Tel: + 49(0) 8304 92933 ex. 400
Fax: + 49(0) 8304 92933 ex. 401
Email: info@sonnenbatterie.de
Other locations: 
Sonnenbatterie also has a presence in the US. (For more info visit www.sonnen-batterie.com)
History in the industry: 
Since the beginning, with first product developments starting in 2008 and the foundation of the company in 2010, Sonnenbatterie has consistently invested in research and development. The first Sonnenbatterie product was introduced to the German and Austrian markets in January 2011. In June 2014 Sonnenbatterie introduced its 4th product generation at Intersolar Trade Fair in Europe and entered the North American market by opening the first Sonnenbatterie-Centers.
All images via Sonnenbatterie
© 2014 Solar Choice Pty Ltd