Background on BYD – Company History
BYD Co Ltd was founded in 1995 in Shenzen, China, and is a manufacturer of automobiles, battery-powered bicycles, buses, forklifts, solar panels, rechargeable batteries (varied inc. bulk-storage from renewable energy) and trucks. After more than 20 years of fast growth, the company has established more than 30 industrial parks worldwide and has played a significant role in terms of development from energy generation and storage to its applications. BYD is listed on the Hong Kong and Shenzhen Stock Exchanges, with revenue and market capitalization each exceeding RMB 100 billion. The company employees over 220,000 people at sites all around the world.
BYD is the world's leading producer of rechargeable batteries: NiMH batteries, Lithium-ion batteries, and NCM batteries. BYD owns the complete supply chain layout from mineral battery cells to battery packs. These batteries have a wide variety of uses including consumer electronics, new energy vehicles, and energy storage.
Despite their size, many people have not heard of BYD especially as it gets quite overshadowed by Mr. Elon Musk and their US competitor, Tesla. Although it should be noted that not only to BYD produce many more batteries than Tesla but also did produce more electric cars right up until late 2019.
Furthermore, Warren Buffet is also a backer of BYD, and they also been busy building electric buses in Australia!
Where are BYD batteries manufactured?
Currently, all BYD batteries are manufactured in China.
How Much Does a BYD Solar Battery Cost?
The B-Box comes in high voltage (HV) and low voltage (LV) – with the B-Box LV Residential the most popular energy storage device BYD sells.
It comes in four different sizes – 2.56kWh (2.45kWh usable), 5.12kWh (4.9kWh usable), 7.68kWh (7.35kWh usable), and 10.24kWh (9.8kWh usable). All four variants are IP55 rated and modular – meaning depending on the case you purchase you will be able to start small and upgrade if need be. You can get a total capacity of 57.5kWh which would work for light commercial usage.
BYD batteries are considered to have some of the sharpest prices in the market. Battery-Box Pro consists of the battery modules B-Plus L 2.5 with 2.56 kWh usable capacity each. Up to 4 B-Plus modules can fit into one cabinet.
Batter-Box Pro 13.8 has a usable capacity of 13.8 kWh per battery rack. Please note that the below does not include installation costs:
BYD Solar Battery Pro indicative costs

System Size
2.5kWh
10kWh (4 x 2.5)
13.8kWh
Price
$2,000
$7,900
$9,700
Whether a BYD Solar Battery is a cost-effective product for your system will depend on a closer examination of your electricity needs. To see if home solar battery storage is worth it, our detailed Solar Battery Sizing and Payback calculator to see the financials for your system.
Compare quotes from up to 7 installers in your area now.
How will the BYD B-Box Batteries Perform?
BYD uses lithium iron phosphate batteries which are safer than traditional lithium-ion batteries found in phones and laptops. This is because it is very difficult to get these batteries to overheat and undergo thermal runaway, in which their temperature can get so hot they will spontaneously burst into flames. For an explanation of how batteries work in general, click here.
The BYD Battery Box Pro also has large power capacities allowing for optimal usage of stored energy and can deliver a usable energy ratio of 96%! The continuous power B-Boxes can supply is equal to their nominal storage capacity.  This means the B-Box 10 can give 10.24 kilowatts of power continuously and go from fully charged to flat in just under an hour which is fantastic.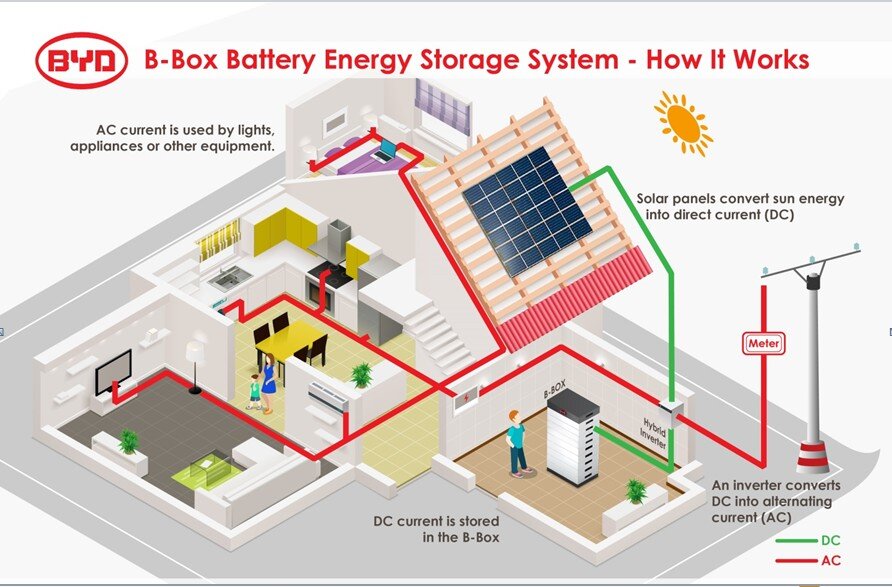 BYD B-Box LV Residential Specifications
BYD B-Box LV Residential Limitations
 The main con for the BYD Battery Box is that they are quite large and clunky, making the battery system seem a bit obtrusive. The optimal temperature range also makes the B-box a less-than-ideal option for extreme climates.
They will also need a compatible hybrid inverter to work. There are several compatible converters currently including SMA, GoodWe, SolaX, and Victron. The correct inverter will allow DC coupling to solar and backup power during blackouts.  It can also be AC coupled, although this makes backup a lot more complex.
How do I get a quote for BYD B-Box LV Residential?
To determine whether the BYD B-Box LV Residential is a cost-effective product for your system, will depend on a closer examination of your electricity needs. To see if home solar battery storage is worth it, enter your system details into our detailed Solar Battery Sizing and Payback calculator to see the financials for your system.
Compare battery quotes from up to 7 installers now.
Since 2008 our knowledge and sophisticated software has allowed over 180,000 Australian households and businesses to make a well-informed choice on their solar & battery installer.
Home Battery Scheme
South Australia, New South Wales, and Victoria all have a home battery scheme in place.
The South Australian Home Battery Scheme enables South Australian residents to receive up to $4,000 per installed battery. For more information click here.
The New South Wales Home Battery Scheme offers an interest free loan for households looking to install a battery. To gain a better understanding of the scheme click here.
The Victorian Home Battery Scheme involves the Victorian Government potentially paying for half of an installed battery, up to $4,838. To read more on the scheme click here.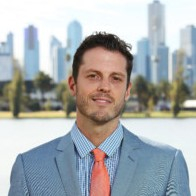 Latest posts by Dillon Bohler
(see all)