Note: Solar Choice is not a solar installer and has no financial or other incentives to promote any product brand over another.
Overview of Trina Solar – Company History
Founded in 1997 by Jifan Gao, Trina Solar was one of the first photovoltaic manufacturers in China. Trina Solar has since grown to be a world leader in solar technology innovation and manufacturing. Trina Solar has approximately 13,000 employees globally (majority in China) and was publicly listed on the Shanghai Stock Exchange in 2020. In addition to Chinese manufacturing capacity, they have a plant in Thailand and in Vietnam. Trina Solar has manufactured and delivered over 50 GW of photovoltaic solar panels worldwide as of June 2020.
Trina Solar's have set 20 world records for silicon solar cell efficiency and solar module power output since 2011 and have produced 852 approved patents. It's quite clear that they're an industry leading solar energy manufacturer with a good track record.
Trina Solar states that they are committed to sustainable development and innovation, with the goal to reduce the cost of photovoltaic power and the environmental impact of manufacturing. In the period between 2015-2019 Trina Solar reduced water usage by 32% per MW manufactured, and electricity by 47% per MW manufactured. These sustainability developments contributed to a reduction of 46% greenhouse gas emissions through this period. This was globally recognised as Trina Solar ranked 1st in sustainability by the Silicon Valley Toxics Coalition (SVTC) Solar Scorecard in 2017 and 2018.
Read Solar Choice's extensive Trina solar panels review below:
Key Panel Indicators
| | |
| --- | --- |
| | Trina Solar Panel |
| Bloomberg Tier 1 Ranking | Yes |
| DNV GL Top Performer | Yes (5/6) |
| Office location in Australia | Yes |
What is a Bloomberg Tier 1 Solar Panel?
Bloomberg's infamous tier 1 ranking is NOT a measure of Solar Panel quality in any way. It is simply an indication of the bankability of the manufacturer based on publicly released information on the financial health of the company. This should give you an idea if the company is a large, well-known manufacturer.
See full list of Bloomberg Tier 1 Solar Panels
What is PV Evolution Labs Top Performer?
PV Evolution Labs with support from DNV GL independently test solar panel reliability. The tests are voluntary, with solar panel manufacturers paying to participate in the testing. This testing process is internationally renowned and is an accurate reflection of the solar panel's performance.
Trina Solar was listed as a top performer for 5 out of 6 tests (the thermal cycling, Damp Heat, Mechanical Stress Sequence, PID, and LID+LETID) in the latest report. Trina Solar has been consistently named each year as a top performer since 2014.
See full list of PV Evolution Labs Top Performing Solar Panels
Why is office location in Australia Important?
Most solar panel manufacturers entering the Australian market first set up their distribution channels and worry about customer service later. This has led to many unhappy customers who are left trying to contact Chinese head offices to claim on their 10-year product warranty.
Relying on your solar installer is not always an option as we've seen many residential solar installers (including the large ones) go out of business well within the lifetime of the systems they are installing.
Trina Solar Australia head office is located in Sydney.
Compare quotes from up to 7 installers in your area now.
How Much Do Trina Solar Panels Cost?
Based on Solar Choice's database we have provided the below-average costs as an indicative guide. These prices include:
Full turnkey Solar System with Trina Solar Panels
Installation from a pre-vetted reputable installer from Solar Choice's network
The STC rebate and GST
| | |
| --- | --- |
| System Size | Average Fully Installed Cost |
| 6kW | $5,282 |
| 8kW | $8,687 |
| 10kW | $11,244 |
Important Note: Prices will vary depending on location, inverter brand and which installer is used
Trina Solar Panels – Points of Difference
There are many solar panels out there, what makes Trina solar panels stand out?
The large solar panel manufacturer
Trina Solar is one of the largest solar manufacturers in the world. By the end of April 11th, 2022, their annual production capacity cumulative shipments of PV modules had exceeded 100GW.
Trina has 3 manufacturing plants located in China, Thailand and Vietnam, it is reported that they have a 50GW+ company-wide production capacity. This makes them a top 5 solar panel manufacturer globally.
Vertically integrated supply chain
Trina also owns most steps in the vertical supply chain to produce a solar panel including producing ingots, silicon wafers and solar cells which are all upstream components of solar panels. This strategy enables them to keep greater control over the supply and quality of each step of the process.
Trina Solar Panel Technologies
Trina currently has 261 solar panels approved by the Clean Energy Council in Australia under the name "Trina Solar Co Ltd". This is a requirement to be eligible for the federal STC solar rebate.
Currently, in Australia Trina offers three series of panels Honey, Tallmax, and Vertex. And several sub-series for each one.
Honey Series
The Honey Series was Trina's most popular solar panel in Australia striking a balance between efficiency and quality along with an affordable price. Available with both monocrystalline and multicrystalline cells, the Trina Honey solar panel with 120 half-cut cells is perfect for small rooftop systems. All panels in the Honey Series come with Trina's 12-year product and 25-linear power output warranty. This series included the panels that were ranked as top performers by PV Evolution Labs testing. They also provide all-black options for the customer (Honey Black Series). However, only the series of Honey M (360 – 380 WP) solar panels are on sale now in Australia, the other series are discontinued.
Vertex Series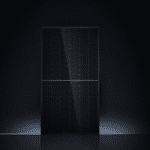 Vertex Series are the most used Trina solar panels in the Australian market now. There are several sub-series including Vertex S, Vertex S+, Vertex N, Vertex Backsheet and Vertex Bifacial. All the Vertex Series solar panels use monocrystalline solar cells which means the Silicon used is purer than polycrystalline.
The Vertex S is the solar panel directed at the residential market as the smaller dimensions enable the panel to cater to more complex residential roofs. There are two versions of the Vertex S solar panel which could be considered a standard and a premium option.
The standard Vertex S solar panel features 120 half-cut monocrystalline cells giving the solar panel an overall dimension of 1754mm x 1096mm including the aluminium frame. The panel total output ranges from 380W to 405W with a maximum efficiency of up to 21.1% which is impressive. This panel offers a 15 year product warranty which is slightly ahead of most panels in the market which offer 12 years.
The premium Vertex S solar panel utilises 144 monocrystalline solar cells giving the overall panel slightly larger dimensions at 1762mm x 1134mm. As a result these panels watt ratings range from 405W to 435W and a higher maximum efficiency up to 21.8% which is approaching the best on the market. The big kicker for these panels is they come with an additional 10 years on the product warranty giving a total 25 year warranty which matches the best options on the Australian market for residential customers.
Tallmax and Duomax Series
These two series were one of the main products of Trina, however, similar to Honey Series, only Tallmax M (435 – 460W) are now less commonly found in the Australian market as their production has been discontinued.
Tallmax and Duomax series are the predecessors of Vertex Series and you can see some Tallmax & Duomax in Trina's new products with higher efficiency and better performance.
Trina's Warranty Offer for Australian Customers
Solar panels in the Australian market come with a performance warranty and a product warranty.
The product warranty is designed to cover manufacturing faults in the panel that leads to damage or malfunction and is typically 10-12 years for most solar panel manufacturers. Trina offers a range of product warranties starting from 10 years for the cheaper options and ranging to up to 30 years for their bifacial solar panels directed at ground-mounted solar projects. Trina Solar have a new 'Vertex' solar panel range for the Australian residential market which offers a 25-year product warranty.
The performance warranty guarantees a certain level of output for the lifetime of the panel – typically guaranteeing 80-82% of the nameplate output after 25 years. Trina's solar panels come with a range of different performance warranties ranging from the typical 84.7% after 25 years up to 87.4% for their dual glass monocrystalline Vertex S+ and Vertex N series.
Looking through Trina's warranty documentation, there is a documented process to claim a warranty and adequate remedies available after an assessment has been made. Given Trina have an Australian office to assist with this process, customers would have a clear path to access a claim even if their installer is no longer around to help.
See Trina's full warranty documentation here.
Compare quotes from up to 7 installers in your area now.
Trina Solar Panel Specifications
Trina Solar Honey M
Trina Solar Vertax S
Cell Number
120
120
Cell Type
Monocrystalline
Monocrystalline
Power Output
375 Wp
400 Wp
Nominal Power Voltage
34.4 V
34.2 V
Panel Efficiency
20.5%
20.8%
Annual Power Degradation
0.55%
0.5%
Dimensions
1763 x 1040 x 35mm

(1.83m²)

1754 x 1096 x 30mm

(1.92m²)

Weight
20kg
21kg
Product Warranty
12 years
15 years
Performance Warranty
25 years
25 years
Operational Temperature Range
-40°C to 85°C
-40°C to 85°C
Made in
China
China
Pros and Cons of Trina Solar Panels
Pros:
Safe option as they are a large manufacturing capacity and healthy financial position

Vertically integrated manufacturing process

Have a local office in Sydney, Australia
Cons:
Having a lot of models available in the Australian market we have had feedback it is confusing for customers to determine what reviews are relevant to what they have been quoted
Should I Buy Trina Solar Panels?
Trina Solar is a tried and tested option for both commercial and residential projects, and in our opinion you can't go wrong with Trina. There is quite a range in terms of quality between the different models they have available in Australia, so to determine if your quote is good value we recommend getting the datasheet from your installer and doing your research.

Feel free to contact Solar Choice for some impartial expert advice on your quote.
Trina Solar Panels Used On UOQ 1.2MW Installation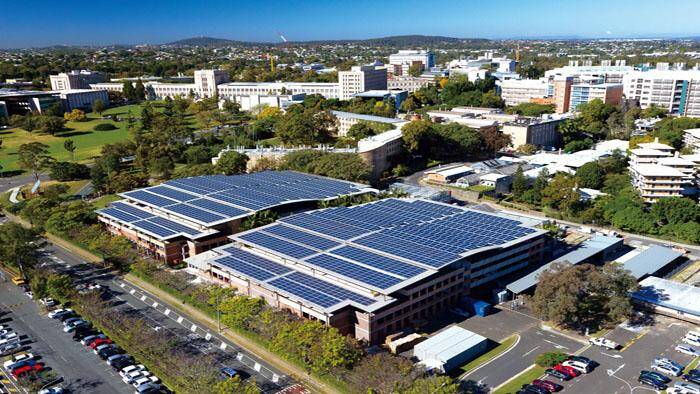 The University of Queensland has a total of 5000 polycrystalline Trina Solar panels installed across 4 of the buildings on campus. The installation totals 1.22MW and at the time when it was completed, it was Australia's largest rooftop grid photovoltaic system. The system is responsible for powering approximately 6% of the University's peak electricity demand. To put it into perspective, the same amount of electricity could power 800 typical Queensland households at once. The system produces around 1.85GWh of electricity per year, reducing the University's carbon footprint significantly. The reduction would be equivalent to taking 335 cars off the road each year.
As of January 2019, the University of Queensland had 49,336 solar panels in operation. These panels generate almost 9 million KWh of clean energy, which is enough electricity to power over 1,500 typical Queensland homes.
Read more product reviews from Solar Choice
Compare quotes from up to 7 pre-vetted installers in your area now.
Since 2008 our knowledge and sophisticated software has allowed over 300,000 Australian households and businesses to make a well-informed choice on their solar & battery installer.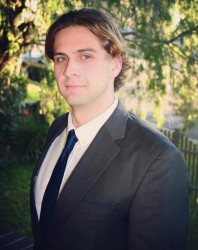 Latest posts by Jack Boutchard
(see all)
Reviews from Australians who have installed Trina Panels
Rated 4.63 from 64 reviews
21st September 2023
John
-
10kW system
20th September 2023
Christian
ACT - 2618
10kW system
This will become an issue over the years - but works flawless...
12th September 2023
Kylie
NSW - 2153
7kW system
2nd September 2023
Bob
-
9kW system
1st September 2023
Bonnie
-
6kW system
29th August 2023
Leo
NSW - 2479
5kW system
26th August 2023
Mark
VIC - 3437
30-50kW system
Seem to be good. Checked the best for value and performance and they were in the top 5 list. Wait to see how they go. Got the black framed ones which look great on the roof. Look like one large panel. Recommended as look good on the house.
25th August 2023
Stuart
QLD - 4121
6kW system
A little bit of water pooling around the frame.
25th August 2023
Jacqui
-
10kW system
I know nothing about them.yet as we have.not been able to use our solar since installation.
18th August 2023
Karen
NSW - 2581
6kW system
They look good but as to efficiency too early to tell. On the solar app it shows them working in bright winter sunshine even on a slightly cloudy day. Time will tell.
11th August 2023
Aditya
-
10-15kW system
10th August 2023
Kieran
-
6kW system
4th August 2023
Dean
-
6kW system
3rd August 2023
Michael
VIC - 3194
7kW system
The Trina panels provided good overall working coverage at a competitive price.
2nd August 2023
Leigh
-
10kW system
11th July 2023
Geoff
QLD - 4164
6kW system
They look good but time will tell how well they perform
6th July 2023
Asim
-
6kW system
5th July 2023
Sumit
-
10-15kW system
21st June 2023
David
QLD - 4680
10-15kW system
17th June 2023
Gavin
NSW - 2096
6kW system
The only measure on this is output. No issues with panels at all and they do what they said on the tin.
15th June 2023
Martin
-
7kW system
The panels are working well.
1st June 2023
Allan
NSW - 2760
5kW system
23rd May 2023
Percy
-
8kW system
22nd May 2023
David 2
ACT - 2607
8kW system
25th April 2023
Geoffrey
NSW - 2430
3kW system
21st April 2023
Yulia
-
10kW system
13th April 2023
Geoff
-
7kW system
22nd March 2023
Angela
SA - 5125
6kW system
Don't know much about Trina Solar panels but reviews of this panel were good.
13th March 2023
Adrian
-
6kW system
I do not know enough about the specifications to comment meaningfully.
2nd March 2023
Aaron
-
10-15kW system
21st February 2023
John
QLD - 4272
7kW system
Look great and so far no problems.
14th February 2023
Ted
VIC - 3431
6kW system
14th February 2023
Shane
QLD - 4005
8kW system
20 Trina Vertex S+ NEG9.28
7th February 2023
Graham
NSW - 2795
6kW system
25th January 2023
Col
-
6kW system
20th January 2023
Flynn
-
6kW system
10th January 2023
Susheel
NSW - 2263
6kW system
29th December 2022
Stewart
WA - 6536
7kW system
27th December 2022
Danilo
VIC - 3909
5kW system
25th December 2022
Ross
NSW - 2560
9kW system
23rd December 2022
Kevin
SA - 5162
10-15kW system
Working fine after 3 months time will tell 30 year warranty
22nd December 2022
Steve
-
6kW system
The real problem I am advised is the inverter. The problem with the panels is that they are influences by shade on any one area drags down the entire installation, although shading is not an issue here. It was prior to installation but was rectified. Apparently, a separate controller for each panel should have been supplied. I even relocated satellite dish to try and improve performance impact, but it made no difference
16th December 2022
Rachel
-
6kW system
16th December 2022
Mitch
NSW - 2210
9kW system
Great value. Very efficient.
7th December 2022
Rafael
NSW - 2122
10kW system
Don't have enough statistic to have an opinion.
5th December 2022
Kai
-
10-15kW system
4th November 2022
Jordan
ACT - 2615
6kW system
Early days but no drama to date.
31st October 2022
Tony
-
6kW system
30th October 2022
Mark
-
6kW system
17th October 2022
Scott
-
6kW system
14th October 2022
Emerson
-
6kW system
13th October 2022
Mike
-
6kW system
7th October 2022
Joan
VIC - 3551
6kW system
27th September 2022
Collette
NSW - 2756
20-30kW system
Was recommended them as a great fit working together with Fronius inverter. Even in winter we have already generated more power than I would have expected
6th September 2022
Tony
NSW - 2171
6kW system
As yet cannot really comment but seems fine.
6th July 2022
Simon
SA - 5251
10-15kW system
30th June 2022
Leonor
-
6kW system
1st June 2022
Karen
-
6kW system
Excellent quality for the price. Really good value.
20th April 2022
Chris
-
5kW system
19th April 2022
Steve
VIC - 3222
15-20kW system
The Trina Solar panels are a medium quality product that have good back up and a long life with good efficiency. They are a well known and recommended brand.
10th February 2022
Stephen
NSW - 2760
8kW system
20th September 2021
Sander
WA - 6061
4kW system
8th July 2021
Jon
-
20-30kW system
11th June 2021
Stephen
NSW - 2540
6kW system