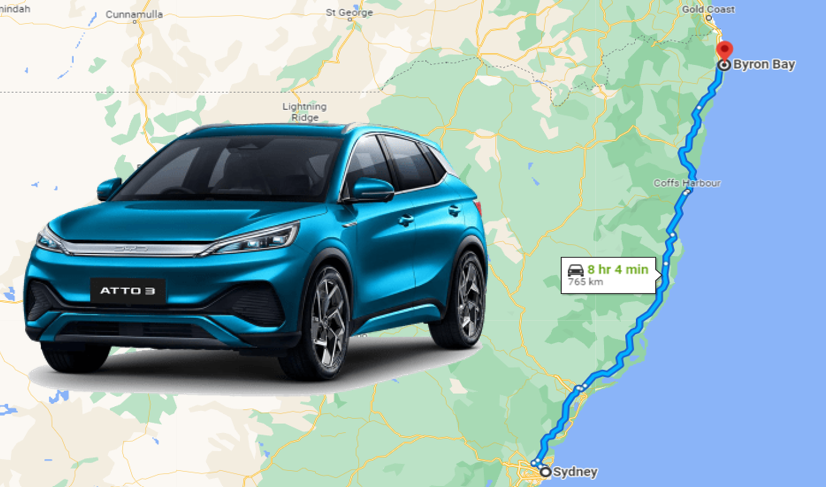 I recently pick up a new BYD Atto 3 from the dealership in Southern Sydney and needed to drive back to my home north of Byron Bay.

The total trip took around 12 hours and cost $18.95. For equivalent distance I would have spent over $200 in petrol.

It was a daunting first trip, in which I made several mistakes. This post aims to share some tips from the many lessons I learnt.

Planning the trip
I used the trip planner function on PlugShare to map out a route to my destination. PlugShare seems to have the broadest and easiest to use app to find public EV chargers of all brands.
The total distance on my route from the northern beaches of Sydney to Ocean Shores (north of Byron) was 766km. The nameplate range of the BYD Atto 3 (extended edition) is 480 kilometres, although most owners will be aware that it rarely achieves this in practice.
My initial plan was to drive to the NRMA Fast Charger in Thrumster near Port Macquarie which is 376km from my starting point, do a full charge, and then complete the remaining 390km in the second leg. I also made sure there were plenty of back up places to stop for a quick top up along the way.
Fortunately there seems to be a fast charger every 50km on Sydney to Brisbane route so I kept the range anxiety at bay.
Realising I wasn't going to make the first stop
As I left Sydney, I kept one eye on the estimated range left starting at 478km and the other on the google maps distance to my location which was initially 376km. In theory, this gives me a buffer of 102km which I hoped would get me to the destination without the need to stop sooner.
As I entered the M1 freeway at Hornsby, this buffer had dropped to 75km. After a further 50km down the freeway (just past the Australian Reptile Park) the buffer had dropped to 50km. It was at this point I realised I would need to make an extra stop before Port Macquarie.
It seems the estimated kilometre range on the dashboard of BYD is very ambitious, and especially overstated if you are driving at higher speeds (e.g. 110km on the freeway) and with air conditioning running.
Stop 1: BP Heatherbrae | 8 mins | 9kWh | $5.06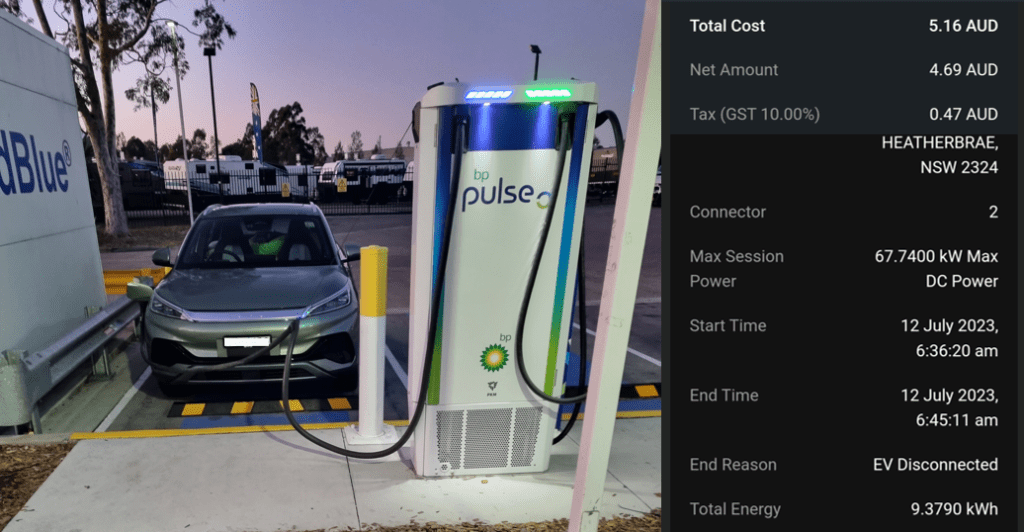 I made a first stop a BP Heatherbrae and found their Tritium charger operated by BP Pulse was vacant. I tried to activate the charger using NFID but nothing happened when I tried putting two cards against the chip scanner.
The alternate method to activate the charger is through the app. I downloaded the BP Pulse app, went through the registration process, and activated the charger within about 5 minutes.
I just made this a quick coffee stop and seeing that the charger was running at 67kW, I figured I wouldn't need to be there long to get enough charge to get to Port Macquarie. Without doing any math, I disconnected the charger when my coffee was ready after 8 minutes.
After jumping back on the freeway, I saw that BYD's estimated range had increased from 230km to 302km. With the new distance to the Thrumster NRMA fast charger being 212km, the buffer had increased back to 90km.
As I continued the buffer seemed to drop more quickly than before, possibly due to the air conditioning working a bit harder later in the day.
Although I might have been able to make it, I decided to play it safe and find another fast charger on PlugShare to make a quick pit stop before getting to Thrumster.
Stop 2: Nabiac NRMA Fast Charger | 12 mins | 10kWh | FREE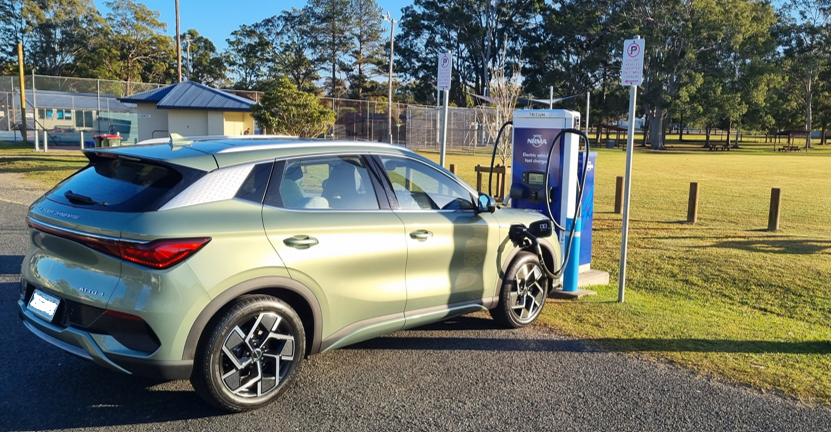 The Nabiac fast charger turned out to be a NRMA fast charger. As these chargers are currently free to use, it was much simpler to activate. You just plug it in and press the green start button on the charger.
The location of the charger in Nabiac is next to a local football field. There was really not much there other than a convenience store and a public toilet, so you probably wouldn't want to spend too long here.
The 12 minute stop added an extra 80km (in BYD's terms) to the range which seemed to be more than enough to get to Thrumster. I ended up arriving at Thrumster with 48km or 10% of the battery left, so this second stop was definitely required.
In hindsight it would have saved time to do a 15 minute stop at BP Heatherbrae to avoid the second stop (or longer at Nabiac).
Stop 3: Thrumster NRMA Fast Charger | 150 mins | 54kWh | FREE
I picked this stop as the main recharge point as I saw in PlugShare that there were two charging bays and the feedback was mostly positive. I arrived at around 9am to 2 vacant bays, and followed the same simple process to plug in and charge. The dashboard on the BYD showed the vehicle was charging at 45kW and advised it would take 1hr 14mins for a full charge.
This charger is located next to a nice shopping area with a large café/restaurant and a supermarket, so it's a convenient place for a longer visit. I ordered a coffee and logged into work. After about 90 minutes I headed back to what I hoped would be a fully charged vehicle – but I was up for an unfortunate surprise.
On returning to the vehicle there was another BYD parked in the adjacent bay and with the owner leaning next to the vehicle. As I approached, he came over and said there was another EV driver who was angry at me and had just left.
He explained that it is good etiquette to log into PlugShare and 'check-in' to the location advising how long you will be using the charger. After explaining it was my second day in the vehicle and my first long trip the other BYD driver was very helpful showing me how to check in and giving some other tips on how to download the BYD app.
When I looked into the car, I realised the car had stopped charging and the battery percentage was still at 10%. The other driver explained that a lot of the chargers will randomly stop or turn off, and often you will need to disconnect and reconnect to continue charging. If you leave the car (to get a coffee), you can monitor its charging status in the BYD app.
I was forced to restart the charger, check in to the PlugShare app and advise I was going to be there for another hour. This time I waited in the car, pleasantly doing some work in the passenger seat with the air conditioning and music running.
In total I ended up at Thrumster for 3 hours.
For the remaining drive to Ocean Shores (391km) I planned to make one stop at the fast charger at Shell Tyndale. I did make one spontaneous stop at Coffs Harbour Service Centre to use the bathroom, but also thinking that I may as well use the NRMA charger there if I was stopping anyway. Unfortunately both chargers were in use (with only one checked-in on PlugShare) so I decided to carry on to Tyndale.
Stop 4: Shell Tyndale Fast Charger | 18 mins | 21 kWh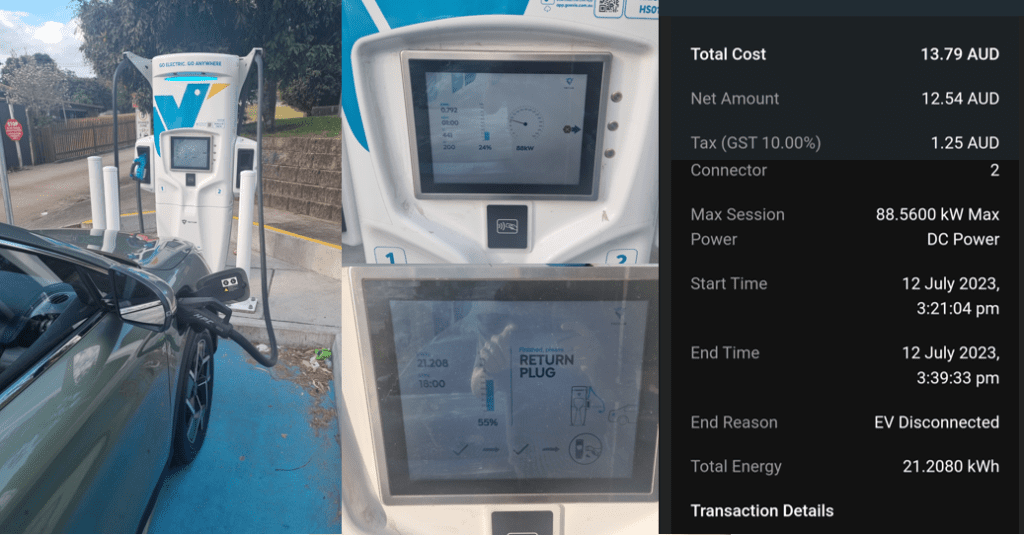 Both parking bays were free when I arrived at this charger. I tried to activate the charger using various credit cards on the NFC scanning facility, but all of them returned a 'card error'. I had to download the Evie app and go through the registration process to get the charger started.
This charger apparently has the capability to go to 350kW but the BYD has a maximum charging rate of 80kW (which is still pretty quick). The charger actually displayed that the vehicle was charging at 88kW.
With my new knowledge of the real range of the vehicle, I worked out I would need 20kWh to safely make it all the way to Ocean Shores. At charge rate of around 88kW it took 18 minutes to get the required power and I was back on the road.

This second leg went much smoother as I learnt some key lessons on doing a long trip in an EV in the morning.
5 key lessons that I learnt on this trip
Each car may have different nuances to be aware of, but the below 5 lessons I think are pretty universal for any EV driver.
Know the real range of your vehicle. In my experience the BYD will achieve about 70% of the kilometre range that is stated on the dashboard when doing 110km per hour on the highway with air conditioning running.
Have a small arsenal of apps setup. I needed to use BYD, Evie, Pulse and PlugShare during the trip. Having these set up and registered ahead of time would have saved time. I have since realised the ChargeFox app is useful to have as well.
Check for back up fast chargers on your route. You may find that you don't have enough juice to make it to your originally planned destination. Jump on PlugShare and make note of a few fast chargers that are about 70 to 80% of the way to your next stop so you can make an earlier stop if necessary.
Chargers need to be monitored. Unfortunately it seems you can't just set your car to charge and wander off. The chargers will at times trip off or require a restart for one reason or another – particularly the free NRMA chargers. You should be able to monitor the live charging status of your car with the vehicle's app (BYD app in my case) so you can head back to the car and reset the charger if required.
It's good etiquette to 'check-in'. There are generally only one or two bays available at each charger. If you are using a charger it is good etiquette to 'check-in' on PlugShare letting other drivers know the charger is currently in use and how long you'll be there for.

Latest posts by Jeff Sykes
(see all)