We previously wrote an article about the feasibility of an Australian home going off-grid with a 3kW solar system – quite a small system size for such an ambitious endeavour. In this article, we'll look at the case for going off-grid with a 10kW solar system – the unofficial upper limit for residential solar system size in Australia. Can an Australian home disconnect from the grid with a 10kW solar system and batteries?
(This article was originally published in March 2016. We have updated it for clarity and simplicity.)
Compare Solar & Battery Quotes
Is energy self-sufficiency possible with a 10kW solar system and batteries?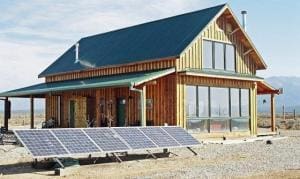 We'll assume that you live in a home with a 10kW solar system and no solar feed-in tariff incentive, meaning that you are better off 'self-consuming' your solar energy than sending it into the grid. Whether or a not a home could sever ties with the grid with a system of this size depends on a number of things, including:
Location: Some locations are just sunnier than others. Darwin is the sunniest of all of Australia's capital cities, while Hobart is the least sunny.
Roof orientation and tilt: In Australia, north-facing rooftops whose tilt is roughly at the same angle as the location's latitude produce the most power. East and west-facing arrays tend to produce a bit less, and south-facing arrays least of all. (Read more.)
Daily energy consumption: If your daily energy needs are minimal (e.g. under 10 kilowatt-hours – kWh – per day), it will be easier for you to install a solar+storage system that can make you self-sufficient.
Daytime energy consumption: If you use most of your electricity while the sun shines, you won't need as large a battery bank because you'll likely consume the solar energy directly, as it is being produced. (Read more.)
Total solar energy produced: Remember that if you want to go off-grid, you'll need to be able to store enough energy to get you through 3-4 days of rainy weather – this is called 'energy autonomy'. If your solar PV system is not large enough to charge your battery bank, then you can't go off grid without a generator, which could increase the overall cost of your system significantly (mainly because of the fuel expenditures).