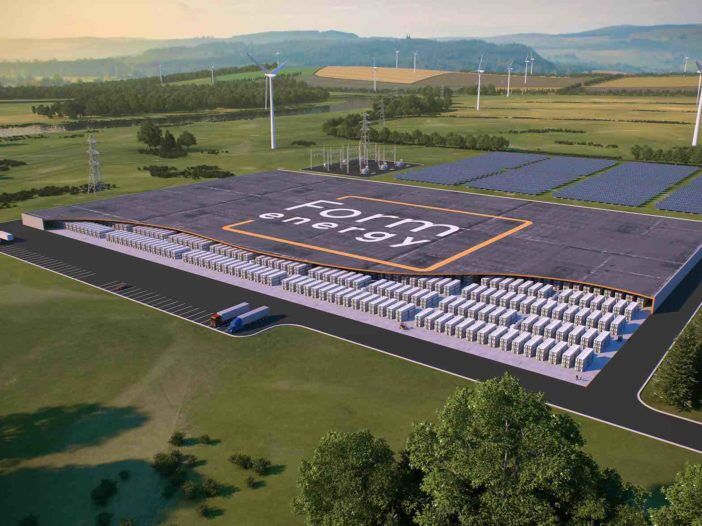 A US start-up backed by some of the world's richest people has unveiled the chemistry behind its rechargeable "iron-air" battery storage technology, which it claims can deliver electricity for 100 hours, for one-tenth the cost of traditional lithium-ion batteries.
Boston-based Form Energy, which has attracted high-profile investors the likes of Amazon boss Jeff Bezos, Bill Gates' Breakthrough Energy Ventures and Australia's Macquarie Capital, said this week that the long-duration battery was made from iron used in combination with water and air.
The technology works on the principle of "reversible rusting" which, as Form Energy explained, means that when the battery discharges it "breathes" in oxygen from the air and converts iron metal to rust and then, when charging, the application of an electric current converts the rust back to iron and the battery breathes out oxygen.
"We conducted a broad review of available technologies and have reinvented the iron-air battery to optimise it for multi-day energy storage for the electric grid," said Mateo Jaramillo, CEO and Co-founder of Form Energy. "With this technology, we are tackling the biggest barrier to deep decarbonisation."
In addition to unveiling the chemistry of their new iron-air battery technology, Form Energy also announced the beginning of a $US200 million Series D financing round led by ArcelorMittal's XCarb innovation fund, which invested $US25 million.
ArcelorMittal will work jointly on the development of iron materials which the company will non-exclusively supply for Form Energy's battery systems, which it will manufacture near the location of the previously proposed Great River Energy pilot project.