Do you know where Australia's two largest rooftop solar power installations are located? This blog entry is an overview of what Australia's two largest roof-mounted solar power installations–the Goyder Pavillion in Adelaide and the Sydney Theatre Company in Sydney City–are doing for the promotion of solar power and sustainability.
Photovoltaics on display
It's probably not a coincidence that Australia's two largest rooftop solar power arrays are on the roofs of what are essentially both entertainment venues. Although there are ground-mounted systems such as Energy's Australia's 400kW station in Singleton, the installations that attract the most attention in the media tend to be building-integrated ones. Pointing to environmental credentials in order to display a progressive, forward-thinking attitude has become a standard modus operandi in the promotion and opening ceremonies of virtually all new major building projects throughout the world; the technologies have become more affordable and readily available, so why not? On top of the the obvious benefit of greater energy self-sufficiency, there are lots good, practical reasons to use green technologies, not the least of which is good public relations and almost guaranteed press.
The PR aspect of green technology can be observed in the boldness of projects such as Adelaide's Exhibition and Event Centre and the Sydney Theatre Company's Greening the Wharf project, both of which aim to showcase their property redesigns as proof of their trailblazer status in the realm of combining ecological sustainability with economic prosperity. Both have taken attention-grabbing steps to forward the cause of solar, and to show what can be accomplished with proper vision and the wherewithal (investment capital!) to make that vision a reality.
Goyder Pavilion: Adelaide's Exhibition Centre's Solar Star
The Goyder Pavilion is the newest building in Adelaide's expansive Exhibition and Event Centre, which is home to Australia's largest rooftop photovoltaic (solar) power installation. The Pavilion and the Event Centre's impressive power generation system, which also includes a wind power capacity of an estimated 20MWh per year, are a major component of the fifty million dollar project to renovate the Centre. The solar arrays, spread over several buildings, weigh in at a hefty 1000kW and are expected to supply 100% of the Goyder Pavilion's energy needs and 40% of the needs of the Centre as a whole, generating 1400MWh of solar electricity per year. Mike Rann, SA Minister for Sustainability and Climate Change, openly recognising both the practical and show-off value of the project, and commented: "It will be more than a demonstration project. For the first time, it will show that solar panels can supply electricity on a commercial scale."
Showpiece that the project is, the Pavilion's sustainability and self-sufficiency credentials do not stop at its power generation capacity. The design is holistic and integrated, and features such as motion sensors in the toilets, natural ventilation systems, and passive lighting design cut down on the need for artificial lighting and heating and cooling, and thereby ensure that the power generated on-site is being used wisely. Additionally, a massive rainwater collection and storage system will supply 3.5 million litres of rainwater to toilets and lawns per year.
The Sydney Theatre Company's Greening the Wharf Project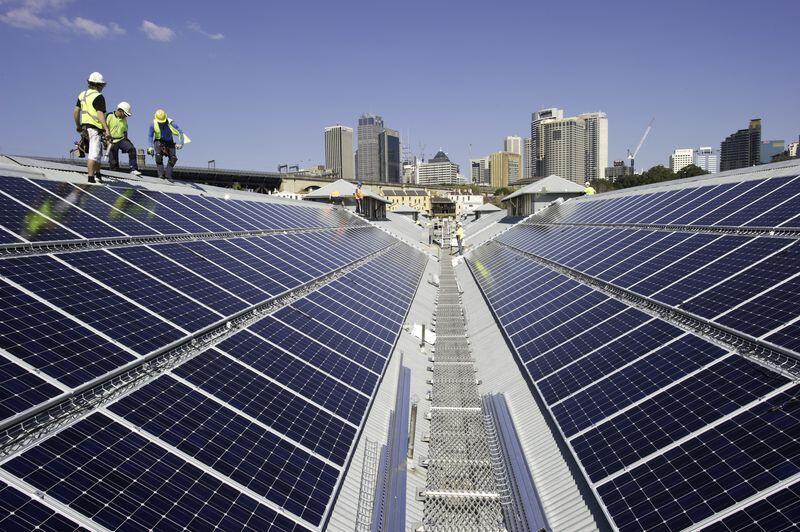 The country's second largest rooftop solar installation belongs to the Sydney Theatre Company, on Pier 4/5, one of the finger wharves that juts into Sydney Harbour. The installation was completed in November 2010, superseding the previous NSW rooftop heavyweight champion, a 100kW array on a building owned by Local Government Superannuation Fund in the Maquarie Park commercial zone in North Ryde, Sydney, under a tender managed by us here at Solar Choice. Like the STC's project, it was funded in party by the Federal government's Green Building Fund.
The STC's array, consisting of 1,905 Suntech solar panels at a total capacity of 380kW, is expected to deliver 70% of STC's energy needs once energy efficiency measures are fully in effect. The project has been overseen by STC artistic directors Cate Blanchett and Andrew Upton, who stressed the need for art to be "visionary and practical" in approaching the future. The project has received generous funding from a number of private and public backers, including, among others, the Australian government Green Precincts Fund, which contributed $1.2m, and University of NSW School of Photovoltaics and Renewable Energy Engineering alumnus and Solartech Chairman Dr Zhengrong Shi and his wife Vivienne, who contributed $2m. The Greening the Wharf Project is on-going, and philanthropic support still being sought out.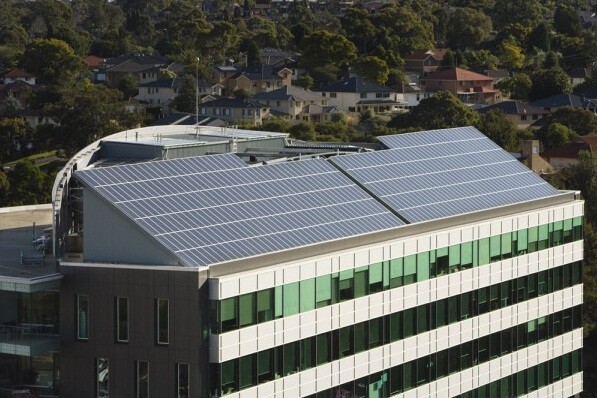 Much like the Goyder Pavilion, the ambition of the STC project extends beyond renewable energy. It will also incorporate extensive energy efficiency measures and a rain-harvesting system, to be installed in 2011, that will provide 100% of the facility's non-potable water, resulting in savings of 1.5m litres of water per year. Penny Wong, Federal Minister for Climate Change and Water, has also praised STC's efforts and ambition with the project. œSydney Theatre Company's Greening the Wharf project is a great at example of innovative energy and water-saving technologies being put to use in the urban environment."
But what about solar panels on my roof!?
The goal of the two projects mentioned above, in the words of Cate Blanchett, is to be "visionary and practical" and to show what can be done with the latest technology and a bit of ambition and imagination. The scale of these projects may seem daunting for the ordinary homeowner keen on getting some panels of their own, but the fact is that much smaller-scale home solar power installations are becoming more and more common and affordable, throughout Australia as well as the rest of the world. In particular, the Sydney Theatre Company's project, on a heritage-listed building, is proof positive that retrofitting a building to be 'greener' is a very viable option. In fact, every day more and more people are signing up to have systems installed in their homes because doing so has become practical, especially with the various incentives being provided by the Federal and state governments, such as state-by-state feed-in tariffs and the Australia-wide solar credit scheme. If you are interested in taking advantage of some of these incentives, one of our brokers would be happy to put together a free solar quote comparison about systems appropriate to your home's needs. Send us a message or give us a call today.
Additionally, for more general advice on how to make your home more sustainable without knocking it down and building a new one from scratch, check out the Victorian government's excellent guide to 'resource-smart' living, which provides informative advice on retrofitting your home with everything from passive design strategies to energy-efficient appliances to renewable energy options for your home. You can also check out our previous blog entry on energy efficiency at home.
Written by James Martin
Solar Choice Analysthttp://www.resourcesmart.vic.gov.au/sustainablerebuildingideas
© 2010 Solar Choice Pty Ltd
Although not responsible for the STC or Adelaide Fairgrounds installations mentioned above, Solar Choice Commercial does manage the tender process for a wide diversity of large-scale solar power projects throughout Australia, including for mining companies, restaurant groups, shopping centres, and rural solar farms. For professional management and consultancy on your solar energy project, contact our Commercial Tenders Management team on 1300 78 72 73 for more information.

Latest posts by James Martin II
(see all)