Giant Power is a Sunshine Coast-based battery energy storage system wholesaler specialising in grid-connected, 'hybrid' solar-plus-battery solutions as well as conventional off-grid systems. The company has been supplying solar panels, batteries and other electrical equipment to the Australian market since 2009. Giant Power has its own range of own-branded products (including hybrid inverters and batteries) designed with Australian conditions in mind – and customise solutions to meet client requirements.
Giant Power product range
Batteries
Absorbed Glass Matt (AGM) lead-acid
AGM lead-acid batteries are 100% sealed, non-gassing and maintenance-free. They will run for 1,650 cycles at 30% depth of discharge (DoD), have a warranty period of 5 years and expected operational life of 10 years.
Tubular gel lead-acid
Tubular gel lead-acid batteries are 100% sealed, non-gassing and maintenance-free. Their silica gel base means that they will not spill even if broken. They will run for 5,550 cycles at 30% depth of discharge (DoD), have a warranty period of 7 years and expected operational life of about 20 years.
Flooded lead-acid
Flooded lead-acid batteries are the world's most tried-and-tested battery type for residential solar PV systems; they also have the lowest up-front capital cost of any battery technology on the market.

Inverters
Grid-connected 'hybrid' inverters
Hybrid inverters allow grid-connected homes to use solar panels and battery storage while retaining a connection to the electricity grid. Giant Power currently offers a 3kW hybrid inverter (Hybrid IGS 3kW) and will be introducing a 5kW unit later this year. Key to this hybrid inverter is the company's off grid background – it boasts full blackout protection and allows the home to go completely off grid.
The hybrid inverter is part of the Hybrid Solution – an all-in-one, pre-wired energy storage solution. This allows for easy installation, provides a safe and attractive enclosure for electrical parts and batteries and saves cuts down on labour time for the solar installer. Because of this the full Hybrid Solutions come with a superior warranty period.
Off-grid inverters
Giant Power currently offers a 4kW off-grid integrated power system (Offgrid IPS) which can be installed in clusters up to 6x for a total capacity of 24kW. The Offgrid IPS can also be deployed in grid-connected systems where the maximum degree of energy autonomy is sought – whist still having the option to access grid electricity should the need arise. Giant Power will also be introducing a smaller version of the IPS later this year.
Like the hybrid inverter, the off grid inverter is part of an all-in-one, pre wired energy storage solution. This means easy installation and greater warranty protection.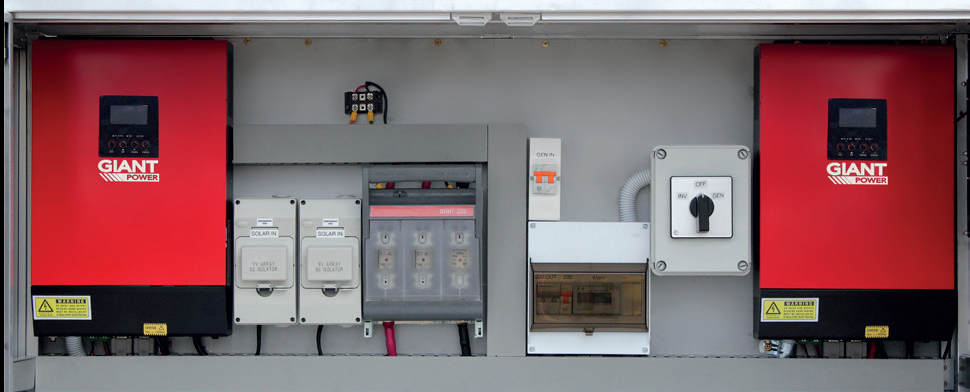 A pre-wired inverter board ready for solar and batteries.
Customised and modular solutions
Giant Power's inverters and batteries allow for modular construction of larger systems if required. This can be done in both three and single phase set-ups and allows for phase balancing, load shedding and optimised use of batteries and solar energy.
Giant Power's head office is able to customise systems to meet specific individual requirements while still meeting strict quality needs.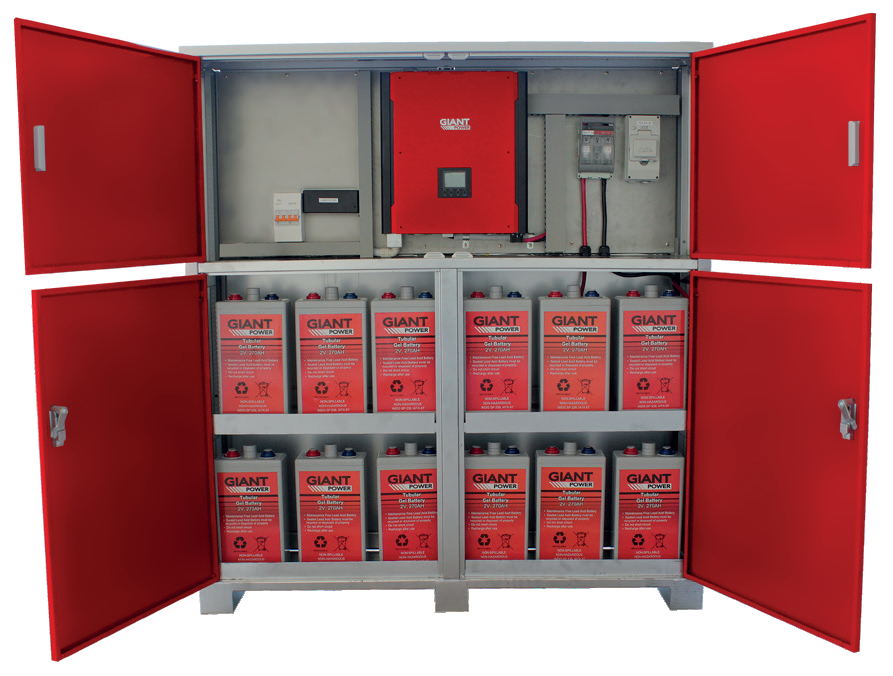 Giant Power points of difference
Giant Power's background in off-grid power has earned the company a reputation as stand-alone system experts. This knowledge is now being used in its off-grid and grid-connect hybrid systems.
As a local manufacturer, Giant Power offers quality products and solutions while still remaining at a very competitive price point in the market. Being local also allows the business a degree of flexibility, as well as the ability to act swiftly to design custom solutions for customers and provide a far greater level of service to its partners and customers.
About Giant Power
Headquarters: Based in Warana, on the Sunshine Coast in Queensland.
History: Giant Power launched in 2009 offering batteries to the Australian market. From there, the company has grown to offer full off-grid systems, hybrid systems, small DIY kits, solar accessories and portable panels.
They currently employ 35 staff in Australia consisting of engineers, electricians, off-grid system designers, graphic designers, video technicians and IT specialists. Use of the latest technology, manufacturing equipment and testing facilities allows them to continually improve the quality of their solutions and components.
Contact Giant Power
Tom Kuiper, National Wholesale Manager
Phone: 1300 877 554
Email: info@giantpower.com.au
© 2015 Solar Choice Pty Ltd