LG Chem is one of the clear leaders in Australia's burgeoning home battery storage market. The company's RESU lithium battery made a big splash when it was introduced last year as an affordable, high-quality competitor with Telsa's much vaunted Powerwall. LG Chem has not rested on its laurels, however, having already introduced the next generation of lithium battery banks with a sleeker appearance and more flexible sizing options.
All of the batteries banks in the RESU range come with a 10 year performance warranty. 'End of life' retained capacity is 60% of the original nominal capacity – meaning that by the end of 10 years you should expect the battery to be able to store no less than 60% of of what it did at the beginning of its life. Another common feature of all of the batteries is a cycle life of 6,000 cycles, which effectively means that they can be charged/discharged more than once per day to take advantage of 'tariff arbitrage' benefits possible with a time-of-use billing structure. All units may be installed either indoors (wall-mounted) or outdoors.
RESU features:
High quality home battery banks from a company whose parent is a highly diversified industry giant
A range of sizes means it's easy to mix, match and stack units to suit energy requirements & budgets
Compatible with a range of popular inverters
Can be installed indoors and out
Aesthetically pleasing design, available in silver and gold colour options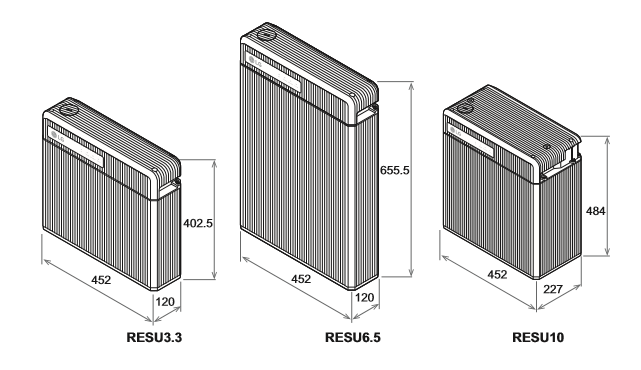 LG Chem's low-voltage RESU range
RESU3.3
Nominal capacity: 3.3kWh
Usable capacity: 2.9kWh
Peak power output (3 sec): 3.3kW
Max charge/discharge power: 3kW
Dimensions (W/H/D): 452mm/401mm/120mm
Weight: 31kg
RESU6.5
Nominal capacity: 6.5kWh
Usable capacity: 5.9kWh
Peak power output (3 sec): 4.6kW
Max charge/discharge power: 4.2kW
Dimensions (W/H/D): 452mm/654mm/120mm
Weight: 52kg
RESU10
Nominal capacity: 9.8kWh
Usable capacity: 8.8kWh
Peak power output (3 sec): 7kW
Max charge/discharge power: 5kW
Dimensions (W/H/D): 452mm/482.5mm/227mm
Weight: 75kg
LG Chem's high-voltage RESU range (coming soon)
RESU7H
Nominal capacity: 7kWh
Usable capacity: 6.6kWh
Peak power output (5 sec): 5kW
Max charge/discharge power: 3.5kW
Dimensions (W/H/D): 744mm/692mm/205.7mm
Weight: 76kg
RESU10H
Nominal capacity: 9.8kWh
Usable capacity: 9.3kWh
Peak power output (10 sec): 7kW
Max charge/discharge power: 5kW
Dimensions (W/H/D): 744mm/907mm/205.7mm
Weight: 98-101kg
About LG Chem
LG Chem, Ltd. is Korea's largest diversified chemical company which operates three main business units: Petrochemicals, IT & Electronic Materials and Energy Solution. The chemical business manufactures a wide range of products, from petrochemical goods to high-value added plastics. It also extends its chemical expertise into high-tech areas such as electronic materials and rechargeable batteries field. Based on the many years of experience in the development and production of batteries, LG Chem is one of the world's leaders in energy storage systems. As such, the company is a primary supplier for the mobile and automotive industry around the world. Entering the business of ESS in 2010, LG Chem has constantly developed and supplied innovative solutions for the ESS market segments such as Grid, Residential and UPS. Throughout multiple production facilities and an extensive distribution network globally, LG Chem has become a global leading company.
Contact
Corporate contact
Web: www.lgesspartner.com
PR Contact
Claire Ferrie – Phone: +61 2 8599 1000 | Email: LGChemAU@teamlewis.com | Web: www.teamlewis.com
© 2016 Solar Choice Pty Ltd