A Clean Energy Council report has highlighted how little renewable energy policies and other "green schemes" have contributed to Australia's rising electricity prices, in comparison to other factors like over-investment network infrastructure.
The CEC's 2015 Clean Energy Australia Report, released last week, finds that the majority of recent spikes in the cost of electricity have been driven by network investment in poles and wires, much of which may have been unnecessary.
Network costs make up more than 43 per cent of charges in domestic electricity bills, while 7.4 per cent of costs are attributed to "environmental policies". The cost of transporting electricity across the country via the poles and wires network has made up more than half of power bills in recent years, the report says.
"The majority of …previous cost rises were driven by investment in the poles and wires of the electricity network," the report says.
"How much of this was necessary investment and how much was network 'gold plating' … is unclear," it adds. "But with the benefit of hindsight, a six-year stretch of falling demand for electricity meant that more was invested in our poles and wires than was ultimately required."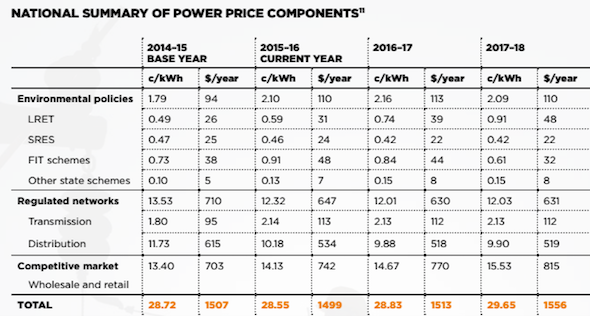 Interestingly, the report says that power prices – which have stabilised over the past year – are projected to remain "mostly unchanged" over the next three years, despite being "a politically-charged battleground."
Indeed, it notes that the price of electricity may actually fall slightly in some states in 2016, due to decreasing network costs in the short term – savings it suggests may be connected to increased adoption of renewable energy sources like rooftop solar.
"As storage becomes cheaper and more mainstream, it is expected that the interaction of solar and battery storage will help to shave off some of the expensive demand peaks, such as on very hot days when air-conditioning is being widely used," the report says. "This will help to reduce overall costs for consumers."
© 2016 Solar Choice Pty Ltd