More than 155,000 small-scale solar systems have been added across Australia in 2014, an average of more than 15,000 a month, according to new data.
The data, the latest from Green Energy Markets, shows that after sharp falls caused by the winding back of various state-based feed-in tariffs, the deployment of solar by homes and  businesses has steadied, and is now growing solidly.
In the month of October alone, 16,729 systems were added, or a total of 75MW (the average size is 4.2kW), taking the total for the year to 657MW.
But while rooftop solar continues to surge ahead, large-scale renewables – including big solar – remain stranded by continuing policy uncertainty, taking the total share of renewable generation backwards.
In October, the share of renewable generation (not including rooftop solar) was 13.1 per cent. This was down from 14.2 per cent in September and 18.3 per cent a year earlier.
This is partly credited to lower wind speeds, and lower hydro production after the dumping of the carbon price and the fall in the value of LGCs (certificates), due to the policy uncertainty.
In the past month, just four small solar power stations and a small hydro generator were approved.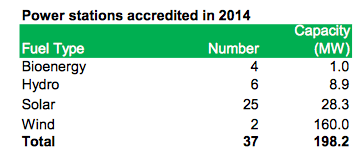 As for new developments, less than 200MW of large-scale renewable plants have been accredited in 2014.
Of these, two plants, Boco Rock wind farm and the Portland wind farm extension, were committed last year, as was the 20MW Royalla Solar Farm which makes up the bulk of the solar total.
The rest of the solar component includes rooftop solar projects of more than 100kW, so too big to qualify for the small-scale scheme.
Both Portland and Royalla have been supported by other schemes such as the Clean Energy Finance Corporation and the ACT government's solar auction.
© 2014 Solar Choice Pty Ltd

Latest posts by Giles Parkinson
(see all)