New solar PV capacity will soar to new heights in 2014, with around 50 gigawatts expected to be installed by the time the year is over, according to solar market analysts NPD Solarbuzz. Leading the way in the first quarter are Japan and the UK, with a record-breaking 9GW installed between them–or 1/3 or total global demand.
2014 marks the 5th year straight that the record has been broken for new installed solar capacity, said Solarbuzz analyst Michael Barker. "While demand during the first quarter typically sets the low point for the year, deployment levels during this quarter provide an excellent means of benchmarking demand for the rest of the coming year." The UK and Japan's extraordinary contribution to the new record was due in great part to the schedule of the primary incentive schemes in each country, which reset in April.
"Purely on a pro-rata basis, Q1'14 provides strong confidence that 2014 solar PV demand will indeed reach, and possibly even surpass, the NPD Solarbuzz full-year forecast of 49 GW in 2014," Mr Barker said. Demand in Q1 in any given year typically works out to be about 20% of annual demand. The global solar industry has never before broken through the 50GW barrier in a single year.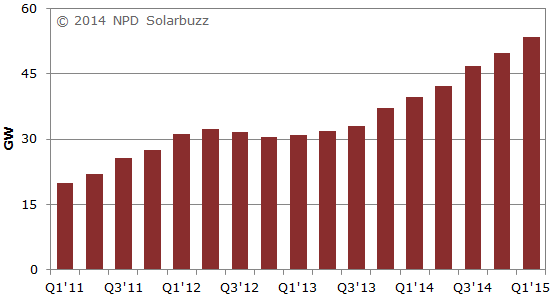 Solarbuzz VP Finlay Colville made reference to the fact that the manufacturing side of the PV industry is moving back into profitability after a multi-year supply glut that leveled many of the less hardy companies in the game. "During the past few years, the solar PV industry has been waiting for end-market demand to catch up with the excess manufacturing capacity added between 2010-12. … This wait is now coming to an end." Now that supply and demand have returned to 'rational' levels, he added, companies should be able to focus on longer-term planning.
© 2014 Solar Choice Pty Ltd