Australia's clean energy investment body–the Australian Renewable Energy Agency (ARENA) announced a $400 million fund for off-grid and 'fringe-of-grid' communities. The purpose of the fund–in addition to driving investment in renewable energy such as solar power in the remote regions of the country–is to reduce reliance on costly and polluting diesel fuel generation. The program, called I-RAR (Regional Australia's Renewables — Industry Program) will facilitate 150 megawatts (MW) of renewable energy across the country over the next 5 years–and solar PV is sure to feature heavily.
Projects developed under I-RAR must be at least 1MW in capacity and will only be able to receive funding if the amount is matched by private investment. Interested parties must have their applications in by 31 December 2013. The fund will also finance at least 2x 10MW projects–and given the sunny, hot nature of most of Australia's off-grid networks, it would not be surprising if these turned out to be solar PV developments.
According to the ARENA website, the objectives of I-RAR will go beyond simply incentivising deployment of renewable energy generators. In order to ensure sustainable, long-term growth in the renewable energy industry for remote areas, it will also seek to encourage the development of hybrid technologies, facilitate knowledge dissemination, and 'remove roadblocks' to renewables.
Although I-RAR's contribution to renewables in outback and remote Australia would be significant–and integral in ensuring that Australia meets its 2020 and 2050 renewable energy target of 22%–the future of ARENA itself remains in doubt. The Liberal party has announced its commitment to dissolving the body, as well as a number of others set up under the Labour-Greens coalition, should they come to power after the next election.
Brokerage firm Solar Choice Commercial, already familiar with the favourable economics of installing solar PV in such areas, has facilitated hundreds of kilowatts' worth of medium to large-scale solar PV installations across regional Australia, particularly Western Australia. Clients in Broome, Derby, Kunnunurra & Wyndham, Pilbara, and Sandstone Shire, among others, have all proceeded with tenders managed by the Solar Choice team.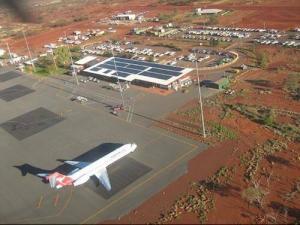 120kW solar system on the Newman regional airport, WA. Photo via Solar Choice Commercial.
© 2013 Solar Choice Pty Ltd