Solar PV prices hit a new "all-time low" in the US in 2015, according to the latest state of the market reports from the the US Department of Energy's Lawrence Berkeley National Laboratory (Berkeley Lab).
The price drops applied at both rooftop and utiltiy scale, with some residential PV systems installed for as little as $3.30/W, and the cheapest utility-scale PV coming in below $1.60/W, while four out of five regions had PPA prices of less that $50/MWh.
And while the reduced rooftop solar prices were not as low as in Australia, in the US they marked the sixth consecutive year of "significant price reductions" for distributed PV systems.
These included a $0.20-per-watt (W) or 5 per cent year-on-year price decline for installed residential systems; $0.30/W (7%) for smaller non-residential systems, and $0.30/W (9%) for larger non-residential systems.
Prices for utility-scale PV systems that came online in 2015 were also found to have fallen – by $0.30/W (12%) from the prior year. As for PPAs, the report – and the chart below – shows these were priced at or below $50/MWh throughout the year (levelized, in real 2015 dollars), with a few priced as aggressively as ~$30/MWh.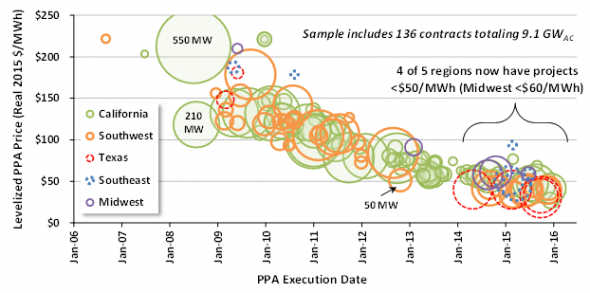 "Falling PPA prices have enabled the utility-scale market to expand beyond the traditional strongholds of California and the Southwest into up-and-coming regions like Texas, the Southeast, and even the Midwest," said Berkeley Lab's Mark Bolinger.
The report attributes the price declines to reductions in other hardware costs and to solar "soft" costs, rather than to a reduction in the costs of the panels themselves.
Both reports – Tracking the Sun, and Utility-Scale Solar 2015 – also highlight "tremendous variability" in PV system pricing.
© 2016 Solar Choice Pty Ltd