A plan to make Adelaide the world's first carbon neutral city has been signed by the city's Lord Mayor Martin Haese and South Australian premier Jay Weatherill.
The deal was inked on Sunday at the release of the South Australian government's Climate Change Strategy 2015-2050, ahead of international climate talks in Paris.
"We are committed to making the City of Adelaide the world's first carbon neutral city, and I am delighted to have finalised this agreement formally today with the Lord Mayor," Weatherill said.
"Our partnership aims to reap the economic opportunities likely to flow from moving first, and shows the government and council share the vision of a vibrant and sustainable capital city, leading renewable energy uptake and clean technology investment.
"We want to encourage investors to our forward-thinking state, and in turn create jobs and opportunities for South Australians."
The government's 60-page Climate Change Strategy is centred around its ambitious target of net zero emissions by 2050, announced last week.
The state's renewable energy target remains unchanged at 50 per cent by 2025.
The report notes, however, that "indications are that (South Australia's) electricity supplies could be almost completely decarbonised by 2050, with the state generating enough renewable energy to meet demand and potentially exporting to interstate markets."
The report also notes that – and this is illustrated in the graph below – together with fuel switching, electrification could represent around 26 per cent of the total abatement required to achieve net zero emissions.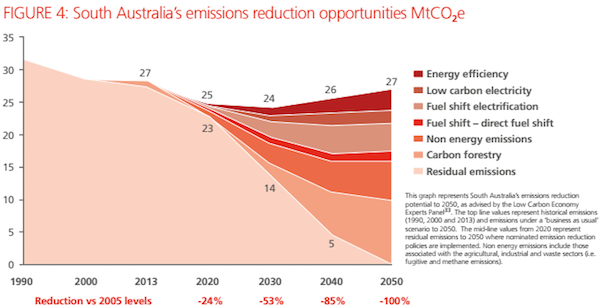 Other targets committed to in the new report were $10 billion in low-carbon investment by 2025 – in 2014/15 the state invested $6.6 billion in renewables; and a 30 per cent improvement in the energy efficiency of government buildings by 2020 (a 24% improvement was achieved in 2014-15).
(Top image: Doug Barber, image via Wikipedia)
© 2015 Solar Choice Pty Ltd